The world's most admired women have been revealed – and two prominent Brits have made it onto the list!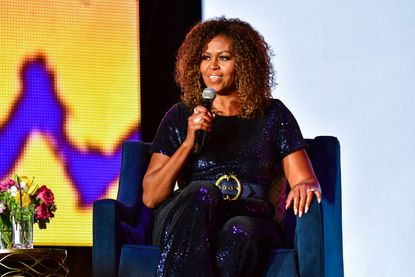 With women leading the way in fields as varied as acting to activism, there are so many prominent female figures to look up.
But now a new ranking has revealed the women across the globe we most admire, and two leading Brits have earned their place on the list.
Questioning panellists from 41 countries, The World's Most Admired list from YouGov (opens in new tab), reveals that the top three women those around the world most take inspiration from reside across the pond. They are as follows:
1. Michelle Obama (up one place compare to last year)
2. Oprah Winfrey (also up one place compare to last year)
3. Angelina Jolie (down two places since last year)
Following closely behind this trio is the Queen (opens in new tab) in fourth place (who has held onto her position year-on-year) and actress Emma Watson (up one place from last year).
The Queen has links – as Royal Patron or President – to more than 600 charities, military associations, professional bodies and public service organisations with issues ranging from opportunities for young people, to the preservation of wildlife and the environment.
MORE:Everything you need to know about the woman&home Amazing Women Awards 2019 in partnership with Hotter (opens in new tab)
Reflecting on her life's work and reign of over 60 years her grandson the Duke of Cambridge has previously said, "I think I speak for my generation when I say that the example and continuity provided by The Queen is not only very rare among leaders but a great source of pride and reassurance."
Emma Watson was appointed UN Women Goodwill Ambassador in July 2014, and amongst other humanitarian work has been involved promotion of girls' education for several years previously visiting Bangladesh and Zambia.
She has also supported a number of charities over the years including Great Ormond Street Hospital and UNIFEM (The United Nations Development Fund for Women).
More interesting insights from the ranking
When the ranking was broken down by country, the following women appeared as the top 10 women most admired by those in the UK – with their percentages indicating their admiration score – and here our monarch came out on top.
1. Queen Elizabeth II (22.61 per cent)
2. Michelle Obama (13 per cent)
3. Judi Dench (opens in new tab) (7.66 per cent)
4. J.K.Rowling (6.77 per cent)
5. Malala Yousafzal (5.4 per cent)
6. Caroline Lucas (3.4 per cent)
7. Angela Merkel (3.34 per cent)
8. Oprah Winfrey (3 per cent)
9. Theresa May (opens in new tab) (2.92 per cent)
10. Nicola Sturgeon (2.88 per cent)
Miriam worked for woman&home for over five years and previously worked on the women's lifestyle magazines Woman and Woman's Own.