Home Office Essentials We Just MUST Have…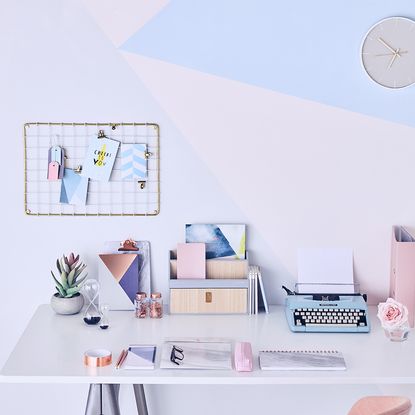 Indulge in some new Scandi–style stationery this spring without breaking the budget
Promotional Feature
Ready to give your home office a refresh for spring? If so, we know just where you should be heading...
Sainsbury's new Ethereal range of on-trend stationery and accessories is the ultimate in cool. With clean lines and muted pastel shades, not only will it bring a touch of delicate Scandi style to your work area, but it will also cover all your writing, organising and desktop storage needs - meaning we'll all become mega-organised superwomen overnight. (Well, we can wish, can't we?)
Whether you use your desk to work from home, or just want somewhere to manage your household bills and paperwork, the Ethereal collection will give your space an elegantly co-ordinated feel. We especially love the smart geometric notebooks - perfect for a bit of on-the-go holiday planning - and also the practical 'to do' clipboard. Then there's the retro-style Date Block, which we could play with for hours, and the oh-so-chic wire Notice Board.
Best of all, the prices are really affordable. Notebooks start from as little as £1.50 (that'll be several then) and even jars of essential basics, such as paper clips, are only £2 each - and they'll look so pretty on your desk with their gleaming rose-gold lids. Ready to start shopping? Here are some of our fave items from the Ethereal stationery collection, all available to buy instore now.
To find your nearest Sainsbury's store, visit sainsburyshome.co.uk (opens in new tab)
Grey Wall Clock, £12
Working to a deadline? Stay on top of your time with this smart wall clock.
Date Block, £6
Keep track of the days and weeks with a Date Block - great for reminding you of that urgent delivery date!
Notice Board, £14
Clear your desk of clutter by clipping important notes (and cute pics) on to this minimal wire Notice Board.
Marble Wiro Desk Planner, £3.50
It's not just the immediate jobs that matter, the future ones do too, so plan your workload ahead.
Large Storage Drawers, £28
Heaps of vital paperwork you can't get rid of? Store it out of sight in this smart double-drawer unit.
Metallic Geo A6 Notebook, £1.50
This shiny geometric notebook is just the biz – and there are several more sizes in this super-stylish range.
Clipboard Planner Marble, £5
A To Do list is essential if you want to be organised - and one that has a solid base is the best.
Rose Gold Binder Clips, £2
Good stylists never forget the details, and this cute jar of binder clips will add the perfect finishing touch.
Rose Gold Paper Clips, £2
And how pretty are these fabulous paper clips... stationery heaven!
Geo Glass Vase, £10
A desk with fresh spring flowers will put you in a good mood for the day. And they'll look great in this geometric vase.
Mug, £3.50
Every creative genius needs a steaming coffee beside her for inspiration. With this elegant grey mug, even your crockery will complement the look. Now there's a sign of a woman who's going places!