First Look: Lorraine Kelly's Homes Collection With JD Williams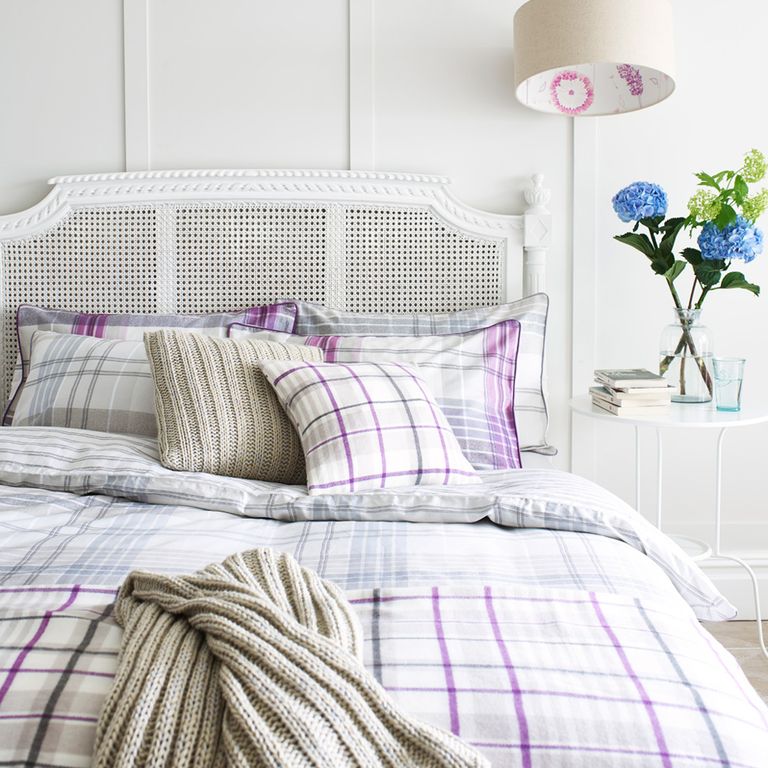 Lorraine Kelly's new capsule homes range for J D Williams is inspired by her Scottish roots and her own personal taste. Choose from informal and stylish pieces in either fresh Spring tones or warmer heathers and cream shades. Tactile fabrics are sumptuously soft and easy to care for, and little touches of glamour appear on throws and embellished cushions, with useful accessories completing the range.
Coast To Glen A warm and cosy look in purple heather colours teamed with oatmeal. Checks of course but in a sophisticated design that will suit most homes and teamed with ribbed knits on throws and cushions. There are 2 check designs in purple and grey, so choose your favourite or mix them up for an individual look.
Stirling check double duvet set, £35
Cosy Toes A cream chunky throw is a must-have piece and this one has a hidden extra - a lurex thread to add a touch of glamour
Super Soft Chunky Knit Throw with Lurex, £35
Layer Up Add another element with a fringed throw and drape it across the end of the bed, or use it to throw over a sofa or armchair.
Check Fringe throw, £19
Coastal Mist Inspired by the colours of Scotland, golden beaches and deep blue sea. Think of a seaside cottage dressed with fashionable homewares in complementary shades of blue and yellow. Vases are ribbed for texture or with geometric patterns in a Japanese style. White wooden lanterns are fresh and glass and rope are used to great effect on lighting.
Yellow thick texture cushion, £22, blue herringbone cushion, £12, Blue star cushion, £18
It's For The Birds! A really sweet addition to your home, this cushion is guaranteed to cheer up your sofa.
Printed duck cushion, £12
Tasty Trio A really useful set of small vases. Use singly or grouped together for impact, a single stem would look great in each one, or they look just as good on their own.
Set of 3 vases, £25