FDA Lucky Charms cereal recall—are they making people sick?
Although not officially recalled yet, an FDA Lucky Charms cereal investigation has begun after 100 people claimed the treat made them ill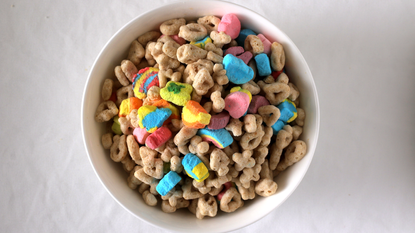 (Image credit: Boston Globe / Contributor)
If your breakfast usually consists of a nice, hearty, delicious bowl of Lucky Charms cereals drenched in milk, you might want to consider finding a new go-to morning meal as the FDA has launched an investigation concerning the food. An FDA Lucky Charms cereal recall might happen soon.
Less than a week ago it was revealed that thousands of Kinder Eggs were recalled over a Salmonella contamination scare ahead of Easter. Now it has been revealed that another food aimed at children has been called into question.
Since last July, over 100 people took to the website IWasPoisoned.com to complain about the cereal making them sick. Cited symptoms include gas, vomiting, nausea, and "bathroom-related issues."
---
As a result, the FDA has launched an investigation into the matter. It's important to note that a recall has yet to be initiated but, clearly, that's a possible outcome of the inquiry.
"The FDA is aware of reports and is looking into the matter," the agency said to Food Safety News this week, also pointing out that no complaints were made to the FDA directly but that they were made aware of them via IWasPoisoned.com.
"The FDA takes seriously any reports of possible adulteration of a food that may also cause illnesses or injury. Depending on the seriousness of the problem, an FDA investigator may visit the person who made the complaint, collect product samples and initiate inspections."
For what it's worth, General Mills, the company that produces Lucky Charms, has carried out its own internal investigation.
"Food safety is our top priority," Andrea Williamson, a spokesperson for General Mills, said to Food & Wine. "We take the consumer concerns reported via a third-party website very seriously. After a thorough internal investigation, we have not found any evidence that these complaints are attributed to our products. We encourage consumers to please share any concerns directly with General Mills to ensure they can be appropriately addressed."
Of course, we're not here to point fingers and we consider Lucky Charms to be innocent (and absolutely delicious) until proven guilty—but do feel free to reach out to the company if feeling ill after devouring a bowl of the delectable treat.
Anna Rahmanan is a New York-based writer and editor who covers culture, entertainment, food, fashion and travel news. Anna's words have appeared on Time Out New York, the Huffington Post, Fortune, Forbes, Us Weekly, Bon Appetit and Brooklyn Magazine, among other outlets.