Chrissy Teigen's defends Meghan Markle and shares worries about her health
She's not the only famous friend supporting the Duchess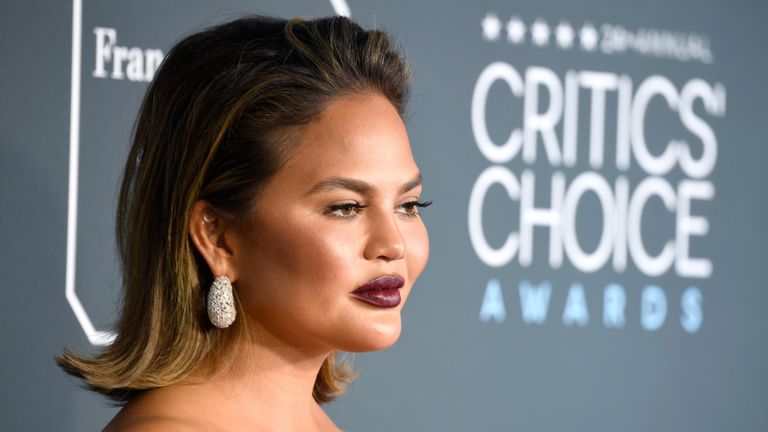 (Image credit: Frazer Harrison/Getty Images)
By Sarah Finley
Chrissy Teigen has defended Meghan Markle in light of her recent criticism - which includes her upcoming interview with Oprah and claims that she bullied royal staff.
The model took to Twitter and shared her health worries for her friend: "This meghan markle s**t is hitting too close to home for me. these people won't stop until she miscarries. F**king stop it.' 
Meghan and Harry revealed they were pregnant with their second child last month. 
Chrissy, a mum of two, revealed last year that she had a miscarriage at 20 weeks - losing her baby son Jack. While Meghan also had a miscarriage last year, revealing her loss in a New York Times opinion piece. 
While it's not just Chrissy who is coming to the Duchess's aid - some of her other famous friends are speaking out about her unfair criticism in the press.
One of her best friends Jessica Mulroney shared a photo of the Duchess via Instagram this week, along with a comment saying: "I don't know that anyone has ever had to deal with the pressure, the politics and the press like this woman. In the face of it all, I have never seen her waver from kindness, empathy and love."
While former co-stars have also used social media to comment on how she's been treated by the press and royal family. Patrick J Adams, the actor who played her love interest in Suits tweeted last week: "Meghan Markle and I spent the better part of a decade working together on Suits. From day one she was an enthusiastic, kind, cooperative, giving, joyful and supportive member of our television family. She remained that person and colleague as fame, prestige and power accrued."
Then in reference to the news that the royal family are looking into bullying claims around Meghan, Patrick went on to say: "Find someone else to admonish, berate and torment. My friend Meghan is way out of your league."
More from Woman and Home:
• Best air purifiers
• Best yoga mats
• Best pillows 
While another Suits star Abigail Spencer shared her support of Meghan by posting a picture of her friend along with a long caption around how Meghan has been one of her most supportive friends over the years. 
The actress went on to say: "I can't tell you the value of having another working mother I can lean on when with the pressures of visibility & child-rearing woes become overwhelming. She's always been a safe harbor for me, someone I can fall apart in front of... and with. And I have."
Harry and Meghan's long-awaited interview with Oprah will air tonight on CBS and is bound to stir the media attention around the couple even more.