Britain's Most Impressive Cakes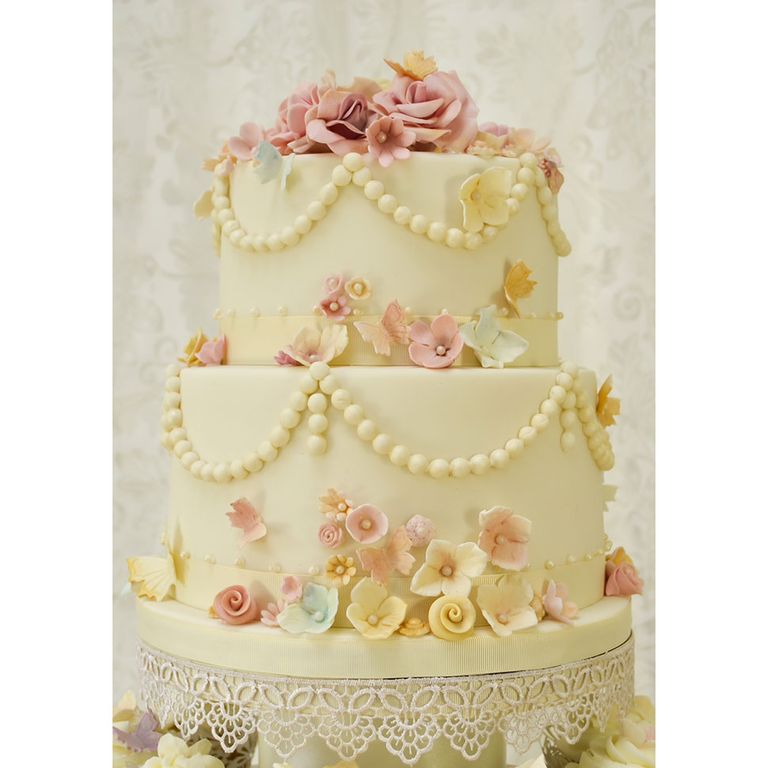 For those times when a lemon drizzle loaf cake just won't do...
Draped with icing pearls and adorned with pink and ivory flowers and butterflies, it doesn't get more fairytale than this cake.
Vintage Beads and Butterflies Cake, Rosalind Miller
Wild Rose cake
Choccywoccydoodah's elaborately decorated designer cake serves 40 to 50 people (or 20 to 25, if everyone has seconds...). You can choose the flavours you want, from chilli chocolate to ginger. Wild Rose Cake, £300, Choccywoccydoodah
Red Velvet Cupcake Cake
It may look like an ordinary cupcake, but this is in fact a giant cupcake that serves six people. Not only is it great for pretending you're a tiny person, but it's delicious too. Red Velvet Cupcake Cake, £47.95, Hummingbird Bakery. Image by Benjamin C. M. Backhouse.
Demi Mousse
For the indecisive among us, this demi mousse combines two of Patisserie Valerie's most popular desserts: a chocolate mousse made with dark Belgian chocolate and fresh cream, and a fresh berry mousse adorned with fruit. Demi Mousse, from £30.95, Patisserie Valerie
Pinata Cake
Cut into this six-layered rainbow cake and you'll find a hoard of sweets in the centre, like hidden treasure. It's iced with a white vanilla Swiss meringue buttercream. Piñata Celebration Cake, £55, Fortnum & Mason
Fondant Fancy Party Cake
This pretty cake is in fact 16 fondant fancies - Genoese sponge cake sandwiched with raspberry jam and buttercream and topped with marzipan.
Fondant Fancy Party Cake
, £28.95, Betty's Of Harrogate
Eton Rocks Two-In-One Cheesecake
This cheesecake combines two toppings: Rocky Road (milk chocolate fudge, shortbread chunks, Maltesers and marshmallows) on one side, and Eton Mess (meringue and strawberries) on the other. Obviously you'll need two slices. Eton Rocks Two in One Cheesecake, £22, English Cheesecake Company