Top tips for self publishing success
And why self publishing can be the best option for you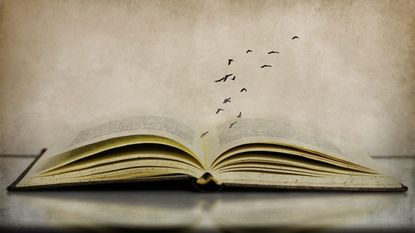 (Image credit: Getty Images)
woman&home newsletter
Sign up to our free daily email for the latest royal and entertainment news, interesting opinion, expert advice on styling and beauty trends, and no-nonsense guides to the health and wellness questions you want answered.
Thank you for signing up to Woman & Home. You will receive a verification email shortly.
There was a problem. Please refresh the page and try again.
Woman&Home Books and Fiction Editor Emma Shacklock reveals her top tips for achieving self publishing success...
It's often said that everyone has a novel in them. But for those who have theirs already written and ready to go, the question often becomes – what now? Self publishing is sometimes sniffed at, but actually, for many it's the best option.
You might seek to go down the traditional route, but this process is not for the faint hearted. If you are successful it will likely take an average of two years to get your book to market after you have secured a deal. Some individuals have proved that similar success can be achieved by self publishing, and much more quickly.
Sunday Times Top 10 best-selling author Cathy Bramley, author of this year's successful A Patchwork Family and the upcoming eBook, My Kind of Happy, launched her career by self-publishing her first book.
'To be successful in self-publishing you need to be comfortable wearing several hats. Writing is creative, but publishing is a highly competitive industry. Research your market, be business-like in your approach and invest in yourself and your book,' says Cathy.
She will share more advice at our W&H How to get published masterclass on Thursday 6 August – register free here.
With these simple tips you can start getting your book out there, and with a bit of luck it might become one of the best books this year or a hotly debated book club book...
Self publishing tips
1. Know which self publishing route works for you
Depending on how much time you have, you might not feel up to self-publishing your novel entirely independently and if so, there are various sites which specialise in helping authors self-publish. Sites such as YouCaxton.co.uk can help with everything from design and copyediting, to pricing, assigning ISBNs and sorting paperbacks.
The more direct option is to sign up to Kindle Direction Publishing, KDP, which is Amazon's own eBook publishing platform, though the option to create print-on-demand paperback editions is also available. Keep in mind, if you select the print on demand option your profit per book will be much smaller than if you have books printed in advance and shipped, but of course you will have to make a much larger initial investment.
Once you're signed up to KDP you can upload your cover, manuscript, write your blurb, author bio and set categories, all in one place. As one of the most-visited sites for those looking to buy books and as the site that has cornered the eBook market the most, Amazon is definitely worth checking out if you're looking to self-publish and are prepared to take control of the majority of the processes yourself.
2. Print isn't everything when it comes to self publishing
While most people want to see their book in print, eBooks are the quickest, cheapest and easiest way to self-publish.
They are also often simpler to market without a big publisher as it's easier to encourage reviews, set categories, change prices and widen your readership when dealing with eBooks than it is print books.
Quality affects performance and with digital copies it is easier to rectify mistakes and generally update details within hours. But if your heart is set on print, there are also ways to do this more simply and in connection with eBook versions.
The print on demand option offered by Amazondoes just what it says on the tin – no books are printed, until one is ordered. That way you can still have a lovely paperback version of your book, but without the effort and costs involved in a full print run. This can still take a bit of time to ensure that the final book is formatted correctly for print, but if you do have some spare hours to dedicate to it, it can help boost sales and visibility.
3. Which are the best self-publishing platforms?
There are a number of self-publishing platforms, all of which offer a variety of packages, so have an idea of what you're hoping to achieve. If your book is a nature journal about a small area of the UK, for example, it might not be worth splurging on an advertising budget to drum up customers in Japan. That said, cult runaway successes do happen – it's your call.
Amazon is a big hitter in the eBook market, so its online publishing service Kindle Direct Publishing (KDP) will give you a wide audience through Kindle stores worldwide. It's free to use but you will have to format and style your book in advance (Kindle Create can help with this). It's fast too – your book could be available within 48 hours of publishing – and the royalty payment is up to 70%.
Apple Books is the second-biggest ebook retailer after Amazon, and its Apple Books for Authors is designed to make the process easy from creation to marketing and analytics, for both Mac and Windows users. It offers a flat 70% royalty rate, plus authors can offer free books and discounts anytime.
Barnes & Noble Press has lots of easy to follow info and offers the possibility of seeing your book on BN.com within 72 hours. The royalties you'll receive are 65% of the retail price for eBooks and 55% on print (minus printing costs which will reduce the payout considerably). There's no exclusivity requirement so you could self-publish on other platforms with no penalty.
Kobo Writing Life (KWL) is a global self-publishing platform that sells through Kobobooks.com and is strong on retail partners in North America, the UK, Europe and Australia. It offers royalties up to 70% and can get your book to market in 72 hours and allows you to publish simultaneously elsewhere. Kobo has its own tablet as well as an app that can be downloaded on other devices.
4. Target your metadata
As you write your book descriptions, key words, categories and blurb, make sure to make this metadata – data that gives information about other data, in this case, your book – focused. On KDP you can fill in the sections yourself so why not mention in the blurb that fans of a particular author or genre might love yours? It will help browsers stumble upon your book.
Add keywords that align with your genre, but are not too broad. You want it to have the best chance of appearing in the top 100 on Amazon in its subsection.
So if your book is a thriller, think what subcategories your novel best falls into. If you're still not sure, check the bestsellers rank of well-known books in the same genre and see what categories they have chosen. The more targeted and aligned your metadata is, the more likely it is that Amazon's algorithm will show your book as a suggestion to browsing readers.
5. Social media and self publishing go hand-in-hand
Social media plays a massive role in marketing in success if you are a self publishing author. The more time and planning you put into it, the more successful you will be, but try taking small steps first. Before your book goes live, sign up to Twitter and Facebook and engage with fellow writers and readers. Building connections will help form a community around your book and provide support from people in similar positions.
Be vocal – let people know when your book goes live, when it's on a price promotion, when you get a new review posted or when your cover is designed. The more you do, the more momentum your book can gain!
But don't be all me me ME! Remember to read, respond, help others in a similar boat and you'll find you'll build a comminuty and following and your success will grow.
6. Price promotions are invaluable
Pricing can be tricky, especially without a team of sales experts to help, but if you're signed up to a self-publishing service, they will most likely have a standard pricing structure to suggest. If you're publishing independently on KDP, you do have the option to change the pricing of your book, as well as set different rates, sell in different territories globally and also enrol in Kindle Unlimited.
This allows KU (KindleUnlimited) subscribers to get a copy of your book as part of their monthly subscription. This raises your book's profile and starts accumulating reviews which will in turn help you secure sales. Sites such as BookBubare free to sign up to and can help get your books discovered.
They work with all major eBook retailers and provide trusted recommendations on eBooks, allowing you to promote your book with the site. You can also use their Partners Blog for expert marketing advice.
7. Good cover design will help readers convert
It might be harder to achieve the perfect finish on your cover, but the more eye-catching and professional-looking the cover, the more you will get noticed and the less likely it is your book will be casually dismissed by a searching reader.
Sites like Fiverr offer access to a range of freelancers in their marketplace including designers. Keeping it simple also helps keep a more slick finish. Try taking font, colour and positioning inspiration from bestsellers in the charts. And remember – if you're commissioning for a print on demand or paperback book, give the dimensions for the spine and back too!
8. It's worth spending money on an editor and proof-reader
Just because you're self-publishing, doesn't mean that errors won't put readers off. If you don't have the skills or time to proofread everything yourself, but don't want to sign up to a self-publishing advice service either, why not consider options such as Reedsy or House of Editors which can provide this proof-reading and editing service from experts. Professionally edited and checked copy is well worth the investment!
The great thing about self-publishing with KDP is that if you do notice a mistake, or want to make a small change, this is easy.
Simply re-upload your manuscript file, check all the other information and press the button to make it live again. Some changes, particularly covers, can take up to 24 hours to appear on Amazon, possibly slightly longer. But once updated, your readers will be purchasing the new version.
9. Reviews are everything when self publishing. EVERYTHING.
The one thing that is crucial to ensure that one self-published, your book has the best possible chance of doing well is encouraging reviews. The more reviews you have, the higher your book will be rated and the more chance you have of being recommended.
Make sure your book is added to Goodreads.com where bloggers and reviewers post their thoughts on the latest titles.
Once you see a review posted on one platform, message the reviewer if you can and ask if they would be happy to post it on your book's Amazon page.
Sign up to our free daily email for the latest royal and entertainment news, interesting opinion, expert advice on styling and beauty trends, and no-nonsense guides to the health and wellness questions you want answered.
Emma is a Royal Editor with seven years of experience working in digital publishing. Her specialist areas including literature, the British Royal Family and knowing all there is to know about the latest TV shows on the BBC, ITV, Channel 4 and every streaming service out there. When she's not writing about the next unmissable show to add to your to-watch list or delving into royal protocol, you can find Emma cooking and watching yet more crime dramas.