Davina McCall: "I don't want to be best friends with my kids"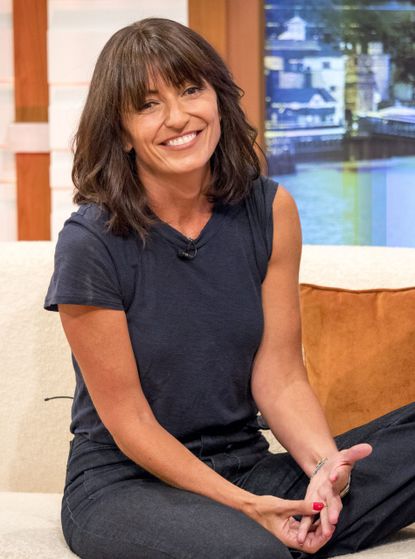 (Image credit: Shutterstock/Rex)
TV presenter and author Davina had a complicated start in life.
Her French mum and English dad separated when she was very young and Davina lived with her gran, Pippy, between the ages of three and 13, before moving in with her dad and stepmum. In her early twenties, Davina battled alcoholism and heroin addiction.She now lives with her three children, Holly, 17, Tilly, 15, and Chester, 12.
Here,Davina relives her highs and lows - sharing her thoughts about Christmas and the menopause...
(Interview from 2016 issue of Woman & Home magazine)
I'm obsessed by Christmas! I'm famous for my lights. In early November, I festoon the entire front of my house with sparkly, flashing, animated Santas. They really are quite a sight to behold and the children absolutely love them.
A McCall Christmas is usually a three-day thing. I've recreated the Christmases I had as a child, growing up in my granny, Pippy's house. They were always massive - lots of people, lots of love and Pippy at the heart of it. Now we have between 16 and 26 guests staying - family, friends and people who don't have a place to be. I always do the traditional Christmas lunch myself. I've got it down to a fine art now.
I still enjoy going to church because it's what I grew up with - as a child I lived in an old vicarage. We went to church every Sunday and we'd be there for Midnight Mass and on Christmas morning. Today I find the idea of "one true religion" a bit confusing but I have faith in something greater than ourselves that is loving, kind and generous. I pray in times of need and can see how important faith is at the end of life. When Pippy gets frightened about the future - which happens when you're 96 - she turns to God to see her through. My mum was French, very young and groovy - a wild child. She had a problem with drink and drugs and when she left my dad, he won custody. Dad lived in London and couldn't afford childcare so I lived with Pippy. I'd spend a week or so of the holidays with Mum in Paris, where there were no rules. I could do what I wanted. It taught me the sort of mum I didn't want to be.
My oldest daughter, Holly, is a young adult and we're at the stage where we're so close, it feels like we're best friends, but I don't want that. You need to be their friend but you have to look after them too - and give advice they don't want to hear.
I was allowed to smoke in front of my mum at a very young age - and when I was in France, I was given wine with lunch from about the age of 12. We've all heard that this teaches children to be responsible with alcohol. But my mother and her brother both had problems with alcohol. They may not binge drink in France but they drink a lot. I never drank responsibly and I'm teetotal now so I've never let my kids drink at the table. Holly knows that if she drinks at a party, I'm not going to go mad. I'm just trying to safeguard the kids for as long as possible.
There's no smoking in our house. Since my older sister, Caroline died from lung cancer four years ago, I've hated smoking more than anything. I know my kids are going to try it, and how can I be angry when they do? I smoked, I drank - I'm a recovering addict.
The first year after Caroline's death was a bit of a fog. I'd be fine for a bit and then I would be reminded of Caroline and it would hit me like a freight train. Every April and May will now be synonymous with Caroline getting sick. Generally I'm okay, though. When a royal baby is born or celebrities split up, I have to call Caroline's friends. She was the queen of gossip. I can talk about Caroline with them and smile.
MORE:Davina McCall praises NHS as she admits to being 'in tatters' over sister's terminal cancer battle
When people ask how I'm going to make sure my children don't make the same mistakes I did, the answer is, I can't. I just have to hope that talking to them about my experiences will mean they think twice. My uncle told me that kids go into a tunnel at around 12, by which point you can't teach them any more, they just have to learn from their mistakes. You have to teach them everything before then.
If you're worried about someone who may have issues with drugs or alcohol, ask them if they're in trouble. And if you don't know them well, find their best friend and say, "I'm worried about this person, can you talk to them?" Don't sit in silence.
The menopause is still a taboo subject. I think it's because men see it as the end. I've been advised not to talk about it - I think people worry it will make me look old. It might! I was 44 when my hot flushes started. I was in Prague on a photo shoot, sweating all night. Sitting in the make-up chair, I asked if the chair was heated! When I realised what it was, I thought, "How am I going to find out about it?" and went online. We don't talk about it enough.
HRT was the right decision for me. I did the research, weighed up the risks andI feel amazing. People think menopause is slippers and knitting. But no! Once you've got over the physical changes, you start thinking, "Where am I going? What doI want?" I've got two friends in their late forties who are creating businesses. It's not the end. It's the start of something different.