Adele confronted by Peppa Pig in hilarious radio interview after rejecting collaboration
Adele's reaction comes after she instantly refused the idea of collaborating with the animated pig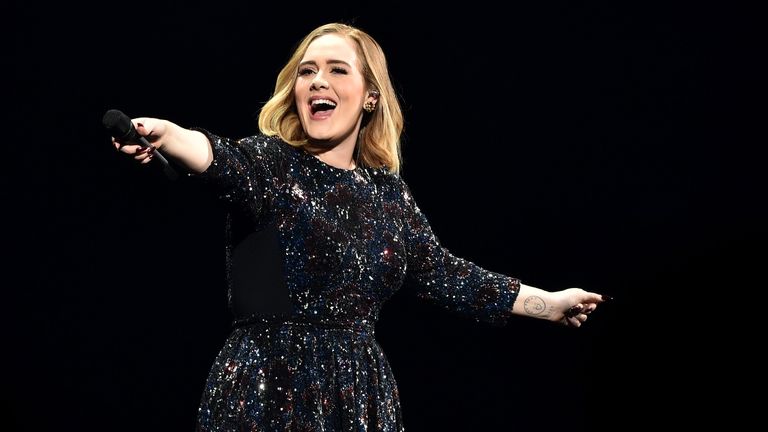 (Image credit: Gareth Cattermole/Getty Images)
By Sarah Finley
Adele has been confronted by an animated pig, after saying she wouldn't 'collaborate' with her on an Instagram live last week.
Though many might be wondering about a possible Adele tour or how to perfect Adele's Vogue cover eyeliner—for others, it's all about her potential duet with a pig.
The hilarious interaction with Peppa Pig was set up by Capital radio's Roman Kemp, live on air, as they interviewed the singer about her new single and album.
Another radio DJ also picked up on the comment about Peppa Pig and made one of her songs into an Adele and Peppa Pig mash-up.
---
During an impromptu Instagram live that Adele surprised fans with last week, where she played a clip of her single, she also did a Q&A. One of the many questions was if she would do a duet with Peppa Pig, which she brushed off immediately and said 'no' to.
However, Roman Kemp, the presenter of Capital radio's breakfast show, had a surprise for her as she appeared on the show this week, playing a direct message from the animated pig to her.
Peppa said, "Hello Adele *snort*, that made me really really sad when you said you wouldn't collaborate with me! Why not! Don't you like me?"
Adele, who recently revealed the heartbreaking story behind her new song, said she 'regretted it immediately'—after saying she wouldn't do the collaboration.
She then went on to apologize to the animated pig saying, "Oh my gosh, but Peppa I spent three years watching you. I deeply regret it, anytime you want to go jumping in muddy puddles and singing in muddy puddles, I'm with you babes. I felt terrible the second I said it!"
In another interview one of the radio presenters, James Barr, also jumped on the Peppa Pig rejection and played a meme he had created, a mash-up of her song Send my Love (To Your New Lover), with Peppa Pig included.
making @Adele's memes come true, featuring @peppapig 😂 pic.twitter.com/3kAcRSHkLPOctober 12, 2021
See more
Adele said she loved the new mashup and but had one request, "I wish you would have put Muddy Puddles in it, though. I love it.
She then went on to say, "Really, I did actually watch Peppa Pig for three years non-stop when Angelo was little, so Peppa, I'll always do a duet with you, babes. Love ya!"
But, went on to add, "Although I don't really want little Peppa Pig singing about her lovers. It's a bit inappropriate."
Sarah is a freelance writer - writing across titles including Woman & Home, Fit & Well, Tech Radar and the BBC. Covering a variety of subjects, including the royals, celebrities and trends in beauty, fashion and wellness - her biggest passions are travel and fitness. She can normally be found trying out the latest fitness class or on a plane to an exotic destination (pandemic allowing) - or writing about either of them.