You probably shouldn't take medical advice from Eric Clapton
We're not medical experts, but neither is Eric Clapton. Listen to doctors, not musicians, for medical advice on the coronavirus vaccine.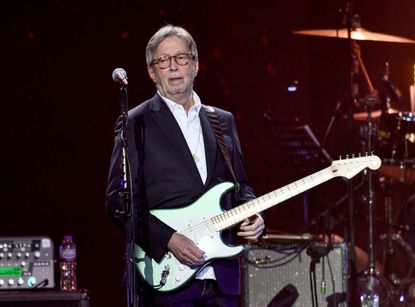 (Image credit: Getty)
Eric Clapton said this week that he would not perform in any venue that requires audience members to have received the Covid-19 vaccination.
"I wish to say that I will not perform on any stage where there is a discriminated audience present," he wrote in response to an announcement from British Prime Minister Boris Johnson, who said that people will have to provide proof of vaccination for nightclubs and other venues.
He said he was inspired by noted musician and not-doctor Van Morrison, who is an anti-vaccine activist.
Eric gave the quote to Robin Monotti Graziadei, an Italian architect and film producer based in London who is outspoken against vaccines.
"I will not perform on any stage where there is a discriminated audience present," he wrote. "Unless there is a provision made for all people to attend, I reserve the right to cancel the show."
Eric Clapton is an amazing musician, probably one of the best guitar players of all time, and definitely not a doctor, epidemiologist, or any other form of expert on Covid-19.
More than 4 million people around the world have died from Covid-19, including more than 600,000 in the U.S. alone. Vaccines are life-saving and extremely effective, according to leading medical professionals at the CDC and WHO. They're the reason we don't have Polio in the United States, or Rubella. Check out the full list from the Centers for Disease Control of "diseases you almost forgot about, thanks to vaccines."
While it is helpful when celebrities help actual scientists spread facts about the Covid-19 vaccine, like Olivia Rodrigo did last week at the White House, spreading fear without support from the scientific community isn't helping anyone. Clapton's reasoning comes from feeling ill after getting the vaccine, which is what everyone who got the vaccine experiences and is simply just how vaccines work
The scientists who have spent years of their lives working on vaccines and infectious diseases are the experts and the only people we should be listening to for Covid-19 information.
Rebecca Holland is a travel and food writer based in Chicago. She has written for the Guardian, New York Times, Architectural Digest, Food & Wine, Wine Enthusiast and more. She is currently a graduate student at Northwestern's Medill School of Journalism. When not working, you can find her eating her way through Chicago's neighborhoods, or in non-pandemic times, traveling around the world.