Nearly 2,000 shoppers are obsessed with this ingredient-blitzing smoothie blender, and it's on sale through Amazon's Deals of The Day
Hate making smoothies? The Jusseion Smoothie Blender belongs in your kitchen, yesterday.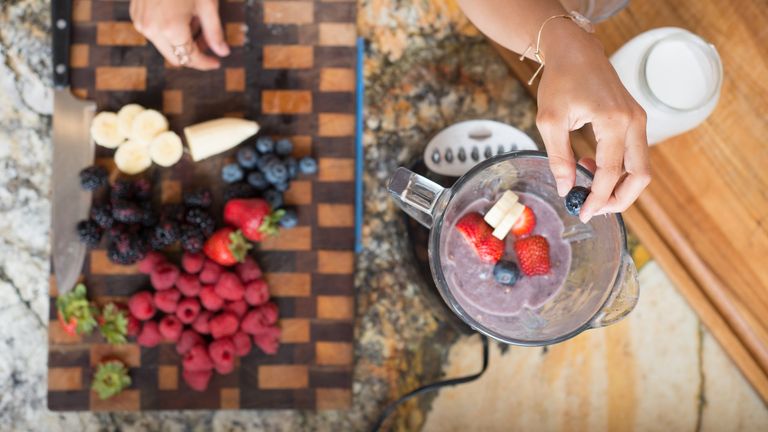 (Image credit: Getty Images)
Gastronomic dilemmas boil down to the tedium and demands of meal prep, and clean-up is just as labor-intensive. Known for wreaking havoc, smoothie blenders should excel in performance, convenience, and functionality. Enter: the top-rated Jusseion Smoothie Blender, a practical and intuitive solution that crafts liquid concoctions with relative ease. And good news: It's currently 31% off original price as part of Amazon's Deals of The Day.
Today's smoothie blenders often entail complicated buttons, cumbersome design elements, and other non-instinctive details. On the contrary, this kitchen gadget integrates leading features of the best blenders. Its bragging rights run the gamut, all of which simplify how to use a blender: 1200 Watts of long-lasting power, subtle noise, and an effective motor plus six-tooth blade that break down grittier substances. Down to size and construction, it touts a sleek, cosmopolitan black base, which won't take up tremendous storage space. Ultimately, the compact Jusseion blender can sit naturally on your countertop without looking clunky or outmoded.
Arguably, its crowning jewel is a touch-screen, auto-blend system, which eliminates the need to hold and stir ingredients altogether. Rather, just place and configure items in the blender; from there, you'll be able to set, edit, and switch modes with a simple touch. The benefits here are two-fold: First, free hands to assist you with related tasks; and more importantly, a condensed number of kitchen gadgets necessary for whipping-up smoothie recipes. When all is complete, the detachable blade can be separated from cups for seamless clean up void of spills. These inclusions — blade, cups, and lids specifically — are dishwasher safe, allowing users to learn how to clean a blender quickly and easily.
Jusseion Smoothie Blender | Save 31% | Amazon | 30 days return policy, 12-month warranty
Includes: 1200W Motor Base, blade assembly 35 oz and 18 oz cups (BPA free), sip and seal lid, seal lid, and owner's manual
Naturally, the smoothie blender clientele proclaims a resounding thumbs up to this device that produces "very smooth, clump-free and bits-free" creations. Among many, one shopper elaborates on this quality further, stating "The blender is super fast. I whipped up a delicious vegan tomato bisque in less than one minute using my fresh garden tomatoes, a little seasoning and coconut milk. Unless I'm using ice, I only need to blend drinks, smoothies, purées, soups and sauces for 30-45 seconds. Everything comes out smooth and velvety." A general theme in commentary, other shoppers underscore its powerful motor, durable design, and ease of use with the touch-screen buttons.
All in all, the Jusseion Smoothie Blender irrefutably checks all the boxes as far as practicality, usability and seamless production are concerned. So swipe the card now: culinary exploration awaits you.
Jusseion Smoothie Blender | Save 31% | Amazon | 30 days return policy, 12-month warranty
Includes: 1200W Motor Base, blade assembly 35 oz and 18 oz cups (BPA free), sip and seal lid, seal lid, and owner's manual
Dominique (Dom) is a very online shopping writer at Woman & Home, where she covers products, sales/deals, and market news across categories. Before joining the team, she penned stories as an editorial fellow at Insider Reviews, the affiliate commerce team at Insider Inc./Business Insider. The bespectacled NJ transplant specializes in commerce journalism, women's lifestyle content, and hoarding makeup—much to her mother's dismay.
Her foray into storytelling began in the early aughts, the era in which she developed a passion for fiction writing and an aversion to math. This passion, along with many failed math exams, led her to Marist College, where she studied public relations, creative advertising, and English.
Aside from writing, she doodles in notebooks, crafts memes, and sleuths for homes out of her tax bracket on Zillow. Follow her adventures via the web:
Instagram: @dominiquemcintee / @drugstoredomi
LinkedIn: https://www.linkedin.com/in/dominique-mcintee-3a32ab9a/
To connect: dominique.mcintee@futurenet.com