Should you buy a food processor?
They can tackle a wide variety of food prep tasks, but should you buy a food processor? And is it worth it?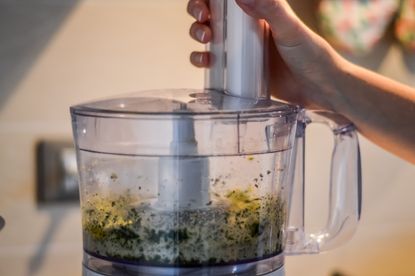 (Image credit: Getty)
woman&home newsletter
Sign up to our free daily email for the latest royal and entertainment news, interesting opinion, expert advice on styling and beauty trends, and no-nonsense guides to the health and wellness questions you want answered.
Thank you for signing up to . You will receive a verification email shortly.
There was a problem. Please refresh the page and try again.
There's no doubt that the best food processors (opens in new tab) save time in the kitchen and are especially helpful if your knife skills are, like mine, sorely lacking. The most basic models will chop, grate and slice, often in varying thicknesses, as well as mix. Mid-range and high-end food processors can do that and more – whip, mince, grind, crush and knead, and usually come with extras such as citrus juicers, mini processing bowls and even blenders.
But are they worth the money, the cupboard space, the hassle of cleaning, and will you actually get a decent amount of use out of one? Let us help you decide.
Who would benefit from owning a food processor
The sort of person who would benefit from owning a food processor is someone who:
Cooks from scratch frequently
Has a lot of mouths to feed.
Is partial to batch cooking.
Doesn't have a lot of time to cook.
Hates food prep (no judgement here, I definitely hate food prep).
If you tick any of these boxes, a food processor is worth adding to your repertoire.
How much do food processors cost
They needn't cost the earth...
Basic models can be picked up from just £30.
A mid-range model - like the Bosch MultiTalent 3 (opens in new tab) - will set you back anything from £80 to £250.
For a top-of-the-range food processor - like the KitchenAid Artisan - expect to pay £350-500.
Factors to consider before buying a food processor
What type of cook are you?
Food processors aren't for everyone. Before deciding whether to buy one, it's important to determine what type of cook you are. Be honest - we'd all love to be baking fresh bread every day (lockdown aside, those were unprecedented times…), cooking every single meal from scratch and making our own puff pastry (okay, maybe not the last one), but that's not always realistic.
If you're at the other end of the cooking scale – a frequent buyer of ready-chopped veg, cook-from-frozen food and ready meals and you only cook for one or two people - you may not get full use out of a food processor.
How much kitchen space do you have?
So far, we've concentrated on full-sized processors, but a mini food processor (opens in new tab) is a good alternative. If you're a keen cook who ticks some of the boxes we mentioned earlier, but you have a small kitchen with limited worktop and cabinet space, a mini food processor is likely the way to go. They can do many of the tasks that a full-size processor can do – chopping, grinding, whipping up sauces, dips and so on – just on a smaller scale. If space is at a premium, go for a mini food processor.
One of the biggest drawbacks of food processors is their size. They're bulky, so they take up a fair amount of worktop or cupboard space, and come with several attachments that don't always fit neatly inside the bowl. But hey, no kitchen gadget is totally perfect, and if space is not an issue in your kitchen, then the size of a food processor will not be a problem.
Cleaning
Cleaning is another tricky issue, but most food processors these days have dishwasher-safe parts. So, as a minimum, make sure the one you choose is dishwasher compatible – you'll thank us for it. Generally, the only parts that require cleaning by hand are the bowl and lid which, let's face it, isn't exactly difficult to do.
In summary...
There are so many more pros, than cons, to food processors: their ability to save bundles of time, to offer consistent results (especially when it comes to slicing and chopping), to prep large quantities of food in one go and to perform several kitchen tasks, with just one gadget.
But, the proof of the pudding is in the eating – or, the using, in the case of a food processor – and the fact that my mum has owned her current one for 20+ years (which replaced the one she had for 20 years prior to that), and wouldn't be without it, is testament to its usefulness and versatility. And, having recently bought one myself, neither would I.
As an interior stylist and writer with a penchant for way too many vases and cushions, Laurie Davidson eats, sleeps, and breaths interiors. She's lucky enough to have been in the industry for over 20 years, working across TV and magazines, and alongside some of the top UK brands and names.

If Laurie isn't knee-deep in boxes for a shoot or preparing mood boards, you'll most likely find her testing appliances and accessories for buyer's guides. With a wealth of experience, features, and shoots under her (stylist's) belt, Laurie has become a much-called upon expert.