How often should carpet be replaced and how to make yours last, according to flooring experts
Carpet experts answer how often should carpet be replaced and share tips for prolonging the lifespan of carpeted floors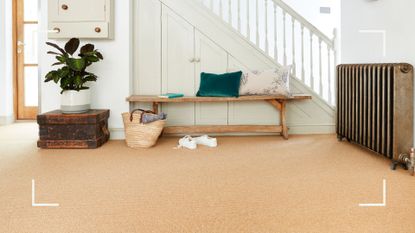 (Image credit: Victoria Carpets)
The answer to how often should carpet be replaced is dependent on a number of factors including the material choice, the area of the home in which the carpet is laid, and how well the carpet is then cared for.
Knowing when it's time to change your carpets, as with how often you should change your mattress, can be transformative in your home. Not only when it comes to decor, given how flooring plays such a crucial part in bringing to life many key interior design trends, but also for hygiene.
Carpet experts shared their knowledge and recommendations with woman&home about the right time to replace old carpets, as well as their top care tips for cleaning carpets and ways to protect the fibers to make your flooring last as long as possible.
How often should carpet be replaced?
"There is a proxy that goes around the flooring world that says a carpet on average is changed every seven years," Scott Hosie, Head of Product & Innovation at Headlam, Europe's leading distributor of floor-coverings, told woman&home.
Rupert Anton, spokesperson for the Carpet Foundation, agrees saying, "I would say 7 years minimum for a good quality carpet. A cheap, functional carpet on the floor might need to be changed every 2-3 years. So it very much depends on carpet quality."
While Brinton's Design Manager Jodie Hatton, explains that with the right care, carpets can last even longer than the average seven years, "with proper care, it can last even longer. The lifespan of a carpet can vary greatly depending on the quality of the materials used, the manufacturing method, where it is installed in the home, and how well it is maintained," explains Jodie.
How do I know when to replace my carpet?
"A carpet will never 'wear' out it just depends on one's attitude to home decor as to when one replaces it," Rupert explains. "Carpet is unlike other household items and appliances as it doesn't suddenly 'break down', but it does begin to look tired, worn and sometimes the color can fade."
"It may also develop what is called 'tracking' – this is when part of the carpet seems to look 'flat' in terms of color and pile and this is because if you walk on the same area every day it will naturally look worn and perhaps a different shade to the rest of the carpet, " Rupert explains.
Take for instance the stairs he says, "the edge of the carpet will look pristine but not the part you walk on every day." You could choose to combat this by laying a stair runner, as a more cost-effective solution to replacing the entire carpet.
"Carpets ultimately wear where there is heavy traffic – up and down stairs, hallways, and busy rooms such as the living room," says Scott. "The appearance may look a little threadbare, so this would be the biggest clue. The pile may also have some flattening. Hopefully, though you are changing your carpet as part of a positive refresh and new interior paint color scheme, rather than as a distress purchase!"
Carpet care tips: How to prolong the life of your carpet
How often you should replace your carpets is directly impacted by how well you look after them. Here we share expert tips on how to clean and protect carpets to help your flooring last for as long as possible.
1. Vacuum more frequently
It sounds like an obvious one, but if you vacuum more often it can prolong the life of your carpet. Removing dirt and debris will help to keep your carpets looking like new for longer because it prevents dirt and grit from matting the fibers.
"New carpet should always be vacuumed," says Rupert. "You may worry as new carpet will show some 'fluffing' or shredding as loose fibers work their way to the top but don't let that deter you. There is nothing to worry about."
2. Vacuum with the right attachment
When doing the vacuuming ensure you are using the best vacuum for the job and utilizing the correct attachments to suit the type of carpet you're cleaning.
"When caring for your carpet, it is important to use a vacuum with good suction, and for cut pile carpets, a vacuum with a brush and beater bar to help lift the pile and remove particulate dirt," says Jodie.
Rupert adds, "An upright vacuum cleaner fitted with a beater bar and/or brushes is recommended for cut pile carpets, not loop pile."
3. Tackle stains with caution
When looking at how to get stains out of the carpet it's important to be wary of the potential problems that can occur as a result of using stain treatments. They can cause discoloration if used incorrectly.
"It's important to be careful if applying stain blockers and repellent treatments," warns Jodie. "If they have not been applied effectively, they can help create extra problems." Check the instructions and ingredients of your cleaning product to check it doesn't contain anything that will effectively bleach patches."
4. Protect carpets with added layers
Prevention is key for helping to protect the wear and tear of any carpet, especially so in high-traffic areas of the home such as entryways and passageways. In an entryway, a carpet can make the right (or wrong) first impression, so adding layers such as doormats, rugs, and runners can go a long way to protecting the carpet in these key areas.
"Use doormats and runners" advises Rupert. "These could be cut-offs from remnants of the carpet for the room even. These will significantly reduce the rate at which your carpet will soil, making it look better for longer."
Can a carpet last 20 years?
While the guidelines say a carpet should be replaced between 7-10 years with good maintenance, some carpets have the potential to last 20 years depending on the material and how well they are cared for.
Scott explains, "A well-made wool carpet made of quality yarn, from quality raw materials, can indeed last a long time, even 20 years."
Rupert agrees adding, "A good quality Axminster (patterned carpet) or Wilton (typically plain but made in the traditional way like an Axminster with the front and back woven together simultaneously) certainly can last 20 years."
"However, the majority of carpets in the UK are 'Tufted' (basically machine-made, where the fibers loop through the backing material) and while these won't wear out they will show their age after probably seven years."
In conclusion, carpets are a long-term investment where it's worth buying the best quality you can afford at the time of purchase, for it to serve you for longer.
Tamara is a highly experienced homes and interiors journalist, with a career spanning 19 years. Now the Lifestyle Editor of womanandhome.com, she has spent the last 16 years working with the style teams at Country Homes & Interiors and Ideal Home, and it's with these award-winning interiors teams that she gained a wealth of knowledge and honed her skills and passion for shopping, styling and writing about every aspect of lifestyle and interiors.
With a keen eye for the latest interior trends, there's not a lot she doesn't know about home decor – whether it's what colour we should be painting our living rooms next season, or if the latest 'must-have' buys are actually worth investing in.
A true homes and interiors expert, Tamara has served as an ambassador for leading interior brands on multiple occasions, including appearing on Matalan's The Show and presenting at top interiors trend events such as the Autumn Fair and Spring Fair.