Are air fryers worth it? 10 reasons our experts wouldn't be without one in their kitchens
Are air fryers worth it or is it just a lot of hot air? We ask food experts to highlight why they are so valuable in any kitchen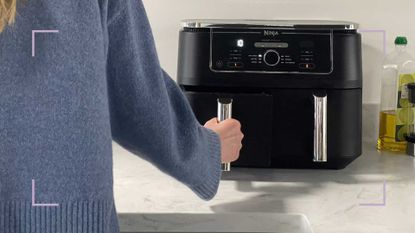 (Image credit: Future)
Air fryers are one of the best-selling home appliances right now, with many retailers unable to meet stock demands – but is the hype to be believed? Are air fryers worth it?
Now feels like a good time to confess that I don't personally own one of the best air fryers, and I'm starting to feel like I'm the only person who doesn't. As a result, I'm constantly being encouraged to add one to my kitchen but are they worth it? According to our team of food experts at w&h and a leading chef, the answer is a resounding yes.
To elaborate on the question of whether or not air fryers are worth it and demonstrate why this on-trend appliance deserves its place on all organized kitchen countertops our experts share what they personally love about cooking with an air fryer.
Are air fryers worth it? 10 expert opinions
"As a food scientist, I can understand the growing popularity of air fryers in recent years," explains Michael Murdy, a food scientist, chef, and founder of Robust Kitchen (opens in new tab), "Air frying is a relatively new method of cooking that has gained popularity among health-conscious individuals looking for a way to prepare fried foods without the added fat and calories."
"In response to the question of whether air fryers are worth it, I believe that they are a valuable investment for anyone who wants to enjoy the taste and texture of fried foods without the health concerns associated with deep-frying."
Here are 10 reasons, according to experts, exactly why air fryers are worth it...
1. Healthier cooking results
One of the biggest boasts that I know to be true is that air fryers are healthier. Why? Because they require less oil to cook with and therefore offer a healthier alternative than other methods of cooking.
"You barely need to use any oil to cook in an air fryer," explains Jennifer Bedloe, group food director at w&h. "However, for tastier results, you might want to add a little more to recreate traditional fried foods. A drizzle on chicken or veg with seasoning is all that's required."
Michael agrees, saying: "One of the primary advantages of air frying is that it is a healthier way of cooking. Unlike deep-frying, which involves immersing food in hot oil, air frying uses hot air to circulate around the food, cooking it to a crispy golden brown."
"This method can significantly reduce the amount of oil used in cooking, resulting in healthier and lighter meals. In fact, studies have shown that air frying can reduce the fat content of fried foods by up to 75%."
"You could be thrifty and use a spray oil to make it easier to get an even coating," Jennifer suggests. "I often add peppers, onions, and cherry tomatoes with a spray of oil to add to pasta sauces or think healthier fakeaways such as grilled chicken for kebabs or breaded fried chicken to go with fries and slaws."
2. Varied cooking options
There's more to an air fryer than meets the eye, they may be small but they are mighty. Like how you can roast, boil, or steam foods using an oven an air fryer also offers a variety of different cooking functions in one place.
"Some models come with preset cooking programs that allow users to cook a variety of foods, including chicken, fish, vegetables, and even baked goods," Michael explains. "This versatility makes air fryers a great investment for anyone looking to expand their culinary horizons and try new recipes."
"Invest in a model that has different functions to make it super easy to use," recommends Jennifer. "I have a 2 drawer Ninja air fryer and you can roast a chicken in one drawer whilst cooking your roasties in the other."
"There are handy pre-set functions that control the time and temperature and it comes with a recipe booklet for inspiration. I love that I can roast a pack of sausages for the kids in just 10 mins and happily walk away rather than standing over it."
3. Quicker cooking times
Air fryers prove to be a quicker option for rustling up meals when time is of the essence. This is a hugely appealing factor for those who live busy lifestyles and want a faster turnaround at mealtimes – and that goes for all the many things you can cook in an air fryer.
"Another advantage of air frying is the quicker cooking times," Michael explains. "Air fryers are designed to cook food more quickly than traditional methods, making them a great option for busy individuals who don't have a lot of time to spend in the kitchen. For example, an air fryer can cook frozen chicken wings in as little as 20 minutes, compared to the 45 minutes it would take to cook them in a conventional oven."
"The powerful fan that circulates the air is highly effective in cutting cooking times," agrees Rose Fooks, deputy food editor at w&h. "Most air-fryers take mere minutes to preheat, unlike most ovens that require longer to reach optimum cooking temperatures."
4. Best results for frozen food
Due to the hot air circulation, an air fryer cooks frozen food to perfection, whereas an oven might fail to add the same level of crispiness to thawed-out food.
"One of the most significant advantages of air frying, in my opinion, is the ability to cook frozen foods," says Michael. "Unlike other cooking methods, air frying allows you to cook frozen foods without having to wait for them to thaw. This can be especially helpful for busy individuals who want to cook a quick and easy meal without having to plan ahead. For example, air fryers can be used to cook frozen French fries to crispy perfection in just a few minutes."
"For a weeknight, frozen meal such as fish and chips or equivalent veggie nuggets, fish fingers, or veggie sausages air frying gives them a crispy coating without overcooking the middle," says Jennifer.
"It's also a game changer in the sense that if you're feeling extra hungry and want to eat something in a hurry. You can have a frozen supper on the table in just 15 mins."
5. Better for reheating takeout the next day
Who doesn't need a contingency plan for reheating leftovers the next day? Our team agrees that an air fryer is unbeatable when it comes to reheating just about any takeout cuisine.
"Leftovers can be reheated in a flash, think hot melty pizza, even better than when it arrived from the takeaway," exclaims Jennifer. "Spring rolls or bhajis sizzling straight from the drawer – even ready-made sausage rolls and pies taste as good as the bakery hot counter." Just be sure not to overfill the basket to avoid a common air fryer mistake many fall prey to.
Jennifer adds, "you'll still need a microwave for beans and soups/stews, but for anything where you'd use an oven the air fryer does it better."
6. Faultless fries every time
To cook homemade fries you need hardly any oil when cooking in an air fryer as opposed to conventional methods of deep fat frying – so no more oily, soggy fries that are not just unhealthy but also taste it.
"While deep-frying can result in greasy and soggy fries, air frying produces fries that are crispy and delicious," says Michael. "By using a minimal amount of oil and high heat, air frying allows the fries to cook evenly and crisp up on the outside while remaining fluffy on the inside. This method can be a game-changer for anyone who loves french fries but wants to avoid the health concerns associated with deep-frying."
"For best results soak peeled potatoes, cut into thin or thick chips, in a bowl of cold water for 30 mins," advises Jennifer. "Drain and pat dry, then toss with a little oil and seasoning and air fry until crispy - it only takes 20-30 mins depending on thickness. You can also do whole baby potatoes or thicker wedges."
7. Easy to use
"It can take a little time to get used to using an air-fryer, but the preset cooking functions make cooking different things super easy," says Rose.
Rose has actually compiled an easy step-by-step guide on how to use an air fryer and it's very simple, but in essence, the main thing to master is the different cooking functions.
8. Straightforward to clean
Cleaning an air fryer is an effortless task to make maintenance simple and straightforward, but also thanks to the way in which you use an air fryer it contains potential mess caused by certain things you cook that spit and splatter surrounding surfaces.
Rose explains: "Air fryers are a great way to cook fatty foods that splatter. I always cook things like bacon and sausages in my air fryer. All the mess is contained and then the cooking drawer can go straight into the dishwasher."
9. Low running costs
With many households feeling the pinch right now, it's no coincidence that air fryers have become so incredibly popular because they cost less to run than most ovens.
While working out how much it costs to run an air fryer differs from model to model, due to wattage generally speaking an air fryer is the cheaper appliance to use, because of its lower wattage, lesser cooking times, and the fact that they use less electricity.
"Air fryers use much less energy to heat and cook than an oven does, saying that it would take a while to offset the original cost of the air fryer," says Rose. "But they're so useful that I reckon it will pay for itself in ease of use!" We'd always recommend keeping a look out for the latest best air fryer deals to save on the initial costs.
10. Models to suit all budgets
The world of air fryers is like most kitchen appliances, like the best coffee machines or the best xxx there are expensive and affordable models on offer. The best thing about air fryers is that even the basic models still boast the best results for all of the above.
"Larger air fryers with more functions can be quite pricey, but there are some brilliant lower-cost air fryers on the market," says Rose. "We recently tested the Cosori Lite Air Fryer, it costs under $100/£100 which we rated really highly".
So whether you can afford to invest in the Ninja Foodi Smartlid Multi-cooker air fryer model or choose a budget brand, air fryers are still accessible for all.
Tamara is a highly experienced homes and interiors journalist, with a career spanning 19 years. Now the Lifestyle Editor of womanandhome.com, she has spent the last 16 years working with the style teams at Country Homes & Interiors and Ideal Home, and it's with these award-winning interiors teams that she gained a wealth of knowledge and honed her skills and passion for shopping, styling and writing about every aspect of lifestyle and interiors.
With a keen eye for the latest interior trends, there's not a lot she doesn't know about home decor – whether it's what colour we should be painting our living rooms next season, or if the latest 'must-have' buys are actually worth investing in.
A true homes and interiors expert, Tamara has served as an ambassador for leading interior brands on multiple occasions, including appearing on Matalan's The Show and presenting at top interiors trend events such as the Autumn Fair and Spring Fair.