Singer vs Brother sewing machines: which of these mechanical must-haves is the best sewing machine for you?
Singer Talent 3321 vs Brother LX25: which of these mechanical must-haves is the best sewing machine for you?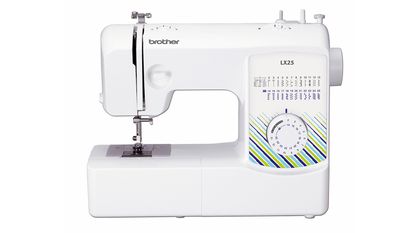 (Image credit: Brother)
woman&home newsletter
Sign up to our free daily email for the latest royal and entertainment news, interesting opinion, expert advice on styling and beauty trends, and no-nonsense guides to the health and wellness questions you want answered.
Thank you for signing up to . You will receive a verification email shortly.
There was a problem. Please refresh the page and try again.
Decided that a computerised sewing machine isn't for you? That you need something a little better suited for beginners or at the lower end of the pricing spectrum? The great news is that among the best sewing machines (opens in new tab) out there, there's still a massive amount of choice when it comes to the mechanical market.
Two such examples are the Singer Talent 3321 – a classic-looking Singer model with simplistic features to suit a beginner – and the Brother LX25, which is a more modern design with all the basics you could need for quick stitching.
Why did we opt to pit these two particular sewing machines against each other? Well, in part it was to make this a fair fight. Whittling down the machines out there based on price, we opted for two strong contenders that were between £100 and £200. This is a great price range to look at particularly if this is your first sewing machine; spend too little and you won't get a machine that lasts as long as your hobby, but a little investment at the outset will see you stitching for a number of years.
At £169 the Singer Talent 3321 is the pricier of the two, while the Brother LX25 comes in at an affordable £139. But beyond the costs, how do these two beginner-friendly sewing machines measure up based on their features?
Quick comparison
Price
Singer Talent 3321: £169
Brother LX25: £139
Stitches
Singer Talent 3321: 21 built-in stitches
Brother LX25: 25 built-in stitches
Automatic needle threader?
Singer Talent 3321: Yes
Brother LX25: No
Warranty
Singer Talent 3321: Two years
Brother LX25: Three years
What's special about the Singer Talent 3321?
Buying from a brand like Singer is a no-brainer. It's a household name with a reputation for producing reliable sewing machines that last well beyond their warranty. The Singer Talent 3321, in particular, has all the hallmarks of one of its dependable models.
That starts with the heavy-duty metal frame inside the machine, which is not something you'd usually expect from a model in this price range. The sturdy build means that all the internal workings run smoother for longer, so if you're planning on sewing a lot, this is a good machine for you.
Looks-wise, there's something about the Singer Talent 3321 that reminds us of the traditional hand-crank model the brand is famed for. The curvature of the machine gives it a vintage-feel without compromising on modern features.
With 21 built-in stitches (and six essential stitches), there's enough to see you through the most basic of sewing patterns, but you can also flex your skills by trying out the 10 decorative stitches and four stretch stitches too if you fancy working with jersey fabrics. One automatic four-step buttonhole is also included in the mix for finishing touches.
Wheels on the front and top of the machine allow you to select the stitch, change the length and width of stitches as well as change the tension. A reverse slider is also in easy reach for backstitching over your sewing. Plus, an automatic needle threader. Basically, the Singer offers all the functions you'd need to sit down and start working at speed.
What's special about the Brother LX25?
The Brother LX25 is a great entry-level machine that offers fantastic value for money. It has a good range of built-in stitches, all easily selectable from the front dial. Two more dials on the top of the machine control the stitch length and tension.
For the multitude of stitches, there's a handy visual chart on the front of the machine to help you understand exactly what you're going to get with each setting. This feature is easy to read, especially when compared with looking at stitch types on the dial itself or having to cross-reference a manual.
In terms of design, overall it's a stylish model; the fun blue-and-green pattern that's featured on the front might appeal to younger sewers. The stitch dials and reverse button slider are simple too, and there aren't any excess graphics, so the whole sewing machine has a streamlined appearance.
Another thing to note is the size of this machine; its average dimensions (W39 x H30cm) can be hidden away under its soft dust cover, and it won't take up tons of room so is easy to store out of sight. This is something that a lot of the high-end computerised options struggle with, so it's definitely a feature worth mentioning.
What are the main differences?
In all honesty, there aren't a lot of differences between these two models... in fact, they share more in the way of similarities. They are about the same size, have top-loading bobbins, come with a soft cover and offer one buttonhole stitch. Essentially, they tick all the basic boxes.
But if you look a little more closely, there are a couple of minor differences that might sway your decision – the obvious one being the number of stitches. If you're more experimental and want more choice when it comes to your sewing, opting for the Brother LX25 with its 25 stitches, might be the best choice for you.
But – and it's quite a big but – the Brother LX25 comes with fixed width stitches, meaning you can only change the stitch length on this sewing machine. The Singer Talent 3321, however, has the functionality to alter both the length and width of stitches. So, despite having fewer stitch types, the Singer Talent 3321 actually offers greater flexibility with the stitches it can perform.
If it really comes down to a numbers game, the warranty might be the thing to win you over. the Brother option offers an extra year, which is a great safety net, especially with an expensive purchase such as a sewing machine.
Should I buy the Singer Talent 3321 or the Brother LX25?
If you're a first-time buyer, both the Singer Talent 3321 and the Brother LX25 are great sewing machines for beginners. Each is easy to use and has simple dials and buttons to control the various functions. Of the two, the Brother LX25 is probably a little easier to operate as there's a handy stitch chart to reference on the front of the machine, and no stitch-width control to consider.
Those who want something more technical will enjoy changing up the stitch width on the Singer Talent 3321, giving you total control over the look of your sewing. Although the Brother LX25 does have four extra stitches to choose from, when it comes to decorative embellishment – speaking practically – it's better to have the ability to adjust those stitches when it comes to width.
Our in-house craft expert, Esme Clemo, has been working within the craft magazine industry for eight years, having turned a sewing hobby into her career. She's adept in a number of crafts, including sewing, papercraft, calligraphy, embroidery and printing and has also completed an interior design course with the University of Arts London,
There's nothing she doesn't know about DIY and interiors. Everything in her home and wardrobe has a DIY twist and she knows all the tools needed for getting the job done - meaning she has a very hands-on approach when it comes to testing out products for our reviews.