White noise for sleep: why it works, how to get the best results, and when to avoid it
White noise could be an easy solution to sleepless nights, especially if you live in a noisy neighborhood.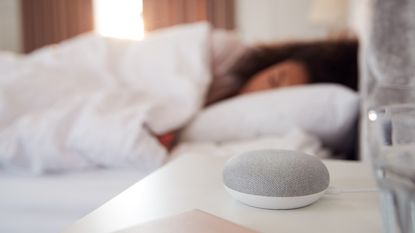 (Image credit: Getty Images / monkeybusinessimages)
Struggling to sleep at night? Using white noise for sleep could be a natural alternative worth trying, especially if you don't want to resort to taking sleeping pills.
Sometimes even the best pillows fail to send you peacefully to sleep every night. Which is why a white noise machine or app on your smartphone could be the secret to a restful night for those who have tried everything and still struggle to nod off.
Never heard of white noise for sleep? Well, you're in luck! We spoke to sleep experts to bring you everything you need to know about white noise and how to use it at bedtime to help you fall asleep faster.
What is white noise?
There are two different types of white noise. One is much more pleasant to listen to than the other and is the one you'll want to seek out if you're using white noise for sleep.
"White noise is a type of sound used to mask background sounds," explains Dr. Lindsay Browning, author of Navigating Sleeplessness: A Mental Health Handbook (opens in new tab). "To be classed as white noise, the sound must be electronically generated and contain the sound of different frequencies at the same intensity. In layman's terms, this means that it does not sound very pleasant and sounds like the static on a TV or radio."
However, white noise for sleep tends to be slightly different and is much more friendly on your ears. "In terms of better sleep, white noise is sometimes used as the general description of other sounds, such as rainfall or bird sounds," says Dr. Browning. "These provide ambient background noise as someone tries to sleep."
How does white noise for sleep work?
If one of the reasons you can't sleep is due to noisy neighbors or other loud disturbances, then white noise could be a way to help you zone out and drift off.
"If your sleep is disturbed by sudden outside noises, such as dogs barking, a siren, or people walking past noisily in the night, then white noise can be used to diminish these sounds," says Dr. Browning.
The way it works is simple. "The constant background sound of the white noise helps to minimize the impact of occasional loud noises, as they aren't a sudden noise punctuating silence. This is called sound masking."
"Some people also find that white noise can be helpful for young babies, since they have been used to the loud environment of the womb, with constant heartbeat sounds and bodily function noises," says Dr. Browning.
Is it better to sleep in silence or with noise?
Always thought silence was golden? Sadly, you're mistaken, especially when it comes to good sleep hygiene.
"If you live in an environment where you are likely to have police sirens going off, or loud external noises that may disrupt your sleep, then a white noise machine may be beneficial," says Dr. Browning. "Plus, white noise is also especially effective in helping people with tinnitus."
What's more, it's all backed up by science. "Some studies have suggested that white noise can be especially helpful in hospital environments. This is where the constant hospital sounds (like beeping machines) can be especially disruptive to sleep – and these can be sound masked by white noise," says Dr. Browning.
6 of the best free white noise apps
With so many options available, it can be tricky to know which free white noise app to pick. Here's our round-up of the best...
Is white noise bad for you?
There are times, however, when white noise may not be right for you. "For general sleeping environments, white noise machines may be detrimental to your sleep," says Dr. Browning. "This is because they produce a prolonged noise which can disrupt sleep quantity and quality. In fact, a 2014 study found that people should not be exposed to loud white noise machines for long periods."
And while white noise machines can be beneficial at any age, caution should be used when using these machines with young children and babies.
"The same study also found that the volume should be kept low (less than 50 dB) and that the machine should be kept away from the bed or cot to prevent damage to hearing, which was especially important in babies," adds Dr. Browning. "Also, there is some debate whether white noise machines may increase the risk of problems with language and speech development in children and babies, with some limited studies suggesting that they might."
Always speak to your doctor or midwife before using a white noise machine around babies and young children.
Faye M Smith is an award-winning journalist with over 15 years experience in the magazine industry. Her continued work in the area of natural health won her the coveted title of the Health Food Manufacturers' Association (HFMA) Journalist of the Year Award 2021. Currently Health Editor across several brands including woman&home, Woman and Woman's Own, Faye specialises in writing about mental health, the menopause, and sex and relationships.