L-theanine–how this new relaxation ingredient can reduce stress, improve sleep and transform your wellbeing
L-theanine could be the ingredient you need if you are struggling to relax, need more focus and want to stay stress-free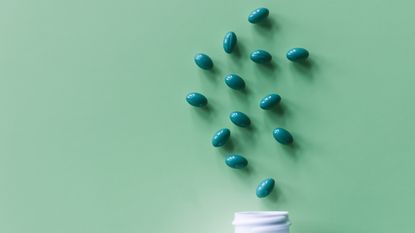 (Image credit: Getty Images / Grace Cary)
woman&home newsletter
Sign up to our free daily email for the latest royal and entertainment news, interesting opinion, expert advice on styling and beauty trends, and no-nonsense guides to the health and wellness questions you want answered.
Thank you for signing up to Woman & Home. You will receive a verification email shortly.
There was a problem. Please refresh the page and try again.
L-theanine is a natural ingredient that's hailed as a fuss-free solution when it comes to easing anxiety, reducing stress and aiding sleep. But don't be put off by its science-y name. L-theanine is easy to add to your daily diet and research has found that it can offer a range of health and wellbeing benefits.
Never heard of L-theanine before? Available in supplement form, it's ideal to add to your blender if you prefer taking your dose as a nutrient-rich smoothie. However, if you're a regular tea drinker, then you may have been getting your daily fix of this compound without even realising.
Here's everything you need to know about this natural healer, including how using L-theanine for sleep could help if you have been struggling to get off at night.
What is L-theanine?
L-theanine is a naturally occurring amino acid, which is found in a number of different types of plants and fungal species.
"When ingested, L-theanine can help to increase levels of the 'happy' chemicals in the brain, serotonin and dopamine," says nutrition expert Mina Khan. "This means it helps boost our mood and regulates things like sleep, appetite, attention and energy levels. When taking L-theanine, whether in supplement or dietary form, people often report increased feelings of calmness and relaxation. As a result, this can often help to decrease blood pressure and improve the quality and duration of sleep–which a lot of us could do with a little help with."
L-theanine is naturally found in tea, and often named on the label of specialist sleep teas. "We often find that a cup of tea makes us feel less stressed and gives us a feeling of wellbeing, and that's thanks to the L-theanine," says nutritionist Dr. Naomi Newman-Beinart, a specialist in health psychology.
What are the best sources of L-theanine?
Apart from supplements, tea is one of the best sources of L-theanine.
Swapping your usual black tea and going green could be an effortless way to boost your levels of L-theanine. "Green tea has been a popular choice for a number of years due to its high antioxidant levels and low caffeine content," says Dr. Newman-Beinart. "And now there's even more reason to add green tea to your shopping list–it contains higher concentrations of naturally occurring L-theanine than black tea."
A 2016 study by University of Szeged, in Hungary, looked into the amount of L-theanine in each tea type. They found…
Green 6.56mg
White 6.26mg
Oolong 6.09mg
Black 5.13mg
But to get the benefits of L-theanine, you need to get the right dosage.
"Adults can safely take between 100-400mg of L-theanine per day," says Dr. Newman-Beinart. To start seeing noticeable changes just from drinking green tea alone, you'd probably need to have around eight to 10 cups a day.
Matcha tea can be a good option, too. "In my opinion, matcha is the best way to get the most out of L-theanine," says Dr. Newman-Beinart. "Rather than soaking tea leaves and then removing them, matcha is made by grinding the green tea leaves into a powder to make your tea, so you are getting even more health benefits from each sip."
What are the health benefits of L-theanine?
While it's still early days, research into the health benefits of L-theanine look positive. Adding L-theanine to your diet could help to:
L-theanine for sleep—does it work?
Using L-theanine for sleep problems hasn't been fully explored yet, but L-theanine can help with relaxation, which can lead to better sleep. So it's certainly worth adding it to your routine if you want to try to improve your sleep hygiene, and could work well alongside sleep guided meditations.
And, if you're looking to know how to fall asleep fast, then L-theanine could be the answer. "Studies have found that the compound can significantly improve levels of relaxation and that its effects can start to work within just 30 minutes," says Mina. "This is great news for those who suffer from anxiety and stress and are looking for a natural solution, especially if it keeps them up at night."
What are the side effects of L-theanine?
Before taking any supplement, it's important to check first with a medical professional if you're on any medication or suffer from a health condition, as L-theanine can interact with these. Also, you shouldn't take L-theanine if you're pregnant or breastfeeding.
"Taking L-theanine has not been found to cause much in the way of side-effects, but some people have reported that it may cause mild adverse effects, such as sleepiness or headaches," says Dr. Newman-Beinart.
And that's not all. "L-theanine has been found to reduce alertness, which may be problematic for some users," warns Mina. "Plus, the potential for this substance to reduce blood pressure may also be a risk for those who already have low blood pressure or who are currently taking medication to reduce their blood pressure."
Best ways to get L-theanine in to your diet
Not sure which l-theanine product to pick? "You can find L-theanine in capsule form, or in its naturally occurring form in green tea," says Dr. Newman-Beinart.
"Capsules will hold higher concentrations of L-theanine than tea. So, if you choose to try capsules, it is recommended that you start with a lower dose and slowly increase it until you are taking the suggested dose. You may even find that you get the results that you are looking for without needing to take the full dosage."
We recommend for a dose of L-theanine in your diet: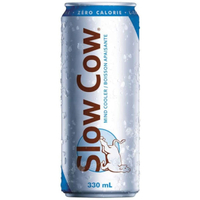 1. Slow Cow Mind Cooler Flavoured Sparkling Water for Focus
Form: Drink | L-theanine per serving: 132mg
Available in a ready-to-drink 330ml can, this sparkling water is infused with six 'relaxing' plant extracts, including L-theanine, valerian, chamomile, passiflora, linden and hops. With zero calories and caffeine, Slow Cow has been designed to promote calmness, without drowsiness.
---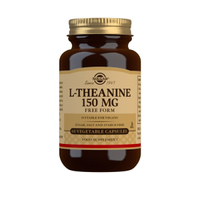 2. Solgar L-Theanine 150mg Vegetable Capsules
Form: Capsules | L-theanine per capsule: 150mg
These vegan-friendly, easy-to-absorb capsules have been designed to be taken twice a day for best results. Many reviews of this product include how this supplement has helped calm feelings of anxiety and aid sleep. We recommend trying for three months while keeping a diary to see if you can pinpoint changes to your wellbeing.
---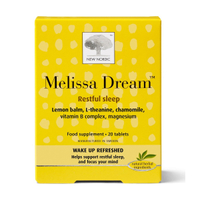 3. New Nordic Melissa Dream
Form: Capsules | L-theanine per capsule: 134mg
A mix of lemon balm extract, chamomile and L-theanine, two tablets are recommended before bedtime to help sleep and relaxation. However, many users say they only need to take one per night to feel desired results. These are designed to help you wake up feeling rested and not drowsy.
---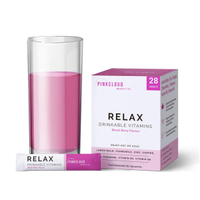 4. Pink Cloud Beauty Co. Relax Drinkable Vitamins
Form: Powder sachet | L-theanine per serving: 50mg
Taken hot or cold with 200ml of water, these drinkable food supplements come in mixed berry flavour and have been designed to help you unwind during a hard day. Carry them with you and swap them for your usual coffee. Vegan-friendly, they contain vitamin B6, copper, zinc and vitamin B5 as well as L-theanine.
---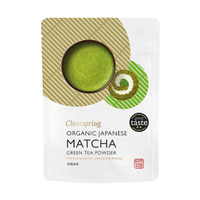 5. Clearspring Organic Japanese Matcha Green Tea Powder–Premium Grade
Form: Green tea powder | L-theanine per serving: n/a

Matcha green tea is a natural source of L-theanine. "In the afternoons, I have a cup or two of this with a snack," says Dr. Naomi Newman-Beinart. "It has a light and smooth flavour and helps me to get through the 3pm slump. "When L-theanine is taken in its matcha form, you are getting even more health benefits from each sip."
---
Whichever one you try, we hope it works for you!
Sign up to our free daily email for the latest royal and entertainment news, interesting opinion, expert advice on styling and beauty trends, and no-nonsense guides to the health and wellness questions you want answered.
Faye M Smith is an award-winning journalist with over 15 years experience in the magazine industry. Her continued work in the area of natural health won her the coveted title of the Health Food Manufacturers' Association (HFMA) Journalist of the Year Award 2021. Currently Health Editor across several brands including woman&home, Woman and Woman's Own, Faye specialises in writing about mental health, the menopause, and sex and relationships.