Jane Plan or Diet Chef - which meal delivery plan is better?
You've probably heard of Jane Plan or Diet Chef if you're looking for calorie-controlled meals. This is what you need to know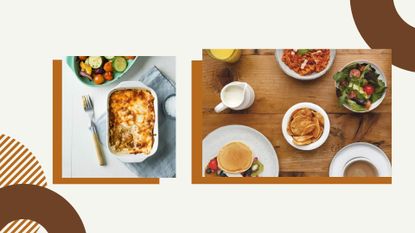 (Image credit: Jane Plan/Diet Chef)
Jane Plan or Diet Chef? If you're wanting to try out a calorie-controlled diet plan, you've probably come across these two options.
While there's something to be said for cooking your own food, using fresh ingredients and knowing exactly what's going into what you eat, there's no doubt that meal deliveries are easier. Whether that be a takeaway or a service like Jane Plan or Diet Chef, where pre-prepared microwave-style meals are delivered to your front door every month.
There are plenty of weight loss meal delivery service options available to help you achieve your goals across the health spectrum, but these two are among the most popular in the UK with millions of meals delivered between them. So, if you've not read our Jane Plan review or want to know more, what's all the fuss about? Here, we compare the two subscription plans so you can choose the best one for you.
Jane Plan or Diet Chef: what's the difference?
One of the integral parts of Jane Plan is the knowledge hub: Lose Live Learn. Unlike Diet Chef, which just offers the portion- and calorie-controlled meals to those who sign-up, Jane Plan also gives members access to a platform of weight loss and healthy living-inspired content.
There are helpful articles on important topics like how to stop sugar cravings, avoiding stress and how to incorporate mindfulness into your ongoing eating behaviour. Along with being able to record your weight loss in an online tracker, rather than a separate calorie counter app, you can keep a food diary and note down the meals that you had. When it comes to cancelling your plan and going back to cooking for yourself, you can refer to the meals you ate on the plan and recreate them for yourself.
Jane Plan also has significantly more options for those with dietary requirements, whether that's gluten-free or halal. Diet Chef won't be suitable for you if you have requirements beyond vegetarian, nut-, wheat- or alcohol-free meals. They also give the option to opt out of foods that come frozen.
Benefits of Jane Plan
Jane Plan (opens in new tab) works on a rolling 28-day program: pick your plan, whether that be for just four weeks or four months, and decide whether you want to eat the meals for seven days or have weekends off. Then you choose the food you want (breakfast, lunch, dinner and snacks) and head to check out.
All the food for the month - aside from fresh fruit, vegetables and the dairy products you're advised to supplement the meals with - is delivered in one box. But surprisingly, you won't have to clear out your fridge or freezer to make space. Every one of the meals delivered can be stored in the box until you're ready to eat it.
Some of the other benefits of Jane Plan are:
Half-price first month then prices starting at £259 per month
Lose Learn Live knowledge hub
Huge variety of meals, from Thai curries to Italian staples
Sweet options available in the snack range
Vegetarian, vegan, gluten-free, dairy-free and halal options are available
Menu changes every month
Cancel anytime with the Pay Monthly option, as long as you give five days notice before the next payment
Benefits of Diet Chef
Very similarly, with Diet Chef (opens in new tab) you pick your plan from three options: four, eight or twelve weeks. Then you choose whether you want to stick to the "core" plan or opt for vegetarian-only options. Decide on the foods you want for breakfast, lunch, dinner and snacks then check out.
All of the meals aside from a few essentials as above are delivered in an unmarked box to your front door, ideal if you have to leave it in a more public setting before bringing inside. Much like Jane Plan, the meals don't come pre-refrigerated so you won't need loads of extra space in your fridge or freezer - just be sure to keep them in a cool, dark place until you want to eat them.
Other benefits of Diet Chef include:
From £100 / per month
Good variety of meal options for breakfast and dinner, from Coq au Vin to macaroni cheese
Variety of biscuit-based snack options available
Separate menu for vegetarians
Available to exclude meals containing nuts and/or alcohol from the menu
Exchange any unwanted meals for preferred options within 14 days of receipt.
Jane Plan or Diet Chef - which one is better?
In our books, Jane Plan is the better option. While it may be significantly more expensive after the half-price first month, if the budget can stretch, we think it's worth spending the money. There are choices available for a variety of dietary requirements, a greater range of sweet options in the snack selection and you have the knowledge hub at your disposal for support.
When deciding between Jane Plan or Diet Chef, it ultimately depends on what you're looking for. If you're after a general lifestyle change over a number of weeks or months that may help make weight loss more sustainable in future, Jane Plan it is. If you're just after low-calorie pre-prepared food to store at home, and you're not too bothered about variety, Diet Chef could be for you.
Diet chef is undoubtedly still a good option if you're after portion-controlled meals delivered to your door. While Jane Plan certainly offers more choice, you can get some very similar dishes on Diet Chef - like the luxury muesli, mushroom soup and pork meatball options, which appear on both delivery sites.
Is homemade food better for weight loss?
Yes, if you're looking to lose weight then it will (almost) always be better to eat your meals at home rather than heading out to a restaurant, getting a takeaway or picking up a ready meal. As multiple studies, including one from Newcastle University (opens in new tab) have found, those who eat at home at least five times a week are more likely to have a lower BMI and a healthier percentage of body fat.
Even though calories on menus are now a requirement in the US and the UK, it's not always possible to be sure exactly what nutrients and how much of them are included in your meals.
But home cooking will always come up trumps for improving your overall health too, as the same study found that those who cooked their own meals tended to follow more of a Mediterranean diet, which has its own benefits, eat more fruit and vegetables and have a higher vitamin C intake.
A digital health journalist with over five years experience writing and editing for UK publications, Grace has covered the world of health and wellbeing extensively for Cosmopolitan, The i Paper and more.
She started her career writing about the complexities of sex and relationships, before combining personal hobbies with professional and writing about fitness. Everything from the best protein powder to sleep technology, the latest health trend to nutrition essentials, Grace has a huge spectrum of interests in the wellness sphere. Having reported on the coronavirus pandemic since the very first swab, she now also counts public health among them.