There's a new constipation medication that *vibrates* in your body when you swallow it
Yes, seriously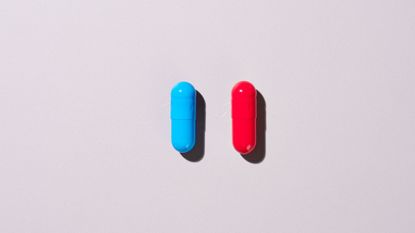 (Image credit: Getty Images)
woman&home newsletter
Sign up to our free daily email for the latest royal and entertainment news, interesting opinion, expert advice on styling and beauty trends, and no-nonsense guides to the health and wellness questions you want answered.
Thank you for signing up to . You will receive a verification email shortly.
There was a problem. Please refresh the page and try again.
Vibrant, a new medication used to help with constipation symptoms just hit the market - and it *vibrates* inside you.
Yep, you read that correctly.
If you're not a doctor or pharmacist, it can sometimes be challenging to fully understand the scope of how medications work and metabolize in our systems. A new anti-constipation drug, Vibrant, aims to take the mystery out of their medicine - in fact, there's no medication in this drug at all. So, if you're one of the four million Americans who suffer from constipation (opens in new tab) on a yearly basis, and you've tried other medical and natural laxatives in the past, you might want to listen up.
Vibrant, a drug that was approved by the Food and Drug Administration in August 2022, was recently allowed to begin being prescribed to people who suffer symptoms of constipation. The drug itself, as previously mentioned, doesn't actually have any active ingredients - the capsule simply provides small vibrations to the colon to stimulate it.
Vibrant is meant to be taken once daily, typically at bedtime. Before ingesting the capsule, you place it into a pod provided by your pharmacy that activates the pill - then you swallow, and let the capsule work its vibrating magic.
After the pill is ingested with a glass of water, the capsule begins to gently vibrate, stimulating the colon, as travels through the digestive system, eventually reaching the small intestine. This stimulation, according to the Vibrant Gastro (opens in new tab) website, "increases the number and frequency of complete spontaneous bowel movements."
The disposable capsule then passes through your system with your next bowel movement.
According to Dr. Eamonn Quigley, chief of gastroenterology at Houston Methodist Hospital via CNN, only a small amount of people could feel the vibrating effects, but none of those people felt that it was uncomfortable. "A minority could feel it. None of them felt it was uncomfortable. And none of them stopped taking it because of that," he said.
Although Vibrant is not a cure for constipation, it can help provide relief and according to CNN (opens in new tab), "there were no toxic materials in the pills and that they could withstand, for example, the force of a bite in case someone accidentally bit them."
The constipation medication is specifically meant for people who have tried other laxative alternatives for over a month and have not seen results. The brand specifically states that its intended use is for "the treatment of chronic idiopathic constipation." So if you've tried other tricks for getting rid of constipation, like perhaps TikTok's internal shower hack, and nothing seems to work, Vibrant could be a good solution for you.
Vibrant has to be prescribed by your doctor, as it is not sold over the counter. It is also worth noting that insurance doesn't cover Vibrant - it costs $69 a month when purchased with a coupon from their website.
Madeline Merinuk is woman&home's US lifestyle news writer. She covers celebrity, entertainment, fashion, and beauty news but is also obsessed with internet trends - you can find her reciting trending TikTok sounds out loud at any given time.
After winning multiple student journalism awards for her investigative work, she graduated from Hofstra University in 2021 with a B.A. in Journalism. After graduating, she worked at today.com, the digital site for the Today Show, where she wrote pop culture news and interviewed big-name personalities like Emily Ratajkowski, Haley Lu Richardson, Emma Corrin, and more.
Her personal interests, in no particular order, are: cheese, Joni Mitchell, reading, hot yoga, traveling, having multiple chapsticks in every handbag at all times, and dancing to ABBA songs as if she were in the Mamma Mia movies.