A breast cancer survivor shares her story on finding positivity after her Stage 3 diagnosis
When breast cancer survivor Stefanie was first diagnosed with Stage 3 breast cancer, finding positivity did not come easily. But over time, that changed...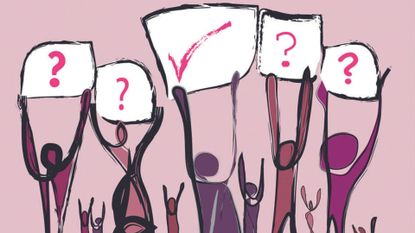 (Image credit: Stefanie Sixsmith/Austin Macauley Publishers Ltd®)
Breast cancer survivor Stefanie Sixsmith is a mum of two, a graphic designer, a lover of art and color, and now, a published author.
She wrote her autobiography and memoir, See the Colour in the Clouds, as a token of friendship for other cancer sufferers, in the hope that it, "may throw out a beacon of light to the many families and friends supporting loved ones through a time of anguish and uncertainty".
Here, Stefanie details how following her Stage 3 breast cancer diagnosis, she fought negative thoughts, fear, and uncertainty to find positivity in unexpected places.
Finding positivity when living with breast cancer
It was not uncommon to see the word 'dreamer' in my school report; I spent a lot of time staring out of the window. As a child, I loved to watch the sky and look for images hiding in the clouds. Four decades later and I still indulged myself in my love of the sky—now intent on passing my passion to my two young daughters, just as my mum had passed it to me.
Summer 2012 saw bright sunshiny skies turn to dark rainstorms within minutes as if the sky was playing out an animation. I couldn't help feeling that the sky echoed my mood swings as I wrestled with the knowledge that I had been diagnosed with Stage 3 breast cancer.
'Why me?' always seemed such a wasted question—but there were plenty of other questions that flooded my mind instead and only one biggie that really mattered —'will I get through this and see my girls grow up?' And nobody could answer this with any degree of certainty.
A good friend told me to not allow cancer to rule me. I didn't understand how powerful this advice was until much later. One thing to understand about cancer is that the road ahead is often winding and the view can keep changing. I was facing a double mastectomy and six months of chemotherapy—finding positivity did not come easily.
Over time I learned to bounce negative thoughts away and divert my focus to something positive. It became a conscious reflex and in time I became better at looking for positive things in unexpected places.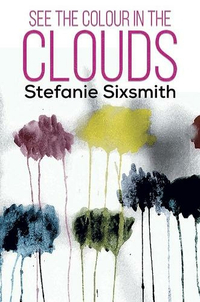 (opens in new tab)
See the Colour in the Clouds by Stefanie Sixsmith, £14.99
This inspiring read will help anyone going through a hard time to have a more positive outlook. Published by Austin Macauley Publishers Ltd®
I started to write a diary, charting my thoughts and feelings, grateful for this safe space to unload my emotions as I navigated the uncertain journey ahead. I found that it helped me to find some clarity at a time when my head felt scrambled. As a graphic artist, my diary also became littered with scribbles and sketches when words alone didn't quite grasp the moment.
Having a routine was a huge boost. Juggling clinic appointments, treatments, and the 'foggy' days after chemotherapy were extremely challenging with two young daughters in tow, but instead of seeing the routine as demanding, I tried to embrace the feeling of normality that it gave me. The structure of a daily routine (in my case through family) was a powerful catalyst for positivity.
I was so utterly shocked when I got my diagnosis, that for many weeks afterward, I had to literally resist the urge to approach other women (queueing in a supermarket perhaps or collecting children from school) and tell them to get themselves checked out for the early signs of breast cancer—just in case (it's worth reading our guide on how to check for breast cancer at home to ensure you're clued up on performing a self-breast exam). Instead of dwelling on my bad luck, I started to consider how fortunate I was to have found this deep-rooted horror and be in the process of dealing with it.
Laughter is a big release
Even comedy came into play in my stronger moments. One of these funny and poignant episodes was the wig fitting appointment. My husband came with me to help me find a new temporary 'me'.
The appointment started well but by the time I'd tried on about six wigs, my own hair was practically moulded flat to my head, and as the stylist removed the wig, my husband and I cried out at the same time—"No! Put it back on!" Laughter was such a huge release and it took the severity out of the situation. Even the stylist was laughing.
My longest chemo treatment was seven hours. It was a long time to be hooked up. So, things improved massively once I changed my perception of my treatment days. I started to think of them as a 'me' day. Arriving at the chemo suite with my bag of goodies – seven hours sat in a comfy chair, reading a book, jotting and sketching in my diary, snoozing, having a coffee and sandwich, chatting with the chemo nurses, or (my favourite pastime) just day-dreaming the time away.
Striving to stay positive over 18 months was challenging and there were undoubtedly times when it just wouldn't happen. On these occasions I would give space to the other emotions I felt, they were valid and needed time to run their natural course. Brighter skies always followed.
The path forward
Six years after my diagnosis I revisited my diary and decided to share my experiences. See the Colour in the Clouds charts my journey through breast cancer through a selection of thought-provoking excerpts from my original diary, with pieces of art therapy to evoke and visualize the events, thoughts, and emotions that happened throughout 18 months of cancer treatment.
This is my journey—it is personal to me, but if I can help others through sharing it, then every step of it has been a journey worth making.
Words by Stefanie Sixsmith.
See the Colour in the Clouds by Stefanie Sixsmith (opens in new tab), is available from WH Smith, Blackwells and Amazon.
Digital Editor - Woman & Home
An internationally published digital journalist and editor who specialises in SEO strategy and content production, Rachael has worked as a writer and editor for both news and lifestyle websites in the UK and abroad.
Rachael's published work covers a broad spectrum of topics and she has written about everything from the future of sustainable travel, to the impact of the coronavirus pandemic on the world we live in, to the psychology of colour.