Could visiting an art gallery be the new shortcut to happiness?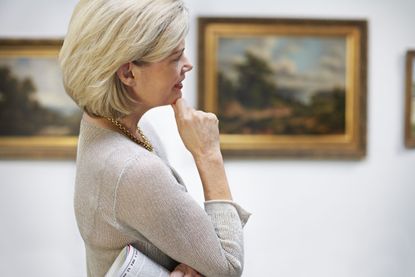 (Image credit: Getty)
Taking in the local arts and culture scene, is for many, the ideal way to spend a weekend.
Whether that's contemplating sculptures and unique installations at a nearby gallery or booking tickets to a rousing theatre (opens in new tab) production, the combination of leisure and learning can have a profound effect on our sense of wellbeing.
And this is exactly what has been revealed by a new report (opens in new tab) by Arts Council England.
It found that 65 per cent of those questioned believe arts and culture to be 'good for wellbeing', while 36 per cent also felt that engagement with arts and culture was 'essential to life'.
A further 49 per cent of those surveyed revealed that that attending arts and culture events helped them feel more integrated in their community, which in turn boosted their overall sense of wellbeing.
'A strong arts and cultural offer makes people feel more content and thus more likely to stay within an area,' the study's authors write. 'Accounting for a range of factors that influence life satisfaction, people attending a wider range of arts and cultural events are more satisfied with their lives than people who don't.'
In a episode of Dr Rangan Chaterjee's popular Feel Better, Live More podcast, released earlier this year, Director of the Art Fund, Stephen Deuchar, describes museums and art galleries as an untapped wellbeing resource.
He also talks about the fact that we can seamlessly blend an arts and culture visit into our hectic daily lives via a 'micro-visit', such as taking a quick tour of an art gallery within walking distance of your workplace during a lunch break, while still reaping benefits for our wellbeing.
MORE:THIS is the age we reach peak happiness (opens in new tab)
The Art Fund's Calm and Collected report (opens in new tab) found that 63 per cent of people have at some point visited museums and art galleries as a way of dealing with anxiety (opens in new tab) or stress.
It also found that levels of life satisfaction, sense of purpose and the feeling that things in life are worthwhile were higher in those who visited museums and galleries once a month or more or every three months or more, compared to those who visited less than every three months or never visited at all.
The report concluded that, 'Overall, both the quantitative survey and the qualitative social study suggest that museums and galleries are a significant untapped resource at our disposal that can help us achieve a greater sense of wellbeing when we take time out for ourselves.'
Miriam worked for woman&home for over five years and previously worked on the women's lifestyle magazines Woman and Woman's Own.