THIS is the age we reach peak happiness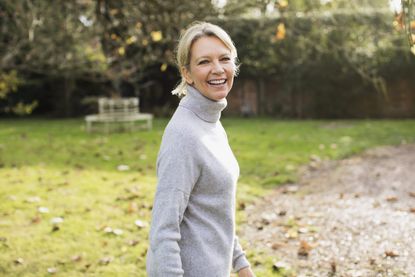 We've all heard of the old adage, 'with age comes wisdom', but now new research has revealed that advancing years could also be exactly the point when 'peak happiness' kicks in.
Questioning 2,000 Brits of all ages, the study by hotel chain Jurys Inn (opens in new tab), found that overall levels of happiness and contentment seemed to be at their highest for 68-year-olds, with scores for this group coming in at 9.5 out of 10 — four points above the average happiness rating across all ages.
And offering up an insight into why those in their 60s are happier than most, it highlighted that over half of those aged over 60 feel good about their lives because they no longer feel the need to impress.
47 per cent also revealed that they now have more time on their hands than ever to spend as they wish.
Other age groups also shared why it is they feel so carefree at their stage in life, with two out of five over 50s (opens in new tab) (42 percent) saying they don't have to answer to anyone and a third (33 percent) saying they were happy that they now had the opportunity to travel more freely.
And when it comes to the perfect travel (opens in new tab) formula for happiness, the survey revealed that the average Brit needs two holidays and 10 weekends.
Further figures showed that 31 per cent of over 50s also said that they now had less responsibility than they had in their 30s or 40s.
Almost four out of five Brits (78 per cent) surveyed felt that life is better EITHER in your 20s or once you have passed 60, while 64 per cent of Brits believed that the most stressful periods in life, by far, take place in your 30s and 40s.
MORE:27 easy tips and tricks clinically proven to increase happiness
The top causes for midlife unhappiness were cited as follows:
Financial pressures (54 per cent)
Parenthood (33 per cent)
Stressful careers (29 per cent)
Overall just over three quarters (76 percent) felt that age plays a key role in happiness, with 85 percent of expecting to be happier in the future than they are at present.
Commenting, Jason Carruthers, Managing Director of Jurys Inn and Leonardo Hotels UK & Ireland said, "Happiness is the cornerstone of what we do at Jurys Inn so it's really interesting to learn that our 68-year-old guests are the cheeriest.
"It's also no surprise to us that multiple short breaks a year are key happiness drivers. We see and hear of the benefits first-hand when our guests check out after a relaxing or action-packed weekend in one of our 36 city centre hotels."
Miriam worked for woman&home for over five years and previously worked on the women's lifestyle magazines Woman and Woman's Own.