How To Become One Of Those 50+ Women Who Complete Triathlons, By Someone Who Did It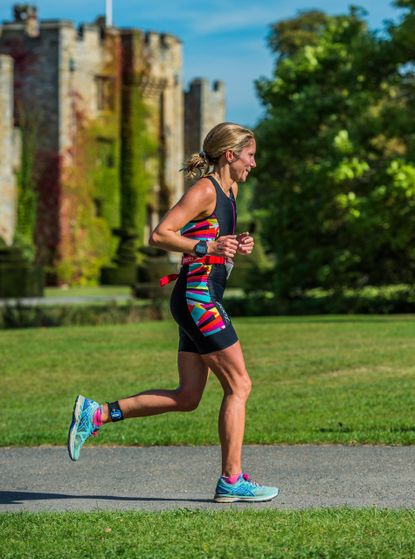 (Image credit: Rex Features (Shutterstock))
Four triathlons, six half-marathons and ten long-distance swims, not to mention several 100km-plus cycle races... it sounds like the fitness regime of a super-fit twenty-something. Instead, this is a list of the sporting challenges that that a 50+ reader of woman&home told us about...
It started with the "strong women" fitness workouts designed to strengthen muscles and bones post-menopause. After that it seems my generation wanted to prove to themselves and the world that age was no barrier to, well, almost any physical challenge.
Until I reached my late forties, I never considered tackling a triathlon or a hilly, long-distance cycle ride. Pre-children, I did the occasional aerobics class, but once my two daughters arrived I was holding coats on the sidelines, applauding success and consoling failure with hugs and hot chocolate. Once my daughters left home I had free time and also noticed that staying a size 10 was getting harder and that I was puffing every time I walked upstairs.
Having recently moved to Argyll from Oxfordshire, I was also lonely. I started swimming at the local pool, where I met a lovely lady - now a close friend - who suggested I join the Masters (the oldies) swimming group on a Saturday morning
That led on to membership of the Mid-Argyll Triathlon & Cycle Club and their encouragement found me entering my first triathlon at 50. No matter that the first time I went out cycling with the club someone had to come looking for me as they thought I'd given up and gone home! But I completed the course, even if I had to walk a bit (a lot) in the final run.
I even got a prize - best newcomer (female) in the 40-50 age category in our club. OK, so I was the only newcomer in that category, but I won a swimming bag.
It felt like I was reclaiming my body and feeling fit meant new confidence, plus I lost a stone and dropped a dress size. I got the bug. Last year I took part in a 106km bike race around the Highlands. This summer I swam two miles around Loch Lomond and plunged into other lochs and seas with my wild swimming group.
I'm never going to grace the winners' podium, and I'm not even showing great improvement, but while my sporting endeavours mean enduring some humiliation - coming last in my first 10K - there's also a great sense of achievement that comes with every event that I finish.
Training for a competition also gives my life structure, which is particularly comforting when you're adjusting to an empty nest. Then there's the undeniable adrenaline buzz that a bit of physical fear generates. But, above all, it's a validation of life and a strike against mortality. I simply didn't want to "go gentle into that good night" when I hit my fifties.
When I had a health check-up aged 49, my GP informed me that my BMI and blood pressure were way too high. "Speed up, don't slow down," was her excellent advice. My last test revealed I have the blood pressure of a 25-year old.
Ultimately, though, I do it for the laughter and the camaraderie. Because a cup of tea from a flask tastes fabulous after a mountainous bike ride. Yes, my old bones and joints ache a bit - but I never imagined I could run 10K a couple of times a week and not die. I firmly intend to be tottering around trail runs in my eighties, or jumping into the sea with a whoop in my nineties. I know lots of other women of my generation will be doing the same!
How you can do it too... Since 2012, the number of "mature" women joining the British Triathlon Federation has increased by 86% and the British Cycling Federation reports 250,000 more women are now taking part in cycling events since 2013. To find out about triathlons near you, go to britishtriathlon.org
Sign up to our free daily email for the latest royal and entertainment news, interesting opinion, expert advice on styling and beauty trends, and no-nonsense guides to the health and wellness questions you want answered.
Jane Kemp is the Features Director for Woman & Home, Woman's Weekly, Woman and Woman's Own. She's worked in journalism for many years, mostly in Women's consumer magazines, and enjoyed a long stint at Practical Parenting while her own four children were little. These days, her interests are more focussed on gardens and books, and she has taken great pleasure in seeing the expansion of books coverage in all the titles, as well as big-name authors writing exclusive fiction for Woman & Home and Woman's Weekly.