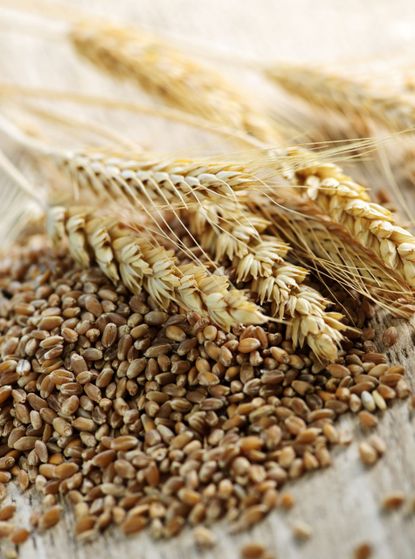 (Image credit: Monkey Business Images / Rex Fea)
Could cutting out wheat be the answer to losing weight and staying healthy?
Wheat has been a hot topic of conversation for months, with many people questioning its affects on the body in terms of digestion, weight gain and even rashes on the skin. Cardiologist William Davis, MD and author of Wheat Belly (£12.99; Harper Collins) has been an advocate for the wheat free diet for years, arguing that wheat is the single largest contributor to the obesity epidemic and cause of health conditions ranging from heart disease to Irritable Bowel Syndrome (IBS).
'Flip through your parents' or grandparent's family albums and you're likely to be struck by how thin everyone looks,' William Davis explains. 'Overweight was something measured only by a few pounds, obesity rare.
'I believe that the increased consumption of grains explains the contrast between slender, sedentary people of the fifties and overweight twenty-first-century people.'
Basing his theory on his own experience, William continues to explain: 'As a cardiologist who sees and treats thousands of patients at risk for heart disease, diabetes and myriad destructive effects of obesity, I have personally observed protuberant, flop-over-the-belt belly fat vanish when my patients eliminated wheat from their diets and there is ample scientific research to indicate the removal of wheat as a positive to relieving many health symptoms.'
So what exactly is The Wheat Belly diet? Firstly, it's about getting rid of wheat products from your diet – that means bread, pastries, pasta, biscuits, pancakes and more are off the menu. Instead, embrace other natural, good-for-you foods like vegetables, raw nuts, olive oil, and eggs. On the Wheat Belly diet, you can even enjoy cheese and cacao butter! According to William, by following the Wheat Belly diet you won't just shed extra pounds but also look – and feel – much better, especially if you suffer from IBS, heart conditions or skin issues.
Intrigued? Read on to find out our quick guide of what to eat and not to eat on the Wheat Belly Diet.
Eat vegetables
Wheat exists everywhere you go - in bread, pasta, cakes and even hidden away in sauces! But eliminating it from your diet is easier than you think. We bring you the basic principles as outlined by William Davis on what you can enjoy and what to avoid on the Wheat Belly diet. Eat Vegetables: 'Vegetables, in all their wondrous variety, are the best foods on planet earth,' he explains. 'Rich in Nutrients such as flavonoids and fibre, they should form the centrepiece of everyone's diet.'
Eat some fruit
'While vegetables should be consumed as libitum, fruit should be consumed in limited quantities,' William outlines. 'This is because fruit, especially herbicides, fertilised, cross-bred, grassed and hybridised fruit, has become too rich in sugar. 'Eight to ten blueberries, two strawberries, a few wedges or apple or orange are fine, but more than that starts to provoke blood sugar excessively.'
Eat raw nuts
'Raw almonds, walnuts, pecans, pistachios, hazelnuts, Brazil nuts and cashews are wonderful,' explains William. 'And you can eat as much as you want! They're filling and full of fibre, monounsaturated oils and protein.'
Use oils generously
'Curtailing all oil is entirely unnecessary, part of the nutritional dietary blunders of the past forty years,' says William. 'Use healthy oils liberally, such as extra-virgin olive oil, coconut oil, avocado oil and cocoa butter. Just avoid polyunsaturated oils such as sunflower, safflower, corn and vegetable oils.'
Eat meat and eggs
'Try to buy meats from free-range, grass-fed livestock. Don't fry your meats and avoid cured meats entirely,' Williams adds. 'And eat eggs regularly. The fat phobia of the past forty years turned us away from foods such as eggs, sirloin steak and pork because of their saturated fat content - but saturated fat was never the problem.'
Eat dairy products
'Enjoy cheese, another wonderfully diverse food,' explains William. 'Fat is not the issue, so enjoy familiar full-fat cheeses such as Emmental or Cheddar. It's a great snack! Other diary products such as cottage cheese, yoghurt, milk and butter should be consumed in limited quantities of no more than one or two servings per day. They should also be in the least processed form - full-fat, unflavoured and unsweetened.'
Odds and Ends
'Olives, avocados, pickled vegetables and raw seeds are among the nutritional odds and ends that provide variety,' William reveals. 'Condiments are to food as personalities are to conversation. Keep a supply of wasabi, horseradish and mustards and vow never to use ketchup again! Seasonings should also not begin and end at salt and pepper, herbs and spices not only are a great source of variety but also add to the nutritional profile of a meal.'
Drink water
'Water should always be your first choice of drink, fruit juices in small quantities but fruit drinks and fizzy drinks are very bad ideas,' he argues. 'Teas and coffee are fine to enjoy. And if an argument can be made for alcoholic beverages, the one genuine standout in health is red wine. Beer, on the other hand, is a wheat-brewed beverage in most instances and is the one clear-cut alcoholic drink to avoid.'
What to eat rarely or never
For the Wheat Belly diet to really work, William Davis explains the main foods to avoid as much as you can. 'Wheat products - pasta, breads, noodles, biscuits, cakes, pies, cupcakes, breakfast cereals, pancakes, waffles, Unhealthy oils - fried, hydrogenated, polyunsaturated, Gluten-free foods - specifically those made from cornflour, rice starch, potato starch or tapioca starch, Dried Fruit, Fried Foods, Sugary Snacks, Sugary fructose-rich sweeteners and Sugary condiments.'
The Wheat Belly Diet
For recipes, case studies and more check out Wheat Belly (opens in new tab) (£12.99, Harper Collins)