How Lorraine Kelly Has A Better Waist At 57 Than 27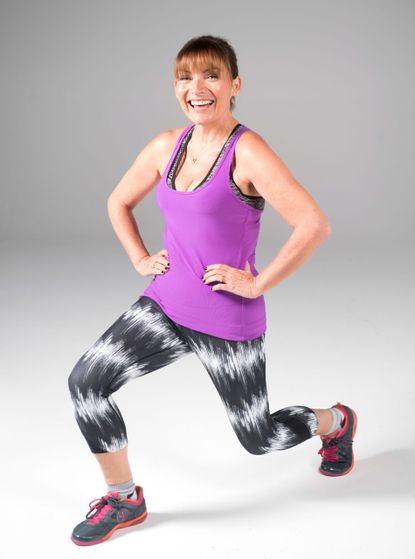 When Lorraine Kelly, presenter of breakfast show Lorraine on ITV, started zumba classes back in 2013, she shocked the nation by losing two stone at age 54. She had recently met personal trainer and fitness expert Maxine Jones, who helped to transform her body with her energetic
zumba-like workout and high-energy tracks. The workout helped Lorraine to shed the pounds, and now, the pair have brought out their second fitness DVD together - perfect for those New Years resolutions. Here, Lorraine tells w&h how she managed to lose the weight and why she feels better now than when she was in her 20's...
Have you ever seen a happy runner? No you haven't, and there's a reason for that! Exercise has to be fun, and this workout [and the DVD] is exercise that I love. You have to do something that you're really going to enjoy, or you just won't keep it up. When I met Maxine three years ago I didn't do much exercise before at all, but this is fantastic. And it works - I've lost two stone through doing it.
Although the gyms are busy now with people making New Years resolutions, you just know that in a couple of weeks time they are going to be empty again - they always are! Going to the gym and doing that isn't sustainable, but something fun like this really is.
When I started doing this exercise, I didn't have much of a waist. But I do now! I've got more of a waist at 57 than I had at 27! I'm wearing sleeveless tops now - even on the telly! I've also got more energy. It's not just about how you feel physically, but mentally as well. Working out, for me, is a fantastic stress-buster.
I don't feel pressure to look a certain size, and that's one of the pleasures of working for breakfast television. Even when I was at my biggest and wearing things that frankly I should have been arrested by the fashion police for, they didn't care. I mean clearly there are some programmes, and some forms of entertainment, where that's what it's all about. But we have just always gone along with it. My husband Steve doesn't mind how I look. As long as I'm happy he's happy. I think he sees that I feel better about myself and that's really good. I'll do the DVD when I go away soon. When I'm away I actually do my own DVD - which sounds really mad! If I'm away in Spain I actually do classes there. I went to Orkney with the girls for a weekend away recently and they've got an amazing class like this there, and we all went and did it.
How did Lorraine get rid of her bingo wings?
One exercise within the DVD is the resistance band workout. Simply hold one end of the resistance band under your foot, and hold the other end in your hand tightly, by winding it around your wrist. Then, pull the band up to shoulder-height for 16 counts - and feel the burn!
Buy resistance bands here (opens in new tab).
How is this DVD different to the last?
Maxine Jones says, "This time around, we're totally confident in it. In this DVD, there's a 'dancefloor-ready' section, where I take people through the more complicated steps like the box step, which we didn't have before. It tutors you through it, and then once you've got that in your head you can skip through to the actual workout. But, like the last one, this DVD is for all women of all ages, abilities and sizes."
Lorraine's new DVD with Maxine Jones, Lorraine Kelly: Brand New You is out now. Buy the DVD here. (opens in new tab)
For more health and fitness products, visit amazon.co.uk (opens in new tab)
Amy Hunt is an experienced digital journalist specialising in homes, interiors and hobbies. She began her career working as the features assistant at woman&home magazine, before moving over to the digital side of the brand where she eventually became the Lifestyle Editor up until January 2022. Amy won the Digital Journalist of the Year award at the AOP Awards in 2019 for her work on womanandhome.com.