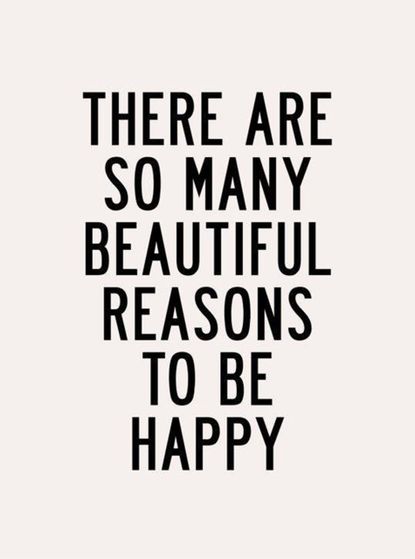 woman&home newsletter
Sign up to our free daily email for the latest royal and entertainment news, interesting opinion, expert advice on styling and beauty trends, and no-nonsense guides to the health and wellness questions you want answered.
Thank you for signing up to . You will receive a verification email shortly.
There was a problem. Please refresh the page and try again.
Let these little nuggets of wisdom brighten your day...
Sometimes, we all need a little lift, something to reassure us that we're making the right decision or to give us little a nudge to make a change for the better. That's why we've trawled Pinterest for the best inspirational quotes, to help you get through a tough week, make the right life choice for you, to celebrate something great that you have achieved or a problem you have overcome.
Have a flick through these inspirational quotes to find one that applies to your life at the moment. It may be that you need an inspirational quote to get you through a rough week or to motivate you to be a kinder, happier, better person.
Whatever the reason, why not find your favourite inspirational quote and use it as the screensaver on your phone or print it out and leave it somewhere where you'll see it everyday?
A little reminder in the form of an inspirational quote may just help lift your mood or encourage you to make the right decisions and choices. If you know of a friend or someone in your family that could do with a pick-me-up this week, why not send them one of these inspirational quotes? It might just make their day.
From inspirational quotes about friendship, love and relationships to life and being a woman, we've got one for you, whatever your mood, predicament or achievement. We've even picked a few funny ones that we're hoping will put a smile on your face.
If you'd like a daily feed of beautiful pictures and inspirational quotes to brighten your day, like our Facebook page or follow w&h on Pinterest (opens in new tab) for recipe ideas, cleaning and gardening tips, fashion inspiration, and more.
Whether you're about to embark on a new journey or want to adopt a more positive outlook on life, let these little nuggets of wisdom brighten your day...
Magic
Taken from Pinterest
Be yourself
Taken from Pinterest
Reach for success
Taken from Pinterest
Be your own cheerleader
Taken from Pinterest
Take the day
Taken from Pinterest
Be grateful
Taken from Pinterest
Have willpower
Taken from Pinterest
Take courage
Taken from Pinterest
Always smile
Taken from Pinterest
Be open to the world
Taken from Pinterest
Find comfort
Taken from Pinterest
Taken from Pinterest
Be fulfilled
Taken from Pinterest
Push yourself
Taken from Pinterest
Stay positive
Taken from Pinterest
Be confident
Taken from Pinterest
Everyone's path is different
Taken from Pinterest
Take positive steps
Taken from Pinterest
Always dream
Taken from Pinterest
Live life
Taken from Pinterest
Rest creates a clear mind
Taken from Pinterest
You are important
Taken from Pinterest
Enjoy the small things
Taken from Pinterest
Be joyous
Taken from Pinterest
Allow your mind to explore
Taken from Pinterest
Embrace everything
Taken from Pinterest
Be content
Taken from Pinterest
A friend remains
Taken from Pinterest
Feel important
Taken from Pinterest
Soak everything in
Taken from Pinterest
Remain dignified
Taken from Pinterest
Stay yourself
Taken from Pinterest
Remain positive
Taken from Pinterest
You are beautiful
Taken from Pinterest
Take the day
Taken from Pinterest
Your path is different
Taken from Pinterest
Be gracious
Taken from Pinterest
Don't give up
Taken from Pinterest
Take a risk
Taken from Pinterest
Be a beacon
Taken from Pinterest
You come first
Taken from Pinterest
Keep your character
Taken from Pinterest
Make a move
Taken from Pinterest
Be polite
Taken from Pinterest
Smile at everything
Taken from Pinterest
Don't be afraid to grow
Taken from Pinterest
You are important
Taken from Pinterest
Imagine
Taken from Pinterest
Be in the moment
Taken from Pinterest
Speak up
Taken from Pinterest
Nature
Taken from Pinterest
Everyday has opportunity
Taken from Pinterest
Be courageous
Taken from Pinterest
Stay centred
Taken from Pinterest
Be courageous
Taken from Pinterest
Take everything in your stride
Taken from Pinterest
Be grateful
Taken from Pinterest
Find your positive space
Taken from Pinterest
Keep challenging yourself
Taken from Pinterest
Consider your options
Taken from Pinterest
Consider your actions
Taken from Pinterest
Make choices
Taken from Pinterest
Don't be blue
Taken from Pinterest
Be elegant
Taken from Pinterest
A negative may actually be a positive
Taken from Pinterest
Life
Taken from Pinterest
Cures for anything
Taken from Pinterest
Taken from Pinterest
How to be a woman
Taken from Pinterest
Taken from Pinterest
Being perfect
Taken from Pinterest
Life partners
Taken from Pinterest
Taken from Pinterest
How to be fabulous
Taken from Pinterest
Happiness
Taken from Pinterest
Taken from Pinterest
How to look lovely
Taken from Pinterest
New beginnings
Taken from Pinterest
Words of wisdom from children
Taken from Pinterest
Faith
Taken from Pinterest
Taken from Pinterest
Rain
Taken from Pinterest
Get inspired
Taken from Pinterest
Words of wisdom from Julia Child
Taken from Pinterest
Taken from Pinterest
Taken from Pinterest
Age is only a number
Taken from Pinterest
Don't look back, look forward
Taken from Pinterest
Let's start the journey
Taken from Pinterest
Embrace change
Taken from Pinterest
Forgive, forget and let yourself move on