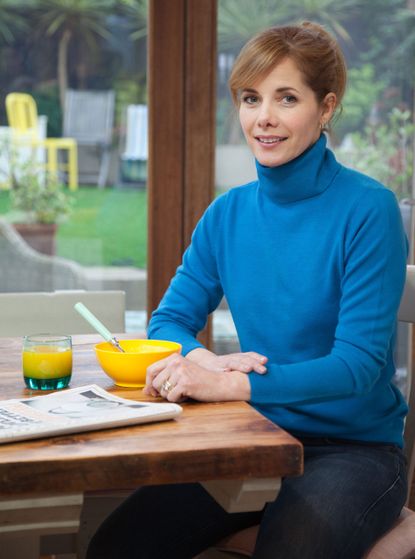 Ever wondered what staggeringly elegant Darcey Bussell looks like first thing in the morning? Well wonder no more. With news that 25% of Britons skip breakfast and 75% rely on the radio to get them out of bed in the morning, Darcey Bussell has joined forces with Quaker Oats to launch the #SuperStart campaign in an effort to encourage the country to get active and start their day the right way.
'Feeling fully awake can be particularly tough on cold, wintery mornings. Personally, I believe in getting active and off to a good start by making time for a nutritious breakfast.' says Darcey.
Research suggests that majority of people don't feel fully awake until 9.40am, a full forty minutes after the working day has begun. Do you struggle to get motivated in the mornings and often skip breakfast? According to psychologist Dr Linda Papadopoulos people fall into four categories when they wake. Take this quiz to find out which one sounds like you and how to make starting your day a little easier....
Early Bird
'The classic 'lark' personality likes to rise early and feels 'awake' from the moment they open their eyes, explains Dr Linda. This type of person is usually most productive during the early part of the day and it's likely to be your preferred time to exercise. Breakfast is most probably your favourite meal too. Sound familiar? If you are generally cheery in the morning but slump during the afternoon and favour an early night, you are probably a lark.
Riser
The riser wakes promptly upon their alarm, but needs help easing into the day, explains Dr Linda. 'They enjoy peace and quiet in the morning and like to reflect on the day ahead before others wake.'
This type of morning person usually performs daily rituals such as drinking coffee from their favourite mug whilst enjoying the view from a particular window. Sound like you? You may benefit from using this time to enjoy early meditation, mindfulness or yoga.
LoFi
Do you begrudgingly wake with your alarm but are not quite with it first thing in the morning? 'This type of riser struggles with the myriad tasks the morning holds, such as finding keys and locating an umbrella', explains Dr Linda. 'They are also prone to underestimating the amount of time morning actions take i.e hair and make-up, travel and getting dressed, so often arrive at work feeling flustered or behind on things.'
Slumber
Do you hit snooze multiple time before you even contemplate getting up? The classic slumber type doesn't sleep until late in the evening, either because they are socialising, working late, watching TV or reading, says Dr Linda. 'As a result they tend to feel fatigued and irritable in the morning. They are also more likely to grab something on the go for breakfast and often us use caffeine to help them.
'Morning people tend to be more successful but night people are smarter...'
According to Prof Randler (Journal of Applied Psychology) morning people tend to get better grades at school, which leads to better universities and job opportunities. More awake and better prepared they anticipate problems earlier on and try to minimise them. Where as nocturnal people are more likely to have a higher IQ but because they are disorganised due to late nights and groggy mornings, do not apply themselves as well.
Here are 4 things that will help you become a lark:
1. Invest in brighter bedsheets
Studies have shown that waking up to bright colours increase mental agility and make you feel happier. Pinks and reds have been found to release the feel-good brain chemical dopamine. There has never been a better excuse to redecorate.
2. Look in the mirror and smile
When you take that first look in the mirror be it when your brushing your teeth or applying make-up, smile! Particularly if you struggle in the mornings. Smiling releases mood-boosting endorphins and serotonin which act as a natural anti-depressant.
3. Tackle a high resistance task
We all have jobs on our 'to do' list which we would rather avoid. Tackling a high resistance task in the morning will give you a greater sense of confidence and happiness for the rest of the day.
4. Eat and drink the right stuff
Resist coffee in the morning, drink a large glass of water instead - dehydration lowers concentration levels. Don't forget to eat breakfast too, your brain can't function properly without fuel.
Sign up to our free daily email for the latest royal and entertainment news, interesting opinion, expert advice on styling and beauty trends, and no-nonsense guides to the health and wellness questions you want answered.