This 30-day healthy relationship challenge will create more intimacy between you and your partner
Ready to add a little more intimacy?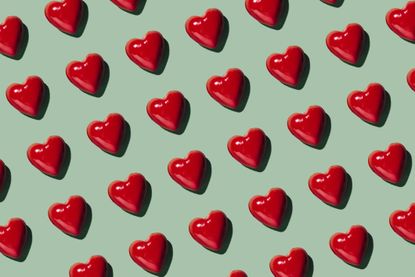 (Image credit: Getty Images)
Our healthy relationship challenge can boost the intimacy between you and your partner in just one month. As, although life in lockdown means many of us are spending a lot more time with our partners then before, it doesn't mean we're sharing more intimacy.
"So many couples are too comfortable with the idea of removing intimacy from their lives," says sex and relationship expert Jessica Leoni, from illicitencounters.com (opens in new tab). "They stop kissing each other, never say "I love you", and sit at opposite ends of the sofa when watching TV." That's where our healthy relationship challenge comes in.
But, don't worry, getting back on track in a healthy relationship doesn't just mean having more sex. "Sex and intimacy are two very different things which are often confused," says sex and relationship expert Annabelle Knight, working with Lovehoney (opens in new tab), the world's leading sexual wellness brand. "Sex at its most basic level is a physical act, while intimacy can make you delve a lot deeper. And intimacy is important for happiness. Every relationship needs a bit of TLC from time to time and doing an intimacy challenge could be a great way to do that." Here's how to deepen your relationship in just one month…
The healthy relationship challenge
Day 1: Cook a meal together
"Sharing household tasks, such as cooking, has been shown to increase intimacy bonds and in turn lead to a greater level of mutual respect between partners," says Annabelle.
Day 2: Play a board game
"Games are a fun way to enhance intimacy," say Jessica. "This won't be for everyone, but one of my favourites is playing Twister naked as an adult. It's a fun way to spark lovemaking."
Day 3: Practice holding eye contact
"Eye contact is a powerful tool of communication within a relationship," says Annabelle. "We're more attentive to thosewho are attentive to us."
Day 4: Be naked in front of each other
This helps the production of the feel-good hormone oxytocin. "The more time you spend naked in each other's company, the more desire you'll feel towards your partner," says Annabelle.
Day 5: Healthy relationship REST DAY
Day 6: Massage each other
"This is a great way to build sexual intimacy in a safe way as the focus isn't on sex itself, but rather on intimate touch," says Annabelle. "Massage is all about providing pleasure in a different way."
Day 7: Take a bath together
"Bathing together is an ideal way to unwind and reconnect," says Annabelle. "Use the time to refocus on one another and talk."
Day 8: Try the Loving Spoonful
"Sex from behind can seem raw and animalistic, but when you turn it on its side – spooning-style – it magically turns into something that's sweet and loving," says Jessica.
Day 9: Hold hands
"This is important because it's a way of connecting when you are doing everyday activities, even something as humdrumas walking down the road," says Jessica.
Day 10: Dance together
"Dancing is an easy way to experience intimacy," says Jessica. "You don't need to get lessons from a professional – schedule your favourite tunes on Spotify and start with some sensual moves."
Day 11: Healthy relationship REST DAY
Day 12:Make a diary date
Whether a fortnight away or just a weekend walk in the woods, planning time together (when life gets back to normal) in a different setting can be enough to remind you how much fun you and your partner can have together.
Day 13: Get dressed up
Not going anywhere? Doesn't matter. "Making an effort with your appearance is a great way to boost your self-confidence and increase intimacy levels," says Annabelle. "Seeing your partner make an effort just for you really helps to bond couples."
Day14: Exercise together
"This can increase experimental intimacy, as well as helping relieve stress, which will have a positive impact on the relationship you have with yourself, as well as the one with your partner," says Annabelle.
Day 15: Try Missionary
"Yes, it's the most traditional position, but it's great for intimate eye and verbal contact," says Jessica.
Day 16: Take a couples selfie
"You'll connect as you enjoy looking at pictures of the two of you having fun," says Jessica. "X-rated selfies are fun, too – just make sure that you only do this with someone you trust implicitly."
Day 17: Make a love list
"Listing five things you love about the other person is a good game to build intimacy," says Jessica. "It's worth doing it every few months and picking out new things you like each time."
Day 18: Healthy relationship REST DAY
Day 19: Try Eyes Wide Open
"Sit facing your partner with your legs draped over his," says Jessica. "Stare into each other's eyes and synchronise your breathing. Then manoeuvre your way on to his lap to straddle him."
Day 20: Try a toy
"Incorporating sex toys into your play is a fantastic way to experience different types of pleasure," says Annabelle. Try The Wowza (opens in new tab) (£14.99, lovehoney.co.uk), which stimulates both the penis and the clitoris. But there are also health benefits from vibrators too, so if you are going to invest in a new one make it one of the best vibrators you can afford.
Day 21: Kiss
"Sharing a deep kiss causes your brain to release a whole host of feel-good chemicals into your body," says Annabelle. "Making timeto kiss can also be a quick and easy way to increase bonds of physical intimacy."
Day 22: Share a secret
"This helps build strong levels of trust and increases the bond of emotional intimacy that you share," says Annabelle.
Day 23: Healthy relationship REST DAY
Day 24: Ditch tech for talking
"Get off your phones and allocate time for each other," says Jessica. "You should have at least 30 minutes each day where you sit down together and discover more about each other's day."
Day 25: Get out of your comfort zone
Whether it's riding a bike for the first time in years, or booking yourself on to an online language course together, experience something that pushes both your boundaries.
Day 26: Write a letter to each other
"This is a good exercise to do if you're a little shy," says Annabelle. "It shows your partner you care as it's a considered and thought-out process that takes both time and effort to do."
Day 27: Try the Side-by-Side
"This is a modified Missionary position," says Jessica. "Simply swivel so you're side-by-side rather than with him on top. Again, it's good for both eye – and verbal – contact."
Day 28: Healthy relationship REST DAY
Day 29:Watch a film together
"Experiencing any form of art together is a great way to build experimental intimacy levels, and films allow you to do this inthe comfort of your own home," says Annabelle.
Day 30: Try The Lotus
"This is for super-supple couples, maybe those who enjoy doing Pilates together," says Jessica. "He sits cross-legged and she lowers herself on to him with both her legs and arms crossed behind his back."
Healthy relationship challenge: Time to reflect
After the month is up, think about what aspects of the challenge you enjoyed and which ones helped you to reconnect. Didn't last the whole 30 days? "If you want to start it again another time, then great. If you don't, that is fine, too – just as long as you are connecting in some ways as a couple," says Jessica. "Don't allow yourselves to slip back into that rut again."
This article originally appeared in woman&home's Feel Good You magazine. Subscribe to Feel Good You here (opens in new tab).
Feel Good You is a quarterly magazine.
Faye M Smith is an award-winning journalist with over 15 years experience in the magazine industry. Her continued work in the area of natural health won her the coveted title of the Health Food Manufacturers' Association (HFMA) Journalist of the Year Award 2021. Currently Health Editor across several brands including woman&home, Woman and Woman's Own, Faye specialises in writing about mental health, the menopause, and sex and relationships.