Flu season is upon us but we asked an expert for tips on how to fight it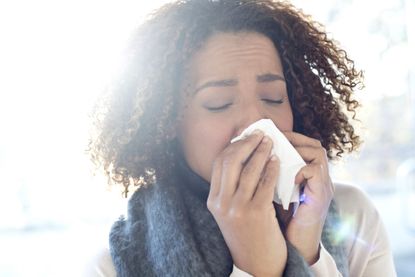 woman&home newsletter
Sign up to our free daily email for the latest royal and entertainment news, interesting opinion, expert advice on styling and beauty trends, and no-nonsense guides to the health and wellness questions you want answered.
Thank you for signing up to Woman & Home. You will receive a verification email shortly.
There was a problem. Please refresh the page and try again.
Flu season is upon us, and despite the flu – or influzena as it's officially known - being a fairly common virus, it's highly infectious and can be serious for some. Globally, the flu kills an average of 8,000 people a year, so it's worth being able to spot the signs of this winter illness when it strikes.
Is it the flu or just a cold?
There's no doubt that a cold can make you feel poorly but the flu virus is much more severe, and is likely to make you feel too unwell and exhausted to carry on with your daily routine. The flu can be recognised by some key symptoms that may develop quickly – here's what to look out for.
• A sudden fever – a temperature of 38°C (100.4°F) or above
• Dry, chesty cough
• Headache
• Tiredness or exhaustion
• Chills
• Aching body
• Diarrhoea or tummy pain
• Nausea or being sick
• Sneezing
• Loss of appetite
• Difficulty sleeping
• Limb or joint paint
The flu can be fatal for anyone with an underlying (or long-term) health condition such as chronic obstructive pulmonary disease (COPD); bronchitis; emphysema; diabetes; heart disease; kidney disease; liver disease or a chronic neurological disease like multiple sclerosis or cerebral palsy.
If you think you may have the flu, and have one of these medical conditions, make sure you see your GP, or contact NHS 111.
Flu prevention is key
So how do we get the flu? The virus affects the respiratory system and is spread by coughs and sneezes. Good hygiene can prevent you catching it from others or passing it on.
"To reduce your chances of getting the flu, it's important to wash your hands regularly with hot water and soap or use a hand sanitiser when out and about, to prevent the spread of germs," says Dr Daniel Fenton of London Doctors Clinic. Clean all surfaces, paying attention to items that get touched often such as phones and door handles.
"Adopt the 'catch it, bin it, kill it' approach: use tissues to trap germs when you cough or sneeze and throw the tissues as quickly as possible," he advises.
Taking care of your health and wellbeing, will boost your immune system, leaving you less susceptible to illness advises Dr Riccardo Di Cuffa, GP at Your Doctor.
"Getting enough quality sleep and making sure your diet is packed with fruit and vegetables for a mineral, fibre and vitamin boost, will support good health. If you're prone to infections or have a weakened immune system, try to avoid people who you know aren't feeling well and consider taking vitamin C supplements to boost your immunity," he says.
Get vaccinated
The vaccine is the best way to avoid catching flu, and because the flu virus is always changing, it's best to have the jab every year, say the NHS.
If you're over 65, or have an underlying medical condition, you're eligible for a free jab, otherwise it's a pay-for treatment, usually no more than £20. You can get the flu vaccine at your GP surgery or from a pharmacy that's offering the service. If you're a health worker, you might be offered the jab by your employer.
"Having the flu jab does significantly lower the rate of sickness and death in older people when compared with no vaccination," says Dr Di Cuffa.
And if you're worried that the flu jab, will 'give you the flu', experts confirm that this is a myth. You may have a slight temperature and notice that you ache a little, or have a slightly sore arm where you were injected, but serious side effects from the vaccine are uncommon.
What to do if you get the flu? Rest and recovery
If you are unlucky to be struck down with a bout of the flu, you can expect to feel better within a week or two.
Because flu is caused by viruses and not bacteria, antibiotics won't treat it. Instead, hunkering down at home, resting and sleeping, is what the NHS recommends.
GPs will also advise taking paracetamol or ibuprofen to lower your temperature and treat aches and pains, keeping warm and drinking plenty of fluids to avoid dehydration.
Sign up to our free daily email for the latest royal and entertainment news, interesting opinion, expert advice on styling and beauty trends, and no-nonsense guides to the health and wellness questions you want answered.
Senior Health Writer Ali Horsfall has almost 15 years experience as a journalist and has written for national print titles and women's lifestyle brands including woman&home, Woman, Woman's Own, BBC magazines, Mothercare, Grazia and The Independent. She currently specialises in health and fitness content and loves sharing the best expert advice on staying well.