Experts are urging for 'old age' to be officially redefined
Great news!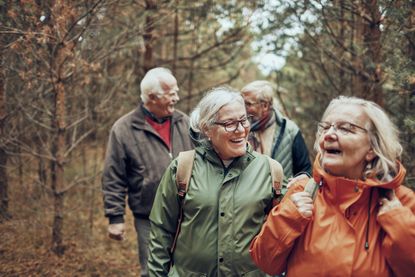 (Image credit: Getty Images)
According to official data published by the Office for National Statistics (ONS), improvements in general health and life expectancy are key reasons why people are now living longer.
As a result of this, statisticians at the ONS (opens in new tab) believe social attitudes should be adjusted according to these findings. Currently, old age is classed as 65 based on a former official retirement age.
They said, 'In the UK, 65 years of age has traditionally been taken as the marker for the start of older age, most likely because it was the official retirement age for men and the age at which they could draw their State Pension.'
But now that there's no longer an official retirement age, people are working past the age of 65, and a lot of this is down to the fact that people are living longer, healthier lives which means they're still able to work.
MORE:A CA 125 blood test can detect ovarian, chest, stomach and pelvis cancer, and increase cancer survival rates for women (opens in new tab)
Statisticians from the ONS revealed that they compared levels of health in 1981 with those in 2017, between the ages of 65 and 85.
They found that that on average 45 per cent of people at these ages reported poor general health in 1981, compared to 39 per cent in 2017.
Based on their data, the ONS explained their position on 70 being the new 65, based on data which confirms a longer life expectancy.
They wrote, 'Given changes in remaining life expectancy over time, age 70 can be thought of as the new age 65; initially, age 70 also appears to be the new 65 (or even younger) in terms of health.'
Anna Dixon, Chief Executive at Centre for Aging Better commented on the new analysis and how society should change their perception of what old age really is.
She said, "This new analysis shows that we need to do away with our outdated ideas about 'old age.' A 65-year-old today can expect to have almost 20 more years of life – so labelling 65 as the age at which we become 'old' seems increasingly arbitrary.
"How we adjust to our longer lives is a defining issue, requiring realistic long-term solutions. For too long politicians have shied away from the bold decisions needed, equating a growing older population with an expensive burden on the state."
However, there are limitations to this with the ONS acknowledging that this was based on 'overall data trends' and 'small numbers'.
They added, 'Because of data limitations, our findings cannot be said to be conclusive; larger sample sizes and more consistent data over time would be needed to fully assess the questions we have posed. Despite this, our findings indicate that health status by chronological age has improved over time while health status at prospective ages shows more stability.'
Based on evidence that there has been a visible improvement over the years, statisticians added, 'From an economic and societal point of view, longer lives mean people can continue to contribute for longer – through longer working lives, volunteering, and possibly providing care for family members, for example, grandchildren.'
Statisticians said that people should work backwards from remaining life expectancy. This means we should operate on a basis of 15 years as the threshold of old age.
Operating under this system, it means that the start of 'old age' would be 70 for men, and 72 for women. This is based on a total average life expectancy minus 15 years.
Lucy Buglass is a Digital Writer specialising in TV, film and lifestyle content and has written for What's On TV, GoodtoKnow and Whattowatch.com. She's passionate about entertainment and spends most of her free time watching Netflix series, BBC dramas, or going to the cinema to catch the latest film releases. In her spare time, she writes film and television reviews for JumpCut Online and her own blog, Lucy Goes To Hollywood.