One woman shares her experience of supporting her husband with dementia at Christmas
Emily shared how the festive season has changed since her husband Jim's diagnosis - and offers valuable advice for people at the beginning of the journey.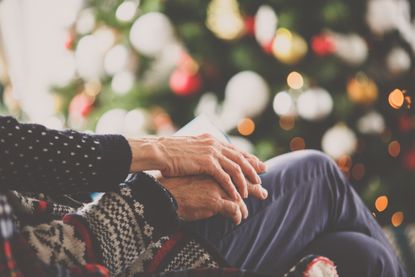 (Image credit: Slobodan Vasic Fotostorm Studio)
Dementia is never easy, but dealing with it at Christmas adds some new and unique challenges to the month of December.
Preparing for, perhaps, the most highly anticipated day of the year, while trying to ensure your loved one with dementia is as happy, comfortable and healthy as possible, can be a mammoth task.
And it's something that mum-of-two Emily knows about all too well. The 63-year-old is wife to Jim, 72, who was diagnosed with Alzheimer's disease in 2014, and later, Lewy body dementia.
They have two daughters, Jennifer, 36 and Heather, 28. The family are based in Northern Ireland, and have a host of grandchildren too.Emily and Jim have been married for 45 years, but life for the family changed forever in April 2014 when Jim was diagnosed with Alzheimer's disease - after showing symptoms for years prior.
Emily, a former nurse, explained, "Jim had been told he was suffering with anxiety and depression in his mid 50s. But it later emerged, in 2014, that these were actually symptoms of his dementia.
"He was doing lots of things which were out of character, but because we'd had that diagnosis, it was so easy to put it down to a mental health issue."
It wasn't until a holiday to Spain that dementia symptoms started to present themselves more clearly.
"It all became a bit more obvious when we went on holiday to Majorca," Emily explained. "Jim got lost, and the police had to eventually bring him back."
MORE:11 tips for better conversations when caring for someone with dementia (opens in new tab)
After returning from Majorca, Emily knew it was time to see another doctor, and it was then that the couple were told Jim had Alzheimer's disease. But even then, it wasn't the end of his health issues. 18 months ago, he was also diagnosed with both Lewy body dementia and Parkinson's. Of course, dementia is tough all year-round, but Christmas time can be uniquely challenging.For Emily and Jim's family, "Christmas was always an extremely special time".
"Christmas was always an extremely special time for us - but back then, Jim would have been a bit bah humbug!"
She continued, "We have two settees in our living room, and the four of us each had a corner to ourselves on Christmas Day. Usually, Christmas Eve was absolutely nuts - I would have been up cleaning until 2am, checking on the turkey, making sure the presents were wrapped. Back then, Jim would have been a bit bah humbug, asking me why I was buying so many presents for everyone!
"Saying that though, he got involved as much as everyone else; he would have been in the middle of it, opening presents, putting all the rubbish in the black bin, watching television. We all ate too much, drank a lot. It really was a lot of fun - after getting the dinner out, that is!"
Even in the years immediately after his diagnosis, Emily explained that Jim was still fairly lucid, and that Christmases were much the same as before."Christmas was still like Christmas," she explained. "Jim was still able to join in. But things were changing, slowly.
"For example, he loved to set up Lego with one of our grandchildren - we have three grandsons, who are 12, 11 and seven years old.But it was getting more difficult for him to follow instructions. In general though, he was doing quite well. He'd be forgetful at times, sure, but at that stage, if you didn't know he had dementia, you wouldn't have known."
However, it was after a trip to New Zealand in 2016 to visit his brother Roy that things went rapidly downhill for Jim.Emily revealed, "In general, he coped very well with the trip, but once we came home it was a different story.That Christmas, in 2017, he wasn't able to interact as well, he was much quieter, and he wasn't able to offer answers in games we played. The decline was rapid."
As a tight-knit family, they banded together and did everything they could to get each other through Jim's declining health. Emily explained, "There was a feeling of, we have to make the best of this for the boys, our grandsons. And they are amazing. They just accept Granda as he is. They're very patient, kind and accepting."
How did Emily's family adjust their Christmas celebrations to ensure Jim, and the entire family, had the best time possible?
Following advice from the Alzheimer's Society, Emily first made sure to set aside a quiet area for Jim to retreat to.
She said, "What we did is have a quiet area for Jim, away from the main buzz of the day. We all tried our very best to make sure he was included, but when things got too loud, he went into that quiet area.And to make sure he didn't feel isolated, every so often our two girls would go in and talk to their daddy, and their kids would come in and out. But if he wanted to come out and join in, he could. And that worked very well for us."
"There was a feeling of, 'we have to make the best of this for the boys', our grandsons"
For Emily, the most important thing was to be able to change plans if needed."Let's face it, we all have plans and schedules for Christmas. And I would have been very much a girl who did plan. But you can't do that any longer," she explained.
"If you're trying to tackle Christmas with a person with dementia, you have to be completely flexible. You really take your lead from the person with dementia. If they can cope, that's fine. If they can't, you have to make sure they're comfortable before anything else.For us, if Jim got uncomfortable, the car was just outside, and we left and went home. If he wanted to have a doze too, that was fine."
However, it's also vital to ensure they don't withdraw from the celebrations.
Emily said, "It's so important to always try to make them feel included too. If there's a lot of noise and busyness, the person will try to isolate themselves, so it's a case of making sure they are comfortable first and foremost."
MORE:The bestselling memoir that reveals the powerful truth about early onset dementia
For Emily though, this Christmas will be very different to previous years, as Jim won't be able to spend it at home with his family.
"This year is going to be extremely difficult," Emily said. "Jim is in a nursing home now, and is a lot more withdrawn. He still knows us as a family, and will greet us with a big smile. But he's always extremely tired, sleeps a lot, and a lot of his conversation doesn't make sense."
"So this Christmas I have a decision to make. I have to ask myself, 'what is best for him?'
"Last year he came home. But this year, is it too big a risk? Is it unfair on him to bring him home? This is going to be a very sad Christmas, because Daddy likely won't be there the in the way he normally is."
But as ever, the family will be doing their best to make Christmas as special and meaningful as possible.
Emily said, "Music is wonderful for people with dementia. Jim loves any of the traditional Christmas carols, so we'll be playing those in his room and bringing the sense of Christmas to him. Plus, we will put up a Christmas tree and decorations. He will recognise those. He likes to see a lot of different textures too, he will interact with that."
So what advice would Emily give to someone who might be at the start of this journey?
She said, "Just try to really enjoy them at the start. And take it one day at a time. Don't have great expectations. Don't expect Christmas to be what it has been.
"And always take your lead from the person with dementia. If you seem them getting uneasy, do something. Check in with them. And sometimes it can be simple, something like checking their glasses are clean, or that their hearing aid is working.Just keep an eye on them - it's so important."
Help Alzheimer's Society continue to provide vital support to people affected by dementia this Christmas, and all year-round by donating at alzheimers.org.uk/christmas-gift. (opens in new tab)Alzheimer's Society's Dementia Helpline and Dementia Talking Point online community are there to help at what can often be a difficult and lonely time for people affected by dementia.
Amy Hunt is an experienced digital journalist specialising in homes, interiors and hobbies. She began her career working as the features assistant at woman&home magazine, before moving over to the digital side of the brand where she eventually became the Lifestyle Editor up until January 2022. Amy won the Digital Journalist of the Year award at the AOP Awards in 2019 for her work on womanandhome.com.