You can write letters to NHS staff and key workers to thank them for their hard work in the coronavirus pandemic
So special...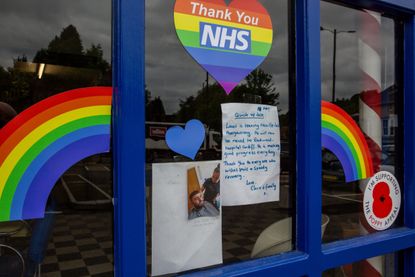 (Image credit: Getty Images)
It goes without saying that, for many of us, the coronavirus pandemic has ignited a gratitude like no other for the NHS (opens in new tab) and the country's key workers.
This story is part of our Good News (opens in new tab) series – bringing you positive headlines every day to spread positivity during difficult times.
In light of the worldwide health crisis, those working on the frontline of our health care system became heroes, risking their own health and wellbeing in the fight against the Covid-19 virus, that has taken the life of thousands in Britain.
Meanwhile key workers like care home staff (opens in new tab), police officers, fire fighters and many others have been praised for their continuous hard work throughout the pandemic lockdown.
Thursday evenings at 8pm were reserved for the country to take to the streets and share their thanks to the NHS and key workers with a clap for ten weeks running.
However, with the Clap for Carers initiative coming to an end earlier this month, you may be looking for another way to let the doctors, nurses and carers of the country know how much their work means to you.
Luckily, a 19-year-old Warwick University student has kick started a brilliant project.
In light of the collective feeling that ten weeks of applause will never be enough for us to say our thanks to those who are working on the frontline throughout the horrific time, Soumya Krishna Kumar launched the Letters For The NHS scheme, a way in which NHS staff, care givers and key workers can receive a letter of thanks from grateful strangers.
"I thought writing letters was a fantastic way for anyone to get involved Soumya said.
"Clap For Carers is amazing, but I don't think it was quite enough. I don't think it's enough to clap for two minutes a week and then just carry on with our lives."
People can nominate key workers to receive letters by filling in a form on the project's website. Then volunteers can sign up to write letters to them.
Send a thank you letter to a key worker here (opens in new tab).
The letters are forwarded to Soumya who posts or emails them to a nominated recipient.
An intensive care unit nurse who received one of the thank you letters said, "This letter touched me on an emotional level and brought a tear to my eye. Thank you for lifting the spirits of a very tired ITU nurse. I will definitely be nominating my equally exhausted co-workers."