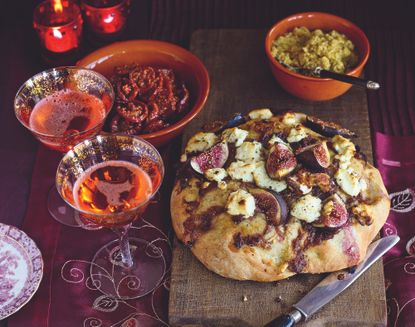 (Image credit: Charlie Richards Photography Lim)
New Year's Eve recipes for entertaining, whether you're planning an intimate dinner party or a drinks party for a crowd
New Year's Eve recipes for entertaining, whether you're planning an intimate dinner party or a drinks party for a crowd.
Keep it simple this year with easy but impressive recipes that you can make ahead, so you won't have to think about the food or drinks once your guests arrive.
Go for easy party food that you can throw together in advance, like rosemary bar nuts, cheese-stuffed dates and a savoury cheesecake that makes an excellent alternative to a cheeseboard, which guests can help themselves to.
For drinks, pick some easy all-in-one jug cocktails that make a change from fizz and ask guests to bring a bottle from the ingredients list so that you can keep those cocktails flowing all night.
Prefer to have a more intimate gathering? Make an extra special New Year's Eve dinner party menu with an impressive centrepiece. Make a beef Wellington to show you've really made the effort, or go for a roast side of salmon, which is a simple way to feed a crowd without compromising on the main event.
Whatever approach you choose, these easy recipes will help make it a New Year's Eve to remember.
Make a gorgeous tear and share bread like this easy focaccia with sweet red onions and figs.
See the focaccia with red onions and figs recipe.
Scroll through to see more New Year's Eve recipe ideas...
Savoury Cheesecake
Make a savoury cheesecake instead of a cheeseboard and let guests help themselves. Everyone will be talking about it! See the savoury cheesecake recipe.
Beef Wellington
Beef Wellington makes a stunning centrepiece for a special occasion like a New Year's Eve dinner party. See the beef Wellington recipe.
Roast Side Of Salmon With Chickpea Dukkah
Make an extra special meal with this roast side of salmon topped with a chunky chickpea dukkah. So easy to share. See the roast salmon with chickpea dukkah recipe.
Lobster Tail And Prawn Fish Pie
Take fish pie to New Year's Eve level with this luxurious recipe using lobster tails and prawns. See the lobster tail and prawn fish pie recipe.
Fino And Tonic
Fino sherry and tonic is our go-to party drink, which is so easy to make up a big jug to share. See the fino and tonic recipe.
Salted Caramel Roulade
Desserts don't get much more special than this salted caramel roulade, which shows you really made the effort - and it's SO worth it! See the salted caramel roualde recipe.
Sushi To Share
Make a terrine with a twist with this simple sushi recipe thhat you can slice and share as a starter or party bite. See the sushi recipe.
Melted Goats' Cheese With Figs
This melted goats cheese with figs recipe (opens in new tab) is perfect as a light supper, or, with halved quantities, it makes a tasty starter before a heavyweight main course.
Beetroot And Vodka Cured Salmon
A stunning beetroot and vodka cured salmon recipe (opens in new tab) during the festive season, and lovely and light for a three course meal if you're entertaining.
Chocolate And Peanut Cheesecake
Like a giant Reese's Peanut Butter Cup, this chocolate and peanut cheesecake recipe is wickedly decadent.
Boozy Tiramisu Torte
This boozy tiramisu torte recipe (opens in new tab) has a rich and satisfying hit of coffee, cream and liqueur.
Chocolate Parfait With Irish Cream
Seductively rich and mouthwatering, this delicious chocolate parfait with Irish cream recipe is easy to make and keeps well in the freezer for two days if it's well wrapped in clingfilm.
Salted Caramel Wreath Cake
Make this impressive wreath cake the day before and bring it out as the perfect end to your special dinner party. Add sparlers for extra wow factor. See the salted caramel wreath cake recipe.