How to build the best cheeseboard, according to TV chef Gizzi Erskine
These chef's tips will turn your best cheeseboard into a work of art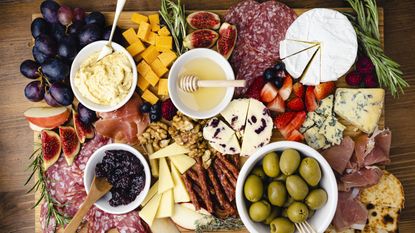 (Image credit: Getty Images)
Even the best cheeseboard needn't take too long to prepare. We love a classic cheeseboard for its simplicity - you don't need fancy gadgets like the best blenders or best induction pans to create something spectacular. But an eye for presentation certainly helps!
Celeb chef Gizzi Erskine has put together a guide on how to construct the perfect cheeseboard for a dinner party, special occasion or Christmas.
From the type of cheeses you're going to need on the table, to how best to serve them and with what. Ever thought to make dehydrated grapes? Gizzi tells us how! Wow your guests with a fantastic cheese board that you can make any time of year. If you need further dinner party recipes inspiration, we've got a huge collection for you to explore.
Here are Gizzi Erskine's top tips on how to build a cheeseboard
Buying
There are no rules. We're all different. Have fun. Explore. Experiment. Discover. The same goes for pairings; try cider and beer as well as wine and fizz. Match the sweetness of a grape with the saltiness of a Stilton. Try a sharp Cheshire with apple pie, or Cheddar with a strong porter beer.
Storing
Serve about 15C, not straight out of the fridge. Let it get oozy and stinky. To store, wrap cheeses individually in cheese (waxed) paper. Keep different types of cheese, such as white bloomy rinds, blues and hard cheeses, separate. If storing in plastic containers as well, refresh the air every day, let the cheeses breathe, then rewrap. Soft and blue cheeses should be stored at 4-8C. Semi-hard and hard cheeses should be stored at 8-12C.
Arranging
Buy some classic crowd-pleasers and select a few cheeses that people might not know. Allow a flow from the softer and gooiest cheeses to the hardest...
Gooey Brie, Saint-Marcellin, Gorgonzola
Lactic, mild and tangy fresh goats' cheese such as Clifton Leaf or Rouelle du Tarn
Sour and crumbly Wensleydale, Bourne's Cheshire, or ewes' milk Swaledale
Sticky, stinky rind-washed My personal favourite category, I like Aged Abondance or Jumi's Aarewasser
Rich intense goat I've recently discovered Tor from Glastonbury
Hard Cheddar is unbeatable. I like Barber's Vintage and aged Lincolnshire Poacher. You chould also try Gruyère, Gouda, Comté, or Grana Padano
Blue It's Christmas, so you've got to have some Stilton - I love Colston Bassett, which is crumbly, creamy chocolate with salt. BUT... explore the world of blues. There are hundreds.
Bread or crackers?
Both for me - heritage grain sourdough bread and a selection of crackers. I also love fuit and nut sourdough breads. A good baguette, preferably sourdough, is a winner too. Leftover Christmas cake is a brilliant accompaniment, and if you've never tried cheese with malt loaf you are missing out!
Serving suggestions
Frozen grapes Bung a bunch of red or black grapes in the freezer overnight and whip them out just before you're ready to serve your cheese plate; the icy cold texture is a revelation with cheese.
Dehydrated grapes Place a bunch of red, white or black grapes on to a baking tray and bake in a preheated oven at 50C, or the lowest temperateure your oven will go, for 12 hours or overnight. Once cool, they are terrific with cheese.
Fresh grapes Alternatively, serve the classic way with fresh grapes
Fresh slices of pear or apple One of the simplest, best accompaniments.
Fresh figs These go well with the rind-washed goats' cheeses.
Celery sticks Brilliant with hard cheeses.
Pickled fruits and nuts I love to serve cheese alongside pickled pears. Mustard fruits, quince and pickled walnuts are my other favourites.
Chutneys Serving chutneys from spoons is a really cool way to show them off. I love a good quince, pear or dried fruit chutney at Christmas.
Find more ideas Gizzi's Season's Eating: Feasts & Celebrations from Halloween to Happy New Year (Mitchell Beazley, £25) by Gizzi Erskine. Main photography by Emma Lee.
Lauren is the former Deputy Digital Editor at woman&home and became a journalist mainly because she enjoys being nosy. With a background in features journalism, Lauren worked on the woman&home brand for four years before going freelance. Before woman&home Lauren worked across a variety of women's lifestyle titles, including GoodTo, Woman's Own, and Woman magazine.