Best Easter candy 2022: 15 picks for your baskets this year
Our edit of the best Easter candy 2022 includes a mix of old favorites and new flavors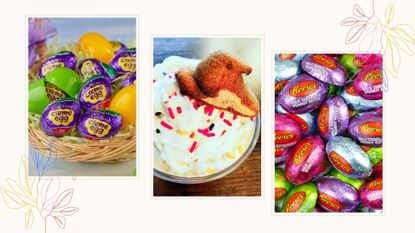 (Image credit: Future)
The best Easter candy 2022 features chocolate eggs, jelly beans, and other confectionaries that Americans are keen to receive in their baskets. (And yes, that also includes Peeps.)
Whittling it down to the 15 best Easter candy is no small feat. (Do you see just how much there is out there?) Unless you know exactly what your recipient is into, chances are you're slightly overwhelmed by it all, too. So we've done the heavy lifting for you by making selections based on our experiences and market research data.
Whether you're putting together a personalized Easter basket for a kid or a kid-at-heart, check out our list of the best Easter candy 2022 for a mix of new, exciting flavors and all-time classics. And if you'd like to expand your offerings beyond sweets, head over to our guides for Easter hamper ideas and Easter gifts for adults that they'll absolutely adore.
The best Easter candy 2022 for your baskets
Why you can trust Woman & Home Our expert reviewers spend hours testing and comparing products and services so you can choose the best for you. Find out more about how we test.
The Original Donut Shop Coffee Flavored Peeps
RRP: $9 | Peeps are an Easter basket staple whether you like them or not, and over the years the marshmallow candy manufacturer has been experimenting with all sorts of interesting flavors. Debuting in time for Easter 2022 are these coffee-flavored Peeps, made in cooperation with The Original Donut Shop. These java-tinged Peeps have a more subtle, slightly-bitter flavor, which is good news if you don't like your coffee strong. They also make for a fun Easter decoration idea for any seasonal lattes you'll serve up from your best coffee machine.
RRP: $4 | Did you know Creme Eggs are banned in the United States? Well, sort of. Cadbury Creme Eggs made in the UK are not allowed to be imported here because Hershey's has the exclusive right to produce them for the US market. Differences in taste aside (Hershey's iteration is less milky and more sugary), there's no doubt that we all feel a twinge of nostalgia when spotting one of these fondant-filled chocolate eggs in our Easter baskets. (But, if our British friends want to help their American friends out...)
Godiva Easter Milk Chocolate Solid Bunny
RRP: $6 | Godiva is known for its high-quality treats. This 5oz. solid milk chocolate bunny is no exception. It's smooth, creamy and delicious. However, it looks too pretty to eat, from the exquisitely-detailed bunny to the eye-catching spring-themed box it rests in. But you'll get over that — Godiva chocolate is meant to be eaten and enjoyed, after all.
Bag of Bunny Farts Cotton Candy
RRP: $9 | Little Stinker is a sweets purveyor that specializes in fluffy 'farts' — including those from bunnies. (By the way, bunny farts taste like fruit punch-flavored cotton candy.) Plus, 10% of each purchase goes towards charities that support disabled children. Not only will you get a chuckle out of this Easter candy, you'll also be contributing to a noble cause.
Tootsie Roll Candy-Coated Eggs
RRP: $20 | How many licks does it take to get to the center of a Tootsie Roll candy-coated egg? We haven't run the experiment ourselves but feel free to reach out if you have an answer! This 23oz. bag contains over 100 individually-wrapped pieces so you can fill multiple Easter baskets at a time. These treats are also peanut- and gluten-free, so they're safe to eat for anyone who has those allergies. Sprinkle these around your table or fill a vase with them for a fun Easter table decor idea.
Lindt Lindor Easter Spring Assortment Bag
RRP: $5 | It's difficult to articulate just how lusciously silky Lindor truffles are, but if you've tried them yourself then you know what we mean. This Spring Assortment includes three flavors: classic milk chocolate, Neapolitan white chocolate and Stracciatella white chocolate — all with that rich, creamy center for which Lindor truffles are known. Sprinkling some of these into your Easter baskets is bound to elicit some smiles.
Froot Loop Cereal Flavored Peeps Pops
RRP: $7 | Who would have thunk that Froot Loops cereal and marshmallow Peeps would make a fine flavor combination? Well, it does — but we'd be remiss to overlook the intriguing presentation. Instead of a standard carton, these colorful Peeps are arranged four in a row, skewer style. These are sure to liven up any Easter basket.
SmartSweets Low-Sugar Variety 8-Pack
RRP: $23 | If your recipient is watching their sugar intake for any reason, the good news is they can still enjoy some delicious low-sugar candy courtesy of SmartSweets. (And even if they're not, they're still delicious, guilt-free treats!) This variety pack includes Sweet Fish, Sour Patch Buddies, Sourmelon Bites and Peach Rings so you can add a few different flavors to your loved ones' Easter baskets.
Williams Sonoma Chocolate Surprise Egg
RRP: From $19 | For the one with refined tastes, this 8oz. milk chocolate Williams Sonoma Easter egg is like a gourmet Kinder Surprise — except instead of a toy inside, there's a flock of yellow-tinted white chocolate chicks instead (which are obviously safe to eat). Wrapped in gold foil, it'll be a crown jewel for any Easter basket.
Jelly Belly 10-Flavor Spring Gift Box
RRP: $9 | Even people who don't typically care for jelly beans agree that Jelly Bellys are quite tasty. Of course, for the jelly bean aficionado, you can slip this gift assortment into their Easter basket and it'll be warmly received. This 10-flavor box features popular flavors such as watermelon, cherry, and buttered popcorn.
RRP: $7 | Peeps are considered one of the most polarizing Easter candies — people either love them or loathe them. But here's a possible middle ground for those who fall into the latter camp: Peeps Gummies. New for 2022, these gummy bunnies and chicks come in three flavors: marshmallow, blue raspberry and strawberry.
Harry & David Mr. and Mrs. Ears Milk Chocolate Easter Bunnies
RRP: $40 | This pair of milk chocolate Easter bunnies from Harry & David is so adorable, we suspect you may feel a slight twinge of guilt upon biting into one. They're made with the same chocolate as Harry & David's truffles, so expect some rich, creamy goodness here. Looking for the best Easter gift for couples? Look no further.
Star Wars Baby Yoda Chocolate Egg
RRP: $7 | How is this for a surprise egg? Crack the milk chocolate shell open to find a Baby Yoda fashioned out of marshmallow. Alternatively, it can also be used to make hot chocolate — just place it in a mug and pour hot water or milk over it. It'll melt into a tasty drink (with a floating Baby Yoda, of course). If there's a Star Wars fan on your Easter basket list, you'll want to snatch this up for them.
Brach's Funfetti Jelly Beans
RRP: $3 | Brach's is no stranger to mingling its jelly beans with unconventional flavors. Just take these Funfetti jelly beans, which are meant to taste like the cupcakes you'd enjoy at every school-hosted birthday celebration. As an added bonus, these are a lot less messy to eat, given there won't be any crumbs or icing to contend with.
Reese's Mini Peanut Butter Eggs
RRP: $6 | Heralded as the best-selling Easter candy in the US, Reese's Mini Peanut Butter Eggs are a variation of the also-popular mini cups. Put them in your Easter baskets, use them as decorations for an impressive Easter cake idea, or even eat straight from the bag and enjoy them one by one. (Because try as you might expect, you can't have just one!)
What is the top-selling Easter candy in the US?
According to a survey conducted by Retail Me Not in 2021, the best-selling Easter candy in the US is Reese's Mini Peanut Butter Eggs. Jelly beans and Cadbury eggs are a very close second and third respectively. Rounding out the top five best-selling candies are chocolate bunnies (fourth) and Peeps (fifth).
What are the top 5 most popular Easter basket items?
Retail data science company 84.51° conducted a survey in March 2022 to find out which Easter candies shoppers are keen to add to their baskets this year. Here are the results:
Chocolate candy (45%)
Easter themed/limited edition candy (31%)
Fruit flavored/sugar candies (31%)
Peeps (22%)
Gum/Mints (11%)
As for non-candy goods, consumers will be adding toys (22%), books (16%), gift cards (12%) and money (11%) to their Easter baskets.
For other Easter basket inspiration, take a look at our list of the best affordable Amazon Easter gifts that'll only look like you spent a lot of money.
Freelance writer and editor
Alison Barretta is a freelance writer and editor from Philadelphia, USA who specializes in home and lifestyle, skincare, and tech. For the last 15 years, she has been sharing buying advice and product reviews with curious, cost-conscious shoppers from around the world. Alison's work has been featured in Forbes, Business Insider, Tom's Guide, TechRadar, and Creative Bloq.
When she's not reviewing mattresses or waxing poetic about her favorite face cleansers, Alison can be found teaching/training in martial arts, streaming underrated TV series, trying new recipes, and singing karaoke until her throat is hoarse.