The Best Invisible Knickers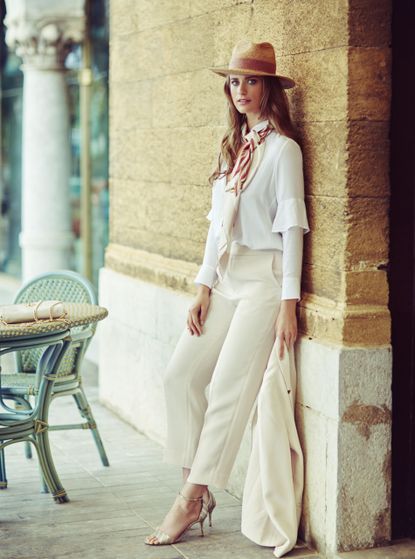 These flattering invisible knickers will help you feel confident in your favourite outfits
There's nothing like stepping out in your favourite white jeans or that figure-hugging dress and knowing that you look as good as you feel. But if you're constantly worried about underwear being visible through your thinner summer clothes, feeling confident can be easier said than done. Not to worry though: a great pair of invisible pants are the answer. These hard-working knickers will give you a helping hand by flattering, lifting and smoothing - and no-one need know!
With silky maxi skirts and dresses favourites for the summer months, underwear can't afford to be an afterthought. There's nothing worse than arriving at an event, barbeque or summer gathering in your fabulously glamorous peach or cream maxi skirt only to realise on arrival that your skirt is see-through and your knickers are completely visible! It's one of the biggest fashion faux-pas - but the good news is that it's also completely avoidable. Whenever you buy a risky coloured bottom half - white jeans, silky maxi skirt, white cotton dress for your holidays - head straight to the underwear shop and find the knickers to go with it. It's a good habit to get in to that can save you a lot of angst and embarrassment.
From briefs to things, shapewear to high-rise styles, there's a style for any occasion. So whatever shape you find more comfortable in and whatever shape your outfit demands, you can get in an invisible version to complete the outfit with a flawless knicker line. Find your perfect pair today...
Low leg shapewear pants, £14, Debenhams
When Debenhams first introduced their invisible shapewear range, it sold out. These lightweight, high leg knickers promise to slim, shape and smooth - no wonder they're so popular! Low leg shapewear pants, £14, Debenhams (opens in new tab)
Invisible thong, £11, Calvin Klein at Figleaves
Looking for a little light support? Calvin Klein's invisible thong gently flatters the hips without restricting your movement. Invisible thong, £11, Calvin Klein at Figleaves (opens in new tab)
Control maxi briefs, £10.40, Sloggi at John Lewis
The perfect brief for wearing under all your favourite dresses - these Sloggi briefs flatten the stomach and smooth the hips. Plus, they're super comfy - perfect! Control maxi briefs, £10.40, Sloggi at John Lewis (opens in new tab)
Seamless knickers, £5.90, Uniqlo
Feeling comfortable all day is essential. These seamless knickers fron Uniqlo are thin for invisibility, but the lightweight material also makes them so wearable. Don't just keep these for best - wear them day-to-day and step out with confidence. Seamless knickers, £5.90, Uniqlo (opens in new tab)
Undie-tectable briefs, £24, Spanx at Selfridges
Spanx 'Undie-tectable' briefs are seriously flattering. They're made from a sculpting, seamfree hosiery yarn which fits like a second-skin and also feature a double-layer band to instantly flatten a problem tum. Perfect for under those thin summer dresses. Undie-tectable briefs, £24, Spanx at Selfridges (opens in new tab)
No VPL lace briefs, £6, M&S
Proving that full briefs don't need to be unflattering, these lace knickers give great coverage with a high waist and full bottom coverage. Classic M&S pants will always serve you well! No VPL lace briefs, £6, M&S (opens in new tab)