Princess Diana's power suit: The story behind the photo
Like many of the Princess's outfit, her choice of suit made history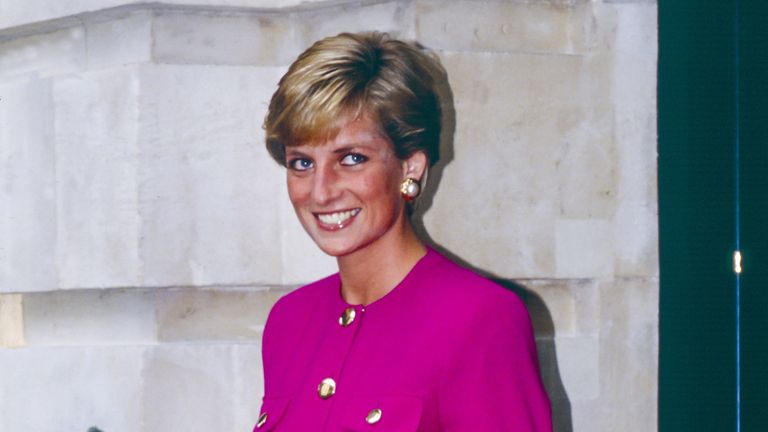 (Image credit: Getty)
The late Princess Diana was known for her bold fashion choices, with each item in her extensive wardrobe reflecting her desire to forge her own unique vision of what it means to be a royal.
From casual daywear to the most opulent of evening gowns, the 'The People's Princess' turned heads with her effortless elegance and ease with her own personal style.
Diana famously said that she doesn't "go by the rule book." She created a wardrobe that at times broke the royal mould, speaking volumes about her strength of character and desire to be seen as an individual.
Opening up about the royal's wardrove, Eleri Lynn – curator of the Diana: Her Fashion Story exhibition – says, "She was very aware of the language of clothes and, that she was expressing something that through the way she dressed."
One such choice that marked the mother-of-two out as a leader, rather than follower, of fashion was the striking navy, double-breasted power suit she wore to a concert in aid of the Prince's Trust on April, 29, 1990.
The outfit made history as the first time a female royal had worn trousers to an evening function. With its silk lapel detailing, square metallic buttons and tapered legs, it was masculine tailoring at its best.
Naturally, Diana put her own feminine twist on the ensemble adding a matching blue clutch with subtle gem detailing and a pair of blue velvet court shoes.
While it's not known whose handiwork was behind this now iconic piece of fashionwear, we do know that one of Diana's most favoured fashion houses – Catherine Walker – was an exponent of the androgynous look.
Explaining the impact of such an outfit to the IBTimesUK Said Cyrus – head designer for Catherine Walker – has previously said, "One of the things that Catherine Walker tailoring does is gives you confidence. It makes you stand tall. And it's almost like – I wouldn't say armour – but it's very structured."
Greeting singing sensation Phil Collins – one of the event's performers – the suit-to-suit meeting wouldn't have gone unnoticed by the watching world.
But while this fashion statement made waves in 1990, Diana had already worn a suit to an official engagement four years earlier. And a slightly more daring one at that.
While on a visit to Canada with then husband Prince Charles in May 1986, Diana wore a black wool evening suit with a short single breasted jacket and jodhpurs. Paired with a ruffled white blouse, the Jasper Conran two-piece was certainly a head turner.
The Princess of Wales completed her bold look with a diamanté appliqué on her jacket lapel which appeared to be in the shape of a snake!
These are just two of the many suits that Princess Diana wore while she was out and about on her royal visits and duties.
In 1988, when the Princess attended a charity greyhound racing event at Wembley Stadium, she stepped out in an eye-catching ensemble that made sure to turn heads.
Donning a Catherine Walker suit, Princess Diana paired it with an unconventional green Hackett waistcoat and surprisingly finished off her look with a bow tie.
And then there's the Princess's lace and satin number that was truly elegant but with a hint of cheeky playfulness.
Back in 1990, Princess Diana turned up to Sadlers Wells Theatre In London, wearing a cream lace and satin evening suit.
The striking suit, which was by fashion designer Bruce Oldfield, was made up of a strapless cream lace bodycon dress with a scallop edge trim and a figure-hugging button-up cream satin blazer.
Princess Diana paired the outfit with a pair of slightly-heeled cream pumps and a silk clutch purse, as well as a pearl necklace and big pearl studs.
From her fashion choices to her charitable work, we continue to be inspired by Princess Diana!