JD Williams reveal the winners of their nationwide model search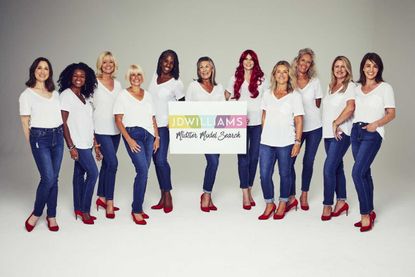 If, like us, you think there aren't enough women over 45 positively represented in the fashion industry, don't worry – that's all set to change.
A nationwide model search, launched byJDWilliamsin association with Models One, has come to a close. Not one, but two,winnerstook the crown - and yes, both women are in their fifties.
Introducing winners Sue Hammond, 58 from Buckinghamshire and Jenny Stout, 53 from London – two fabulous ladies hoping to shake up the idea that modelling is a youngster's game!
In response to the research that revealed a staggering 79% of British women felt ignored by the fashion and advertising industry, JD Williams launched their midster model search as part of an ongoing commitment to use age-appropriate models in all of its brand and advertising campaigns.
"As a brand which caters for older woman, we believe it's important to use age appropriate models," said JD Williams Creative Director Beth Lowry.
"However we've found it difficult casting 45+ models in our campaigns, as the pool of models is notoriously small – which is one of the reasons why we decided to launch our model search."
Open to those aged 45 and above, the three-month search appealed for women of all shapes and sizes, and over 600 women applied.
The shortlisted 11 then came face-to-face with the judging panel, which included Britain's Next Top Model judge and celebrity photographer, Nicky Johnston, Uwe Herzstein from Models One, and supermodel Jan De Villeneuve.
But it was Sue and Jenny who eventually came out on top, winning the opportunity to appear in JD Williams' Spring/Summer 2019 advertising and PR campaigns, plus an introduction to Models One – Europe's largest model agency.
"I entered the competition to push myself out of my comfort zone," Sue commented.
"I'm 58 and have recently had breast reduction surgery having wanted it for years. I was feeling so good about how my body had changed. When I saw the competition, it just felt like the right time to apply that confidence. So, with a great deal of encouragement from my teenage daughter I went for it!"
Fellow winner Jenny added, "I heard about the model search from a friend on Instagram who thought I would be perfect for the brand. I did a little bit of research immediately resonated with the brand – to feel comfortable in your own skin no matter your age or size.
"Women over 50 still have something to give that is valuable and can still be attractive, confident and fashionable."
We wholeheartedly agree. Congratulations ladies!