Battle of the bras: Bravissimo vs Victoria's Secret - find your fit with these two bestsellers
Bravissimo vs Victoria's Secret - which lingerie giant will come out on top?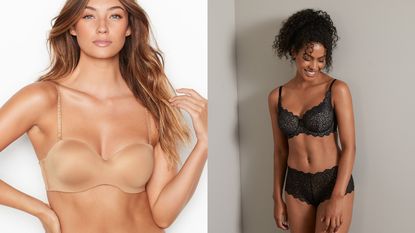 Struggling to decide which is the best bra (opens in new tab) for you? You're in the right place. Read on for the lowdown on the Bravissimo Millie Bra vs Victoria's Secret Lightly Lined Strapless Bra...
There's nothing more satisfying than whipping off your bra the minute you get home. But wouldn't it be lovely not to have to wait till that oh-so-satisfying moment? Finding the perfect bra can be tricky and, with so many different types of bra (opens in new tab) out there, it can be a little overwhelming. The best bra should be supportive, comfortable and help enhance our silhouette, giving both our confidence and boobs a good boost.
Enter two of the best bra brands (opens in new tab) around: Bravissimo and Victoria's Secret.
If you're on the hunt for your dream bra, we've scoured the shops to compare two of the biggest sellers from the lingerie giants. They're both very different styles with different looks and results. Bravissimo's Millie is a supportive balconette bra, while Victoria's Secret's Lightly Lined Strapless Bra offers a solution to a myriad of wardrobe dilemmas.
Just make sure you know how to measure bra size (opens in new tab) before ordering.
Bravissimo vs Victoria's Secret
What makes the Bravissimo Millie Bra special?
Bravissimo Millie Bra specifications
- RRP: £34
- Sizes: 28E-40K
- Style: Balconette
- Wired? Yes
- Padded? No
Much loved by the Bravissimo consumer, this underwired balconette bra ticks all the boxes. The lace design is not only pretty but stretchy, too.
"The Millie bra is a really comfortable style that gives great support. It has pretty stretch lace on top of the cup, meaning that it moulds to the shape of your boobs and can be great if you have one boob bigger than the other," says Emma Roper, buying manager at Bravissimo.
A go-to for everyday, it's non-padded, comfortable and supportive, giving a smooth, rounded shape with no digging in. The JJ and K cups have extra lining for additional support, too. Available in seven colours, it's great for big busts, coming in sizes 28-40, DD-K cup.
View the Bravissimo Millie Bra (opens in new tab)
What makes the Victoria's Secret Lightly Lined Strapless Bra special?
Victoria's Secret Lightly Lined Strapless Bra specifications
- RRP: £45
- Sizes: 32A-38F
- Style: Strapless multi-way
- Wired? Yes
- Padded? No
Featuring non-slip cups and band, this strapless bra is made to stay put and is a firm favourite with Victoria's Secret customers, judging by all the reviews. No need for readjusting or hoisting up, its super-light lining fits comfortably round your curves for all-day wear.
"It has ultra-light lining and smooth sides, making it super comfortable, supportive and invisible under clothes. It's a versatile piece that can literally be worn with anything, thanks to its interchangeable straps – it can be worn as a classic, halterneck, one-strap, crossback or strapless bra. The exclusive non-slip cups and band technology keeps your bra in place all day long, while the raw-cut wings give a second-skin fit and feel," says a bra fit expert at Victoria's Secret.
Perfect for any tricky dress or top situation, it's available in a selection of colourways, covering a range of skin tones, so it gets extra points for inclusivity, too. The back sizes range from 32-38 and cup sizes come in A-F.
View the Victoria's Sercret Lightly Lined Strapless Bra (opens in new tab)
Bravissimo vs Victoria's Secret: Which one is best?
Everybody is different, so of course it depends how each bra fits and feels on you personally, and both of these bras are deserving of a place in your lingerie drawer. While both bras are bestsellers, they are very different, so we feel you could justify investing in one of each. However, if you only have the budget for one, then…
Bravissimo's bestseller is a real winner for bigger busts, starting at DD to a K cup, while the Victoria's Secret popular strapless style caters for smaller boobs, starting at an A cup.
If your bra size isn't a determining factor, then it might come down to the practicalities. The Victoria's Secret bra also has removable straps, so is incredibly versatile when it comes to styling with different outfits. It's also just as comfortable with or without straps, making it a good choice for everyday wear, too.
However, if it's all about looks for you, then it's rare to find a bra that is both comfortable and pretty, but Bravissimo's Millie design does just that with its gorgeous lace design and cute colourways.
Charlie is the Deputy Fashion Editor at Future plc across multiple women's magazines including Woman & Home, Woman and Woman's Own.
She bagged her first magazine job in 2009 and has previously written for titles including Stylist, Closer and Dare. Over the years Charlie has embraced anything that was thrown at her from styling celebrities to testing out the best jeans on the high street to writing about must-have beauty buys.
With a weakness for a printed midi dress, Charlie is on a mission to shop more sustainably and loves finding new ethical brands and second-hand buys.