These Boots perfumes smell incredible and look so good that wrapping is optional
11 bestselling and critically acclaimed fragrances that will delight your loved ones this festive season. From crowd pleasing fresh fragrances like Estee Lauder White Linen to the heady designer notes of Tom Ford, there's something for every nose and budget says our expert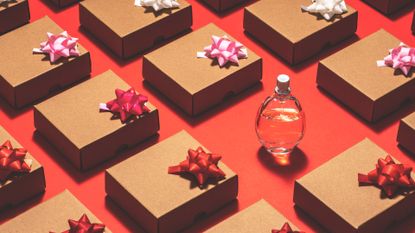 (Image credit: Getty Images)
Whether you're shopping for the sister who usually hates everything, the parent who repeatedly (and frustratingly) answers "I don't know" when asked what they want, the partner who rarely deviates from the same present request each year or the friend looking for something unique, the gift of fragrance is the universal crowd pleaser certain to put a smile on their face.
That being said though, it can be tricky to pick the right scent for the right person. Perfume can be deeply personal however, rather than shying away from the prospect, we say, embrace it, as it offers up the chance to buy something that shows how well you know them, their personality and style.
More importantly though in our experience, the transportive and evocative power of scent provides a much-needed pocket of escapism and nostalgia. It acts as an invisible layer of clothing for a dose of luxury on even the greyest of days. After the year that we've all just had, it's those small daily joys that can make a world of difference.
If you're unsure of where to start looking, don't panic. We've teamed up with Boots (opens in new tab) to serve up a spritz of festive cheer by way of our essential perfume Christmas gift guide (opens in new tab). From timeless classics to the fashion houses that have a reputation for a good nose and fantastic gift sets (opens in new tab) designed to envelop lucky recipients in veils of fragrance from bath to bedroom and beyond (sounds blissful), there's truly something for everyone. Plus, with a great range of offers to be enjoyed across their huge selection of scents, including the legendary Boots 3 for 2, you can rest assured that finding the perfect present won't break the bank.
From gifts for her (opens in new tab) to gifts for him (opens in new tab), floral to woody and fresh, we've got you covered. And, with many housed in limited edition Christmas gift boxes this year too, they'll look as good underneath the tree as they will on the giftee's dresser.
(opens in new tab)
Armani Sì Eau de Parfum
RRP £76 for 50ml
It may be cold and grey outside, but I defy anyone not to be instantly transported to sunnier climes when wearing this elegant EDP. Inspired by fresh sheets that have dried outside in the summer air, its blend of notes harmonise to create a combination that's warming, creamy and soft yet strong. With top notes of blackcurrant liqueur, a honey-hued heart of rose de mai absolute and freesia and a base of patchouli and oakmoss to add depth and dimension, it's a modern chypre for the ages.
(opens in new tab)
La Librairie Skin Rose Eau de Toilette and purse gift set
RRP £17.50
Looking a lot more expensive than its price tag suggests, this sweet floral fragrance provides a dash of luxe for less. With notes of pear, jasmine, rose, amber, patchouli and white musk, its composition is likely to appeal to a wide range of noses (evident from its high star rating). What's more, this gift set comes with a stylish coin purse rather than a body lotion or shower gel to give it an extra edge over the competition.
(opens in new tab)
Dior Sauvage Eau de Toilette 100ml
RRP £76 for 100ml
Fresh, sophisticated and mouth-wateringly juicy thanks to a burst of citrus bergamot crackling as a top note and musky ambroxan providing an air of woody intrigue, perfumer François Demachy has managed to perfectly bottle the earthy yet crisp essence of wide-open spaces for this men's fragrance. Light but distinct enough for people to sit up and take notice, it's an eau de toilette that strikes the hard to capture balance of wearability and individuality.
(opens in new tab)
YSL Wild Pre-wrapped Libre Eau de Parfum
RRP £78 for 50ml
Combining the sweetness of orange blossom with the aromatic haziness of lavender as its base notes, this floral scent is as bold and trailblazing as the fashion house behind it and campaign face, Dua Lipa. Sophisticatedly tailored from accords to its name (libre means 'free' in French) and couture-inspired bottle whose V-cut side and golden chains act as a nod to the signature YSL tuxedo, it fuses structure with the unexpected for a multi-sensory aroma that proves addictive - ideal for those looking for something a little different.
(opens in new tab)
Tom Ford Black Orchid Eau de Parfum Spray
RRP £61 for 30ml
For the ultimate in luxury fragrance, look no further than Tom Ford's Black Orchid. Not for the faint-hearted, its mix of rich and evocative accords strike a spicy and heady note - it's the type of potent oriental chypre that's likely to make an entrance before its wearer actually steps into a room (in a good way though, a little goes a long way).
With top notes of black truffle, blackcurrant, bergamot and ylang ylang, heart notes of orchid, fruit accords and lotus wood and a base of vetiver, patchouli, sandalwood, balsam, dark chocolate, incense, amber and vanilla, it's as decadent to spritz on as it sounds. For a more affordable option that still packs a punch, it's also available in a handbag friendlier Travel Spray Eau de Parfum, £32. (opens in new tab)
(opens in new tab)
Dior J'Adore Eau de Parfum 50ml
RRP £78 for 50ml
The popularity of this iconic perfume has endured since launching in 1999 - and for just reason. From its complex blend of notes and recognisable curved bottle, it oozes style and substance. Its bouquet opens up with a top note of essence of ylang ylang, unfolding to a heart of Damascus rose and a duo of jasmines to offer up an uplifting floral with an edge that boasts wide-ranging appeal. Strikingly golden, this gilded elixir is certain to turn heads in more ways than one.
(opens in new tab)
Paco Rabanne 1 Million for Men Eau de Toilette gift set
RRP £69
This fragrance shouldn't really work. Well, on paper that is. Such is its blend of contrasting notes that you'd be forgiven for thinking it less harmonious, more cacophony. However, that's exactly its appeal.
Created to make a statement, it's designed to make an immediate impact thanks to its combination of mandarin, peppermint, pink cinnamon, patchouli, white wood, amber and most markedly, leather accord. Confusing? Yes. Highly coveted? Also, yes. As striking to look at as it is to use, this metal coffret consisting of a 100ml eau de toilette, 150ml deo-spray and 10ml travel spray provides the perfect way to make its distinctive spicy-fresh leatheriness linger.
(opens in new tab)
Estee Lauder White Linen Eau de Parfum Spray
RRP £56 for 60ml
There's something really rather wonderful about the smell of a summer garden or just laundered clothes. It's as nostalgic as it is calming and this timeless scent from Estee Lauder provides the best of both elements. A fresh floral that combines the lightness of white flowers with rich greenery courtesy of Bulgarian rose, jasmine, muguet, violet, orris, vetiver and moss, it's instantly transportative and exudes elegance from the very first spray.
Armani Code Eau de Toilette
RRP £82 for 125ml
Just like the midnight-blue Oscars night tuxedo worn by Denzel Washington that inspired its bottle, this classic aftershave assumes the role of occasionwear from a fragrance perspective. A citrus woody oriental, top notes of citron and olive flower unfurl to reveal a heart of star anise and a base note of guaiac wood to give its scent a soft sophistication that's smart without being boring. Offering up the 'something special' to daub on whether it's date night or first post-Covid night out, think of it as the black tie of eau de toilettes.
(opens in new tab)
Givenchy L'interdit Eau de Parfum Christmas Gift Set
RRP £73.50
For the makeup and fragrance fan, look no further than this gift set. As well as being a treat for the nose, it's also one for the eyes and lips courtesy of a mini Le Rouge lipstick in shade no.333, a bold and beautiful red, and mini black Volume Disturbia Mascara. Its centrepiece though is a 50ml bottle of the fashion house's L'Interdit Eau de Parfum, a floral woody number whose bouquet of notes is more sultry than sweet.
For this, it has to thank its blend of light and dark notes: bergamot and pear at the top, orange blossom, jasmine and tuberose at its heart and base notes of patchouli, vetiver, vanilla and ambroxan - the perfect toolkit to transition from day to night with.
Sponsored by Boots UK (opens in new tab)
Ayesha is a freelance beauty writer and when she's not contributing to woman&home she can be found writing about all things cosmetics, hair and self-care in her role as Senior Features Writer for Get The Gloss. She also writes a monthly hair column called 'Who, What, Hair' (which combines her love of puns and buns perfectly), in addition to a column exploring the new and exciting options now available for women of darker skin tones called 'Not Fair'. She's also been shortlisted for a number of awards including Best Online Beauty Journalist at the Johnson and Johnson Journalism Awards.