Ole Henriksen Banana Bright Eye Crème vs The Ordinary Caffeine Solution 5% EGCG
Choosing between Ole Henriksen Banana Bright Eye Crème vs The Ordinary Caffeine Solution 5% EGCG? Here's what you need to know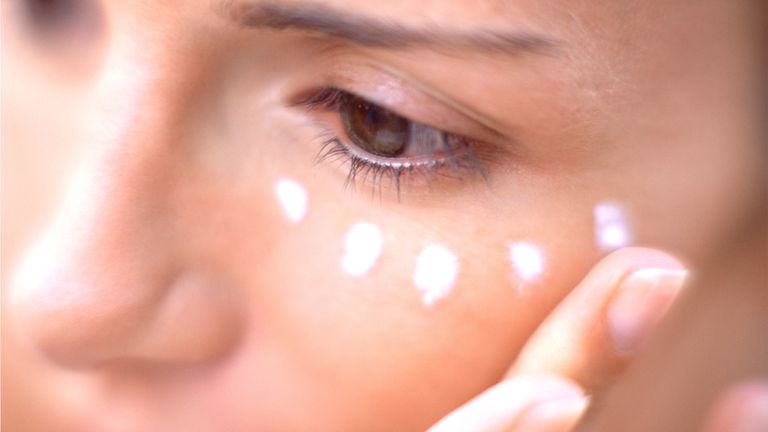 (Image credit: Getty Images)
f you're looking for the best eye cream, both Ole Henriksen Banana Bright Eye Crème and The Ordinary Caffeine Solution 5% EGCG have much to offer for brightening, nourishing and depuffing eyes. Confused about which one to choose? Picking the best eye cream for your skin's needs can be a challenge. Here, we break it down for you. 
While these treatments both target similar eye complaints, namely signs of fatigue, they work in very different ways. Ole Henriksen Banana Bright Eye Crème focuses on a multifaceted approach to brightening via a vitamin C complex and yellow-toned pigment that acts like a primer within a tactile glossy cream. 
The Ordinary Caffeine Solution 5% EGCG primarily focuses on talking puffy eyes, thanks to its eponymous caffeine, plus brightening and protection from gentle antioxidants, and delivers this in a functional serum texture. 
In this Ole Henriksen Banana Bright Eye Crème vs The Ordinary Caffeine Solution 5% EGCG guide, we'll explore the pros and cons of both eye creams, so you can make the right choice. 
Quick comparison
Price: Ole Henriksen Banana Bright Eye Crème: £32 
vs The Ordinary Caffeine Solution 5% EGCG: £5.80
Key ingredients: Ole Henriksen Banana Bright Eye Crème: Vitamin C, jojoba seed oil, soft-focus pigments
vs The Ordinary Caffeine Solution 5% EGCG: Caffeine, epigallocatechin gallatyl glucoside (EGCG), hyaluronic acid
Texture: Ole Henriksen Banana Bright Eye Crème: Rich, silky, indulgent 
vs The Ordinary Caffeine Solution 5% EGCG: Slippy, light, transparent
What's special about Ole Henriksen Banana Bright Eye Crème? 
Ole Henriksen Banana Bright Eye Crème
RRP: £32
It's unusual for an eye treatment to feel this joyful. The glossy yellow cream and its tangerine pot look and smell like pure sunshine, and feel lovely, particularly when applied to dry or rough-textured skin. 
Don't let that sense of fun fool you into thinking this isn't serious skincare. The ingredients list is topnotch and mainly centred around a complex of three potent and highly stable forms of vitamin C. Vitamin C is one of the most effective and well-researched ingredients going for improving skin clarity, so you really couldn't ask for a better inclusion in a brightening eye cream. As well as this, seed oils add a nourishing element into the mix and no doubt contribute to that gloriously buttery texture. 
Another unusual aspect of Banana Bright Eye Crème is its versatility. As well as offering long-term brightening, thanks to that vitamin C trio, this cream can also be used all over the eye as a primer. The cheery yellow tone isn't just to make the product look pretty – it lightly colour-corrects dark circles and diffuses light for a flattering soft-focus effect on textural issues. Pleasingly, unlike most eye creams, Banana Bright doesn't cause make-up to migrate or melt off prematurely; it actually helps it to stick around. 
See our full Ole Henriksen Banana Bright Eye Crème review
What's special about The Ordinary Caffeine Solution 5% EGCG?
The Ordinary Caffeine Solution 5% ECGC
RRP: £4.20
The Ordinary does not mess around when it comes to formulas and Caffeine Solution 5% EGCG does exactly what it says on the tin (er, providing you're willing to do a bit of reading up, so you can decode said tin).  
As the name suggests, the key ingredient here is caffeine. This known skin energiser offers microcirculatory and vasoconstriction benefits. In plain English, this means it can help tighten blood vessels to reduce puffiness and rev up circulation, which helps prevent blood pigment stagnating under the eye and showing through the skin as dark circles. The ECGC part refers to epigallocatechin gallatyl glucoside, a powerful antioxidant derived from green tea, which helps slow down photoageing. This helps stop pigmentation forming, as well as preventing collagen breakdown, to keep the skin's structure in good shape. Throw in a couple of hydrating ingredients and you've got yourself an incredibly sophisticated formula for a beyond-reasonable investment. 
There's no getting away from the fact that this is not a particularly indulgent eye cream. In fact it isn't even a cream, more of a slippery serum texture that smells mildly lactic and feels a little bit sticky for a minute after applying. The Ordinary  Caffeine Solution 5% EGCG is all about getting the job done and it doesn't feel like any concessions have been made to "pampering" at the expense of results. Whether that turns you off or makes your heart sing is up to you. 
See our full The Ordinary Caffeine Solution 5% ECGC review
Should I buy Ole Henriksen Banana Bright Eye Crème or The Ordinary Caffeine Solution 5% EGCG?
As ever, this comes down to your skincare priorities. 
How important is instant gratification to you? If you know that you will need to really love using a product in order to stick with it and prefer richer, more tactile textures, then Ole Henriksen Banana Bright Eye Crème is probably the one. It will also suit anyone who can get a bit impatient waiting for skincare products to "kick in". Not only does that pigment offer a quick fix brightening effect, its primer-like texture is reason enough to pop it on every morning.
If you're chiefly concerned with depuffing and happy to employ skincare in a less sensorial and more functional way, you can't argue with The Ordinary Caffeine Solution 5% EGCG. Those who have a little bit of knowledge of skincare ingredients should feel very comfortable slotting it into their routine, and as it doesn't contain any pigment or cosmetic ingredients, you can use it night and day to speed along those results. 
While we're talking ingredients, if you have preferences on what stays out of your products as well as in, I'd describe Caffeine Solution 5% EGCG's formula as all killer, no filler. As well as packing in the right actives in high quantities, it leaves out alcohol, oil, silicones, fragrance and is both cruelty-free and vegan. Sensitive skin types may find this tips the scales in The Ordinary's direction, although if you don't worry too much about that kind of thing, you may prefer the textural and sensorial benefits of Banana Bright. 
As woman&home's Senior Beauty Editor, Fiona Mckim has tried more products than she's had hot dinners and nothing makes her happier than raving about a brilliant beauty find on womanandhome.com or her instagram grid (@fionamckim if you like hair dye experiments and cute shih-tzus)

Fiona joined woman&home as Assistant Beauty Editor in 2013, working under legend Jo GB, who taught her everything she needed to know about the industry (clue: learn about ingredients and employ extreme cynicism). 
In a previous life, Fiona studied journalism back home in bonnie Scotland and honed her skills as a magazine features writer, with a brief and terrifying stint on the showbiz gossip pages of a tabloid newspaper in between. She's a skincare fanatic who can't resist adding an extra step to her routine if it's all the rage in Japan, loves fragrance, has fun with makeup and never turns down the chance to test a new hair tool. Basically, she loves it all.

When not slathering herself in self tan or squinting at a tiny ingredients list on a moisturiser, you'll probably find Fiona enjoying something to do with food - cooking it, eating it, cajoling her friends into trekking across London to try a hyped pop-up in a dirty car park.