No Diet and Exercise Beauty Tips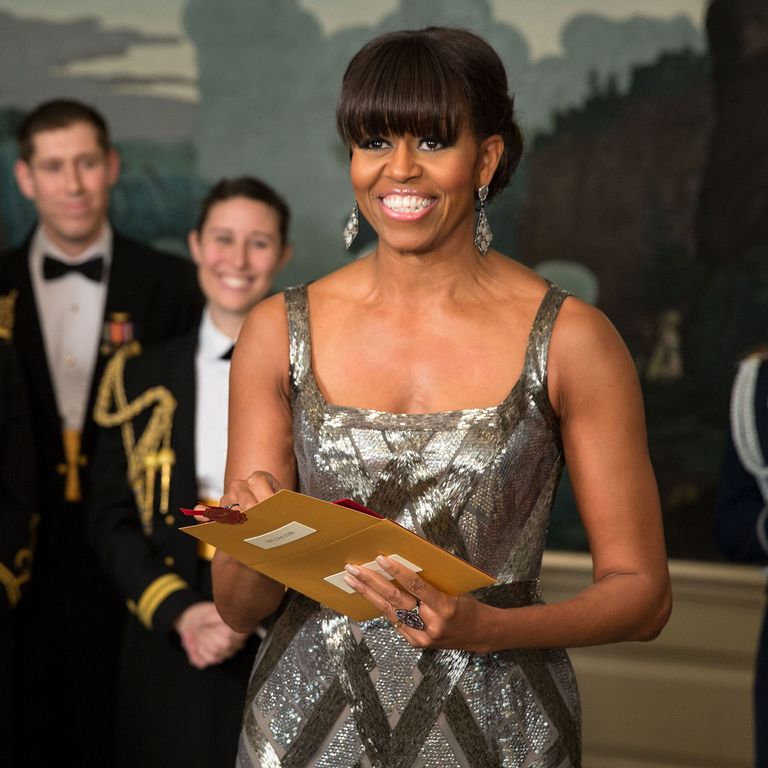 (Image credit: Rex Features (Shutterstock))
Forget struggling with diet and exercise - try these clever beauty tips to get your body looking it's best
November 26, 2013
By Lyndsay Conway
Are you one of the millions of women coveting Michelle Obama's arms? Requests for a little-known surgical procedure, brachioplasty (or the upper-arm lift), are on the rise with many patients citing The First Lady's scupted arms as their desired result.
But brachioplasty costs thousands of pounds and obviously isn't without health risks, so wouldn't it be great if there was another way to lose those bingo wings forever and achieve firmer arms without even stepping foot inside a clinic?
Step up the new Arm Lift from Transformulas. An anti-ageing treatment that tones and lifts the upper arm in just 30 days, Arm Lift is offering bingo wing suffers a surgery-free way to get fabulous results. To use, apply morning and night to clean arms and discover soft and supple skin in just one month.
Click through for more quick-fix beauty tips...
Holland & Barrett Omega 3 Fish Oil Concentrate Capsules, £20.39
Do you pine for the pert bottom of your teens and twenties? Studies show that taking Omega 3 supplements, such as the Holland & Barrett Omega 3 Fish Oil Concentrate Capsules can help you achieve the perfect derriere. This is due to the large levels of omega fatty acids we store in our hips and bums, which help to metabolise sugar. There isn't nearly enough Omega 3 in the usual Western diet, so make sure you get your dose with some supplements and help get your bum in shape!
Rodial Boob Job, £55
Regain a youthful-looking bust without hitting the plastic surgeon. The Rodial Boob Job promises a firmer bust in just four weeks, thanks to a mix of Commipheroline, Volufiline and Matrixyl. These key ingredients help to plump and smooth the skin, leading to a toned décolleté that will instantly improve your confidence. Try our indulgent weekend beauty routine
Radical Skincare Age-Defying Exfoliating Pads, £65
The first step in any anti-ageing routine should always begin with great exfoliation. Wiping away dead skin cells will instantly brighten skin, leaving a younger and firmer surface before you've even reached for that expensive moisturiser. We recommend using Radical Skincare Age-Defying Exfoliating Pads three times a week to create a flawless base for makeup. Try our indulgent weekend beauty routine
Kiehl's Pineapple Papaya Facial Scrub, £24
For more gentle exfoliation (if you are sensitive), Kiehl's Pineapple Papaya Facial Scrub will treat the skin with a little TLC, but still wash away dull skin cells to reveal a fresh and youthful-looking you. Try our indulgent weekend beauty routine
Clarisonic PLUS Skin Cleansing System Kit, £179
If you are serious about looking fabulous every day (but still don't want to make much effort), invest in the Clarisonic PLUS Skin Cleansing System Kit. In just 60 seconds a day, the Clarisonic PLUS will cleanse and exfoliate to clear your pores, leaving skin firmer and clearer with an improved texture. For use on the face and body. Try our indulgent weekend beauty routine
Bliss Hot Salt Scrub, £28.60
A hot salt scrub has so many great benefits for your skin. This Bliss Hot Salt Scrub will heat in your hands to stimuate your skin, leaving you feeling hydrated and giving a spa-like treatment. Work into damp skin in circular motions to boost circulation - this will help to smooth the skin, making you appear more streamlined. Try our indulgent weekend beauty routine
Soap & Glory Flake Away Body Scrub, £7
You don't have to spend a fortune on body scrubs: Our favourite high street version - Soap & Glory's Flake Away Body Scrub - will slough away dead cells to leave brighter, softer skin. Use every other day or in-between your more luxe version as a regular exfoliator. Try our indulgent weekend beauty routine
JML Ped Egg, £10.99
It's not glamorous, but it works. Use the JML Ped Egg on hard skin, once or twice a week to reveal baby soft skin and feet worthy of your favourite strappy shoes. Try our indulgent weekend beauty routine
Karin Herzog Silhouette Body Cream, £37
No amount of exercise or yo-yo dieting will rid you of the dreaded orange peel. Instead, invest in the Karin Herzog Silhouette Body Cream. From Kate Middleton's favourite skincare line, Karin Herzog, this product contains 4 per cent oxygen to penetrate deep into uneven skin, leaving you smoother and more confident without the need for invasive surgery. Don't miss out on our fabulous Kerin Herzog offer Try our indulgent weekend beauty routine
L'Occitane Almond Shower Oil, £16.50
Fuzzy legs will always look unkempt, drawing attention away from even the most perfect skin. Our top tip for instantly smooth and silky legs: Shave in the shower with L'Occitane Almond Shower Oil. You are almost guarunteed not to nick your skin and even if you don't have time to moisturise afterwards, your legs will look flawless and oh-so touchable. Try our indulgent weekend beauty routine
Omorovicza Firming Body Oil, £46
Did you know that skin absorbs more moisture when it's slightly damp? A good body oil or body butter will work better than a normal moisturiser. We recommend Omorovicza Firming Body Oil, which features plum almond oil - and essential ingredient to help arms and legs look slimmer, with absolutely no effort. Try our indulgent weekend beauty routine
Laura Mercier Ambre Vanille Souffle Body Creme, £43.50
Laura Mercier Ambre Vanille Souffle Body Creme features vitamin E, which improves the skin's elasticity - helping you to look younger for longer. Try our indulgent weekend beauty routine
Sisley Broad Spectrum Sunscreen SPF 30, £93.50
The most important piece of beauty advice? Wear sunscreen every day. It is so important to protect delicate skin from harmful UV rays, which are the main cause of wrinkles. This will ensure your skin will always look its best, without the need for unfulfilling diets and extensive exercise. Our favourite is Sisley Broad Spectrum Sunscreen SPF 30, which feels great against the skin. Try our indulgent weekend beauty routine
No7 Protect & Perfect Hand Cream, £10.50
Your hands are the biggest giveaway to your age, so don't let that one little area slip. Keep hands beautifully moisturised with No7 Protect & Perfect Hand Cream. Use regularly throughout the day and you will be surprised at how much younger your hands look. Try our indulgent weekend beauty routine
St Tropez Everyday Light/Medium Gradual Tan, £12.39
We can't stress enough the difference a golden tan will make to your look. Instantly slimming and a great confidence boost, we suggest using an everyday tanner to keep it looking natural in the winter months. Our favourite has to be St Tropez Everyday Light/Medium Gradual Tan for natural coverage and a decent price point. Try our indulgent weekend beauty routine
Colladeen Visage Supplements, £18.95
Ever thought of popping a pill as part of your skincare routine? Try taking two Colladeen Visage Supplements a day to plump up skin, naturally protect from the sun and improve overall firmness. These natural supplements feature skin-friendly nutrients, lutein and green tea extracts - plus anthocyanidins, which is found in dark skinned fruits. Try our indulgent weekend beauty routine