Liz Earle Shares The Secrets Of Great Skin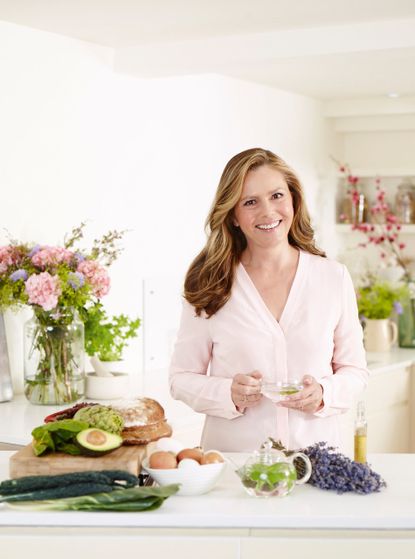 Britain's best-known ethical- entrepreneur, founder of Naturally Active Skincare and author of over 30 books, has another under her belt. SKIN: Delicious Recipes And The Ultimate Wellbeing Plan For Radiant Skin in 6 Weeks is your guide to getting great skin inside and out.
"Good skin is the icing on the cake of wellbeing. it should be achievable for all and is something I care about as it has such an impact on self-esteem. we can't hide the skin on our faces and issues such as adolescent acne, inflamed skin conditions or mature skin wrinkles can cause real depression and loss of confidence for some. Life is too precious to be spent worrying about bad skin, so let's sort it out and feel freer to focus on more important things.
We all have a tendency towards eczema in my family, so you won't find a bar of soap in the house! if skin is clean and clear, then it's up to you what you put into it. I never use anything that foams on my face and that's a tip i've passed down the line. we use creamy cleansers and emollient bath, shower and hand washes. Even my teenage lad knows that cleansing his skin twice a day is as fundamental as brushing his teeth (and he needs to be encouraged to do both). I do have to tell my teenage daughter not to sleep in her make-up,about, but when she sees the difference a cleanser makes, she will grudgingly admit that I am right.
My own skincare haschanged as I've gottenolder. My eldest daughter Lily and I both use cleanse & polish and Superskin Moisturiser as we both have sensitive skin. I need more moisture now as my skin gets older, so I add an intensive night serum, facial oil or sleep mask overnight, every night, insteadof just once in a while.
I believe health issues show in the face: dark pigmentation under the eyes can be a sign of a kidney imbalance and a poor diet can lead to breakouts and a grey, dingy skin tone. However, serious skin conditions, such as teenage acne, often need medical intervention and I'm a great believer in sorting problems like this out with conventional drugsto prevent lifelong skin scarring. Once sorted, you can then help control the issue with good food and skin-friendly supplements.
Ageless ageing to me is not about wrinkle depth or expression lines; it'sabout having a healthy, radiant gleam that is so energising and attractive. My one ultimate beauty trick is a facial scrub. It's such a sure, swift fix. it needn't be expensive - a simple sugar and oil scrub is super-effective.
A recipe for beauty from within
I've always been a detox fan. it's so easy for poor eating (and drinking) habits to creep up on us over the years and so I do think that a brief period of detox or focus on inner-cleansing is useful to redress the balance and be a punctuation point onto a new, fresh way of eating more cleanly and well. Refined sugar has to be the biggest bugbear of any healthy eating plan and I try and cut down on all the white foods (white flour, rice, pasta etc), simply swapping these for wholegrains. Short grain organic brown rice is a personal favourite - try sprinkled with a few sunflower and pumpkin seeds, some chopped avocado, a splash of soy or sprinkling of seaweed flakes - fantastic!
I eat mainly plant-basedfoods and vegetables and,although i'm not vegetarian, I try to only eat animals thathave eaten grass. On myfarm in wiltshire, we've moved the farm management more onto a pasture-fed, mob-grazing system, so our sheep and cows are 100% grass and forage-fed. This is a rising area in sustainable farming, proving better for the animals, better for our soil health and far better for producing healthier meat. Grass-fed beef, for example, is rich in omega-3 essential fatty acids (previously mainly linked to fish), as well as cLA (conjugatedlinolenic acid), which helps us to maintain a healthy metabolism and weight.
Good skin reallydoes begin fromwithin. I make abeauty broth usingbeef or chickenbones: a fantastic source of collagen for supporting stronger, smoother skin. We need to treat hormones internally with diet and possibly medication. I've upped the amounts of EfAs I eat: lashing pretty much everything with olive oil and eating more oily fish. I try not to eat sugar - not only is it generally not helpful for weight gain but it's also linked to skin ageing and inflammation (so not helpful for eczema or rosacea either). Adding probiotics is proving hugely beneficial too; I'm researching this area for my next book and I'm convinced that the more attention we pay to our internal flora, the better we will look and feel. I've also been researching HRT and have come to the conclusion that this is a safe and highly effective treatment for women in their fifties like me. I'm going to start it shortly as I'm experiencing mildly hot flushes in the night, so it's time I took the plunge.
A Balancing Act
You can't work without sleep: simple. Iprioritise my sleep time so i can function better - seven or eight hours a night, always. without sleep, we make poor decisions and our stress levels rise. Eating well has to be a priority, too - high levels of iron, protein, something green every day and more water than you think you need. I try and avoid refined sugar as this gives me such an energy slump. I get my sweet fix from very dark chocolate and a date - or three.
Whenever I steal myself a couple of hours, I really love to cook. preparing a family supper is one of my favourite things and i am at my happiest when all five children are sat around the table together.
My favourite wayto unwind is seeingthe horizon - there's something liberating about. I live on a farmin the west country so getting outside to watch a spectacular sunset is a great tonic.
You need to share the same goals. it's essential to be going on the same journey in a marriage. It's not always easy as opinions differ, but it's vital that your end destination is the same. And have fun! Life is tough, so having someone beside you who can make you smile is helpful. Anyone who has met my husband patrick [they've been married for 14 years] knows that he simply loves to have fun.
Positive Outlook
I have travelled a lot through East Africa and spent time with some of the world's most destitute and disadvantaged. That puts life into perspective. Everyone should try it for a while to appreciate all the good things we are so fortunate to have. the things that might wind me up are very much first world problems - not life and death - so I try and keep a sense of perspective. if there's no blood and no one's died, I can stay cool.
In my books I get to talk about a range of issues, such as sustainable farming, modern-day slavery, mental health and social justice. it's because these things matter that I do what I do. I try always to be truthful and fair - and encourage my children to be the same.
SKIN: Delicious recipes and the ultimate wellbeing plan for radiant skin in 6 weeks, £25 is published by Orion Spring.
Sign up to our free daily email for the latest royal and entertainment news, interesting opinion, expert advice on styling and beauty trends, and no-nonsense guides to the health and wellness questions you want answered.