How Helen McCrory Gets Glam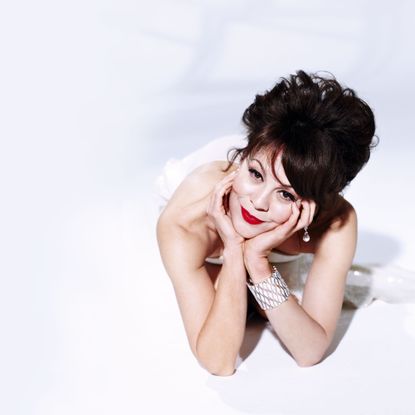 Need inspiration for a big night out? Helen McCrory shares her BAFTA red carpet confidence secrets...
With awards season underway, and more than 50 dresses lined up by her stylist, Helen McCrory, who has starred in Skyfall and Harry Potter, needs inspiration for her red carpet look.
Helen regularly turns to her own personal favourite hairdresser, Charles Worthington, the annual official stylist to the EE British Academy Film Awards (BAFTAs) taking place on Sunday for help getting ready.
'I have horrible hair', laughs Helen. 'The word 'shocking' comes to mind! It's frizzy and fine, and is rarely in good condition because, as an actress, it's constantly being bleached and dyed, straightened, curled and cut to suit a role'.
'So, using proper hair products is important to me because I'm not one of those women who gets up in the morning and looks fantastic!', Helen explains as we join her on set.
'The most important way to feel on the red carpet is confident', says Helen. 'One day that might mean flat shoes, another day, heels and a tight dress; every day is different and I never know how I'm going to feel but confidence is key.'
Keep clicking for Charles Worthington's BAFTA-worthy hair tips... How to create Helen's undone updo
An effortless updo, thrown together spontaneously using minimal tools - maybe just a couple of pins - to quickly put your hair up.
'To create big volume that lasts, you need to prep hair first', says Charles. 'Here I used my Salon at Home Thick & Full 3D Boosting Creme, which Helen regularly uses herself, and backcombed the roots to get great volume for an updo. I then gently teased the hair at the back with fingers, moulded it in to a pleat and put it back. Three or four pins is all it takes, giving a sexy, spontaneous look for the red carpet.'
Helen McCrory's effortless blow dry
A glossy shine, featuring a deep side parting with polish using shine oil and haphazard tonging. 'The ultimate glamorous blow-dry with body - this look is the basis for any textured style too', says Charles. 'If your hair is fine like Helen's, it's okay to cheat and use hair pieces. Section by section, literally lift the hair up and clip the hair piece into the hair near the scalp around the back section, to create massive volume. Then style the hair with tongs as you would your own hair.'
Helen McCrory's glamour for day
Charles blow-dried Helen's hair to give it some smoothness, control and volume, then put all the focus on her fringe. 'To create that sleek, sweeping fringe, I blow-dried the hair with a large round barrel brush, then finished off using straightening irons for extra shine.' Wearing hair in softer layers and a fringe relaxes the features. 'It's all about adapting your style with age', says Charles.
Charles Worthington's top special occasion hair tips
Remember to prep 'Don't leave everything to the last minute', says Charles. 'Start getting your hair into the best condition ever well beforehand with treatments - either at home or in the salon - so that you get the most out of your hair on the night.' 'The secret is always in the prep work', says Charles. 'Everyone is after volume and shine to their hair as it instantly makes a great frame for your face, and makes skin look radiant and alive too.' Charles' hottest tip for sexy styling "Don't try too hard or make hair too perfect. That slightly dishevelled, slightly natural look is very much what's happening right now. It can still be voluminous and have curl and wave, you just don't want it to be really perfect or too controlled." Ask your own stylist to show you different ways to updo your own hair. Keep it soft and loose An asymmetric style, such as Helen's sweeping fringe, is far softer to the features than a scraped back chignon because it frames the face and you see hair from the front so it feels less naked and exposed.
Charles Worthington products
A must on a big night out, Charles Worthington Salon at Home Long Lasting Max Hold Hairspray (opens in new tab) will hold your style in place, £5.99 Boost your hair's health Charles Worthington Salon at Home Secrets Collection Miracle Repair Elixir Oil, (opens in new tab) £14.99