Why your face mask could be harming your skin and other beauty mistakes you could be making during self-isolation
From facial massage to relaxing scents, let beauty be your much-needed distraction from the news.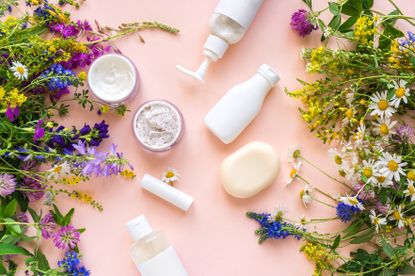 (Image credit: Getty Images/iStockphoto)
With coronavirus spreading through the world at the moment, most of us are inside self-isolating.
However, being stuck indoors and diverting so drastically from our normal routines has got us slipping in ways that we might think won't make a difference.
And one big area that could be being hit is our beauty routines.
Sure, staying inside has got most of us avoiding makeup but it doesn't mean we don't need to still look after our skin.
And of course we're all washing our hands to do our best to avoid the virus but is there more we could be doing?
And then there's our hair and all of the missed-out maintenance in that area.
Well these are all of the beauty mistakes you might be making during self-isolation - and how best to avoid them...
Six self-isolation beauty mistakes you could be making
1. Going heavy on the face masks
Along with trying out yoga, baking banana bread and getting the colouring pencils out, taking some time for self-care with a regular face mask has become a regular habit for many of us during self-isolation.
But it turns out that all of our #dailymasks (a term that has shot up on social media in recent weeks) could be doing more harm than good.
Skincare experts have revealed that 'over-masking', as it is now being called, could lead to skincare problems like redness, breakouts, itching, a burning sensation, dry, flaky and even peeling skin.
"As much as we think we are giving ourselves a pampering session, overuse can result in harm and lead to sensitivity," skin expert and aesthetic doctor Dr Parisha Acharya explained.
MORE: Best face masks for every skin type: a beauty editor's guide
"You can also strip the skin of its protective oils and friendly bacteria which are essential for maintaining healthy function of your skin."
"Using multiple ingredients on the skin, especially if high in active ingredients [such as retinol, vitamin C and exfoliating acids, like glycolic acid] can result in disruption of the skin barrier," added consultant dermatologist Dr Anjali Mahto.
"This may result in issues with facial rashes, such as contact dermatitis or eczema".
So from now on maybe try to stick to Sunday evenings only...
2. Air-drying your hair
With days on end at home with nowhere to go coupled with the warm outdoor weather, it's the dream situation for anyone who hates styling and blow-drying their hair.
Finally and excuse to leave our locks natural post-rinse and give them a chance to rejuvenate after years of heat styling.
But it turns out that while we might have thought we were doing our tresses a favour by letting them air dry and giving them a break from the heat, we could actually be doing them more damage.
Scientists at GHD have revealed that leaving our hair wet for too long could be damaging as hair fibres swell and become weaker when they are wet, so the longer we leave hair wet, the longer that swelling will continue which will put added pressure on the delicate proteins that make up our hair.
MORE: The best hair dryer for a professional blow dry at home – whether your hair is curly, fine or frizzy
"Do not let your hair air dry," confirmed celebrity hairstylist Adam Reed, creator of renowned brand Percy & Reed and global ambassador for GHD. "It is a total myth that this is good for your hair!"
Scientist & GHD Vice President of Smart Devices, Dr Tim Moore added that blow-drying your hair on the lowest heat setting to begin with and the gradually increasing the temperature is the best way to do it.
"As the hair dries, the temperature can be increased since the denaturation temperature increases," he explained.
"When you start to feel your hair warm up, that's your signal to start turning up the heat on your hairdryer, finally setting your style using the highest temperature."
3. Not wearing SPF
Our time spent outdoors might be limited at the moment, but SPF is still a non-negotiable part of your daily skincare routine.
"We're still encouraged to seek fresh air once a day and as the sunshine is out, it's imperative that you protect your skin," explains Dermalogica's Education Manager Candice Gardner.
"It may not seem hot enough for you to be concerned about the impact, but the UVA rays are still strong enough to lead to skin damage.
"Similarly, if you've set up your new home-working desk by a window to lap up those beautiful blue skies, skin needs extra protection.
MORE: Our favourite SPF moisturisers to slather on during self-isoation
"You may have heard that you can't get sunburnt through glass, but that doesn't mean glass blocks all ultraviolet, or UV, light. The rays that lead to skin or eye damage can still get through, even if you don't get burned," adds Candice.
"Whilst UVB, the high intensity wavelengths that cause burning, cannot penetrate glass, you will still be vulnerable to the skin damaging and ageing effects of UVA."
Dermalogica's new Invisible Physical Defense SPF 30, £49, is brilliant. Blending seamlessly into all skin tones, it's lovely and lightweight, keeping you protected without clogging pores.
4. Growing your nails
If you're a fan of falsies or planning to grow your natural nails, you might want to think twice.
"Long nails are not entirely ideal during an outbreak simply for the reason that they take longer to clean," explains New York based gastroenterologist Dr Niket Sonpal.
"People are not mindful that they have to allocate more time than usual to wash the underside of their nails, and they harbour more germs and bacteria."
Nail nibbling can cause problems too, so stock up on some foul-tasting polish and try to kick the habit.
MORE: How to remove your gels safely without damaging your nails in four easy steps
"All kinds of bacteria, viruses, dirt and debris can collect under the nails – and this can then be transferred into your mouth when you bite your nails," says allergist and immunologist, Dr Purvi Parikh. "Particularly if you aren't washing or sanitising your hands properly."
Repetitive hand washing can not only cause dry, flaking hands, but dehydrate your nail bed too.
Incorporate Sally Hansen Vitamin E Nail & Cuticle Oil, £7.99, into your routine and massage into the nail plate every night before bed.
Your nails will become stronger, and less prone to snagging or splitting over time.
5. Over-consuming alcohol
With so much uncertainty, it's relatively unsurprising the alcohol shelves in our local supermarkets are looking a little barer than usual.
Unfortunately, while a glass of vino might be the escapism you crave, one too many can have a negative effect on your immune system.
'People who drink alcohol excessively tend to be at an increased risk for infectious diseases, take longer to recover from illnesses and have more complications after surgery,' explains Dr Jenna Macciochi in her book Immunity The Science of Staying Well.
MORE: Want to drink less alcohol during lockdown? Here's a good reason to cut down (and how to do it)
Alcohol is notorious for robbing our skin of it's natural radiance too, another good reason for limiting your intake.
'Whenever you drink alcohol, your body becomes dehydrated, which has a massive impact on your skin,' adds Katherine Kay, author of Drink Less, Live More.
'It's stripped of the vital nutrients and vitamins it needs to remain healthy, so can quickly become dull and grey.
'Fortunately, skin reacts well to change, so it can return to it's usual glowing glory after only a couple of days of cutting back on alcohol.'
6. Using hair tools
With fewer places to go and no one to see outside of your household, now is the perfect time to give your hair a rest from repetitive blow-drying, curling and straightening.
If you're never normally a wash-and-go type, worried about how your hair will look by the time you reach your destination – try embracing your natural look.
You might just find a beachy wave or gorgeous spirals hiding under all that heat damage.
Give stressed-out locks some TLC by enjoying a weekly hair mask. OSMO Intensive Deep Repair Hair Mask, £5.40, uses keratin (the protein our hair is made from) to reconstruct breakage, while Pataua oil leaves locks seriously soft.
7. Reaching for the home hair dye
Before you reach for the bottle of permanent colour in that home highlight kit, remember – changing your shade too dramatically without the help of your hairdresser could lead to breakage, or an unwanted colour transformation you won't be able to fix at home.
Luckily, most colour-related problems are easy to maintain, or fix in the short-term, with the help of root-touch ups and toners.
Banish brassiness in blonde or grey locks with the help of a purple shampoo like Redken Colour Extend Blondage Colour-Depositing Shampoo, £16.50.
MORE: Natural highlights: can a subtle colour lift repair my hair?
Sitting on the opposite side of the colour wheel to yellow, it neutralises straw-like tones, replacing them with cool, icy ones.
Blue shampoos work in a similar way, cooling down warm, red tones - Charles Worthington ColourPlex Toning Blue Shampoo, £7.99, is brilliant.
For a quick fix on root regrowth, Josh Wood Colour Blending Brush, £15, is easy to paint on, blending away greys for up to three washes.
With all this, we'll ending up with our best ever looks when we're allowed out of isolation!
Extra words by Aleesha Badkar.
Jess Beech is an experienced fashion and beauty editor, with more than eight years experience in the publishing industry. She has written for woman&home, GoodtoKnow, Now, Woman, Woman's Weekly, Woman's Own and Chat, and is a former Deputy Fashion & Beauty Editor at Future PLC. A beauty obsessive, Jess has tried everything from cryotherapy to chemical peels (minus the Samantha in Sex and The City-worthy redness) and interviewed experts including Jo Malone and Trinny Woodall.