10 steps to perfect legs
Because your legs deserve the best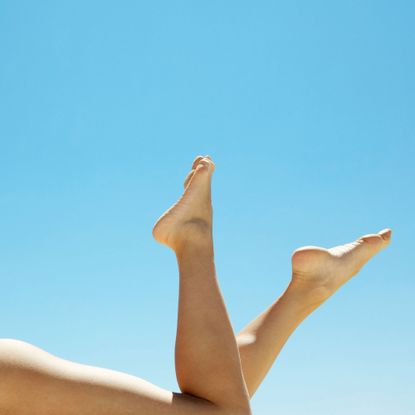 You know they exist but did you ever think you could have a pair?
Doescellulite (opens in new tab), pale skin and dry legs stop you from stepping out with confidence?You're not alone. Not many of us would say we have perfect legs.
Our legs need a little TLC
"Women have always been sensitive about the way their legs look, but now more than ever we are investing in exercise classes, personal training, skin brushing and various tools and products all to improve the appearance of our legs," says Margaret Dabbs, whose eponymous brand (opens in new tab)produces luxurious, effective products and treatments for legs, feet and hands.
Are you thinking about cellulite?
It's likely that you are. After all, cellulite become more visible as we age. The truth is, however, that it can and will affect most women at some point in their lives, regardless of their age, body shape or fitness levels.
"Women develop cellulite because they have weaker connective tissue and larger fat cells due to the effect of female hormones and it is estimated that 80-93% of women have cellulite," explains Margaret. "Men, on the other hand, have stronger connective tissue and less subcutaneous fat so they don't have the same concerns."
It's a sad fact of life that cellulite is a largely female issue, but while those dreaded dimples can make the idea of stepping out in a slinky dress seem pretty intimidating don't fret – we're all subject to the same demands.
"While beauty standards are always evolving, one of the most common fitness goals is still to get rid of cellulite," says Margaret. "We've all been told by the media, and maybe our friends and family, that cellulite is ugly. Body image and self-esteem directly influence each other – and your feelings, thoughts, and behaviours. If you don't like your legs (or any part of your body), it's hard to feel good about your whole self. But the truth is, it's normal and something almost every woman has!"
How to get perfect legs for you
"Even the sleekest of legs can get puffy pockets of fluid, or patches of dull, flaky and dry skin (opens in new tab)," says Margaret. "Did you know that the shins have the driest skin on the body! Some of this is due to ageing which can lead to poor circulation, but actually we don't have to put up with it and there are some simple steps you can take."
"Working to improve the appearance of the skin of our legs does wonders for our body confidence, and the truth of the matter is that if you use the right products and put a little time into your beauty routine, you'll reap the benefits," she adds.
And there's no need for painful or invasive surgery, hardcore exercise (opens in new tab) or big changes to your diet to banish cellulite. Simple tweaks and clever beauty tricks can be all that's needed to get rid of dimpled, dry skin (or at least hide it).
Even if cellulite doesn't bother you there are other ways to get your legs looking their best. From perking up dull skin to softening and smoothing, your legs deserve some attention. We've also found devices to remove hair permanently andtanning wonder products (opens in new tab) that can help tone and firm up skin while reducing the appearance of cellulite. Read on, and gorgeous legs can be yours in a few easy steps.
Simply follow our expert beauty advice to ensure that you feel confident whipping off those 60-deniers...
Step 1: Reduce cellulite
There's no magical cure for cellulite, but there are things you can do to reduce its appearance, and a little bit of elbow grease can have significant results. "Research has shown that frequent body brushing and exfoliation can reduce the appearance of cellulite by up to 26% in as little as two weeks," says Margaret. Exfoliate during your morning shower - massage a product such as Margaret Dabb's Toning Leg Scrub, £37.50, (opens in new tab) in a circular motion, moving upwards from the feet. "It removes impurities from the skin, but perhaps even more importantly it stimulates circulation, and energises the skin, immediately making it appear tighter and firmer. This is a perfect home treatment, says Margaret."
Step 2: Detoxify
Do your legs ever feel swollen, tired or heavy? Twenty minutes with these should sort you right out! Chuck a handful of Dr Salts Muscle Therapy Bath Salts, £7, (opens in new tab) into a bath and let the natural dead sea salts draw toxins and impurities out of your body as you soak. You'll emerge feeling refreshed and revitalised with cool, calm limbs.
Step 3: De-fuzz
Sick of shaving every day? Aren't we all. So why not invest in an IPL device like Philips Lumea,£270 (opens in new tab). Around 30 minutes is enough to do both legs, and if you stick with it you can see up to 90% hair reduction in as little as six weeks. It's a labour of love but then the hair's gone – permanently.
Step 4: Soften
Start softening and smoothing with a super nourishing shower product, like Balance Me Super Moistursing Body Wash, £13.50, (opens in new tab) with shea butter, benzoin to calm skin, and anti-inflammatory yarrow to nourish and hydrate.
Step 5: Brighten and tighten
Not only does this lightweight Margaret Dabb's Firming Leg Serum, £45, (opens in new tab) from 'legspert' Margaret Dabbs brighten, tighten and illuminate, it also includes Legance™. "This key ingredient is clinically proven to reduce water retention," says Margaret. "Plus V-Tonic essential oil complex Zingiber Zerumbet Extract, Argan Oil and Abyssinia Oil promotes healthy circulation." Massage upwards in long strokes.
Step 6: Moisturise
The final step of prep is, of course, moisturise! You've probably heard us say it before, but you still can't beat Kiehl's Creme De Corps, £48 for 500ml, (opens in new tab) for texture, delicious cocoa butter scent and super quick absorption. Moisturising really well will add a subtle sheen to legs, ensuring they look healthy and glowy even if you're not a self tan fan.
Step 7: Tan-up
We all feel more confident with a touch of colour, but streaking, smells and the general faff of using fake tan can be off-putting. One of our favourites for foolproof results is Vita Liberata PHenomenal 2-3 Week Tanning Lotion, £37.50, (opens in new tab) which is practically impossible to streak and is scent-free. Remember to wait a 24 hours after waxing or shaving before applying self tan so you don't clog pores and get all those strange little brown bumps. Avoid body oils afterwards as they break down the DHA and make tans fade fast. Follow our Top 10 Tanning Tips (opens in new tab) for a streak-free glow every time.
Step 8: Conceal
If you've got bruises, spider veins or a generally uneven colour on your legs, there's no reason you can't pop a little make-up on like you would your face. MAC's amazing Face and Body Foundation, £27, (opens in new tab) is used in practically every fashion and beauty photoshoot going - it's hard-wearing, waterproof and natural looking.
This-Works-Perfect-legs-skin-miracle-
Now that you've covered this bits you don't like, add in a little of what you do! This Works Perfect Legs Skin Miracle, £38, (opens in new tab) is a product that really lives up to it's name. A silky serum that gives legs a hint of shimmery sheen, smooth it down your shins for a tone-perfecting, leg-lengthening effect.
Step 10: Glow
Fake tan fading fast and no time to top up? Use He-Shi's Bronzing Brush, £7.99, (opens in new tab) to sweep a little Laura Mercier Radiance Baked Body Bronzer, £42.50, (opens in new tab) down the centre of your shins and around thighs for an instant confidence boost.