Old £20 notes expiry date—everything you need to know
The Bank of England has revealed the expiry date for the old £20 notes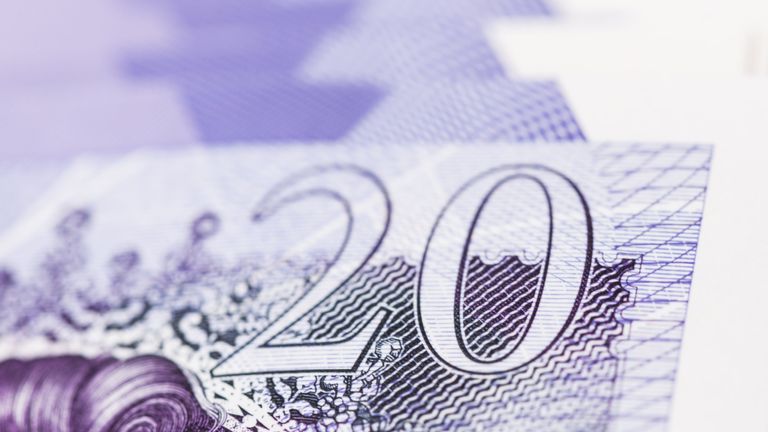 (Image credit: Getty)
The Bank of England has revealed the expiry date for the old £20 note, which was replaced by a plastic polymer alternative last year.
In February 2020, the new plastic polymer £20 notes were issued by the Bank of England. Much like when new notes have been created in the past, there was quickly a scramble to find out when the old ones expire because once they're out of circulation, you can't use them anymore.
Luckily, old money notes don't just expire out of the blue. The Bank of England, who issues new currency to England, always gives six months' notice before bidding farewell to old notes altogether—and it appears that that notice has finally come.
Over the last four years, much of British currency has been withdrawn and replaced by new polymer notes. In 2016, people were given a deadline to spend old £5 bank notes before they went out of circulation. Then a year later, the £10 note went out of circulation, and people were encouraged to spend the paper note as soon as possible.
So when do the old £20 notes expire and what do you do if you still have some in your wallet?
When do the old £20 notes expire?
Old paper £20 and £50 notes will expire on 30 September 2022.
From October onwards, these notes will no longer be legal tender—meaning businesses will not be able to accept them. The Bank of England has advised people to either spend their old notes or deposit them before 30 September to ensure they don't go to waste.
Can I exchange my old £20 for a new one?
According to the Bank of England, the quickest way to exchange your £20 is to deposit them at the bank.
You can also exchange withdrawn currency by post with the bank. To do this as an individual (rather than a business), you have to fill out a banknote change application form and send it to the Bank of England, along with copies of your ID and proof of address.
Can I still use the old £20 note?
As for the time being, the old £20 note is still legal tenure. However, it will become unusable after 30 September 2022, so be sure to splash it or bank it before this date.
Ideally, the best thing to do with the old £20 is to spend it as you normally would.
They're still valid and it's the best way to take them out of circulation. Gradually over time, they will stop circulating as people spend them and businesses deposit them into banks, who then permanently remove them from circulation.
During the current health crisis, however, many shops are not accepting cash payments as they are worried about the amount of time that Covid-19 can survive on the surface of the money—so they are taking contactless card payments instead.
In this case, it might be better to wait until banks resume their normal service of trading in old banknotes for new ones.
When were the old £20 notes first issued?
The old £20 paper notes were first issued in March 2007, so they have been in circulation for 14 years. In February 2020, a new polymer £20 note was issued.
Sarah John, the Bank of England's current Chief Cashier has said, "Moving the £20 note to polymer marks a major step forward in our fight against counterfeiting. I am very grateful to everyone across the cash industry who has made this transition possible and I hope the public enjoys using their new Turner £20s."
You may wonder what "Turner" refers to. More on that later.
What's different about the new £20 note?
Good question. Just like how Jane Austen appeared on the new £10 note, replacing Charles Darwin, there are some design and illustration differences between the old and new £20 notes.
The old paper £20 features the so-called father of modern economics, Adam Smith. There are also images of factory workers on the back of the note and a quote from one of Adam Smith's most famous works.
The new £20 note was first issued on February 20, 2020. It's slightly smaller than the paper note and is made of a polymer (plastic) material that is difficult to rip or tear.
Instead of Adam Smith, the new £20 note features distinguished English artist, JMW Turner. One of his most famous paintings, The Fighting Temeraire features as artwork replacing the factory workers on the back of the note. You'll also notice a quote from Turner—"light is therefore colour"—and a signature, which is identifiable on many of his paintings.
Keep in mind—this change only goes for money distributed by the Bank of England. The Bank of Scotland for example will distribute their own money and therefore, their own designs. While Winston Churchill appears on the current English £5 note, Nan Shepherd became the new face of the £5 Scottish bank note in 2016.
Who else has appeared on the £20 note?
JMW Turner isn't the first artist to appear on the £20 note, however. A mixture of economists and artists of various kinds have appeared on the £20 note since it was first introduced.
Although the £20 note has been in existence since 1725, it was taken out of circulation in 1943. Then, in 1970 the £20 note as we know it today was introduced to the public featuring none other than William Shakespeare, the famous English playwright.
From 1970 to 1991 Shakespeare appeared on the £20 note. He was replaced by an image of the scientist Michael Faraday, who was famous for his work on magnetic fields, induction and was considered a great influence on Albert Einstein.
Famous English composer, Edward Elgar then appeared on the note from 1999 to 2007. He was well known during the 19th century for works like The Enigma Variations, the Pomp and Circumstance Marches, along with two full symphonies. He was replaced as the featured image on the note by the economist Adam Smith in 2007.
Grace Walsh is a Features Writer for Goodto, covering everything in the world of food, health, and fitness, relationships, and family. Grace graduated from the University of Warwick in 2019 with a degree in Classical Civilisation and Italian, with a year spent living in Rome. This was where she discovered everything there is to love about cooking and food. During her studies, Grace was involved in both the student newspaper and radio station at Warwick. Writing about the issues affecting students and speaking about current affairs on her radio show, she quickly discovered that Features was where she wanted to be. Along with Goodto, Grace has also written for Woman&Home, Cosmopolitan UK and culture magazine, The Upcoming