Lily Collins pays heartfelt tribute to her father Phil Collins following sad news for Genesis fans
Lily Collins has paid tribute to her father, Phil Collins after the legendary rockstar announced some sad news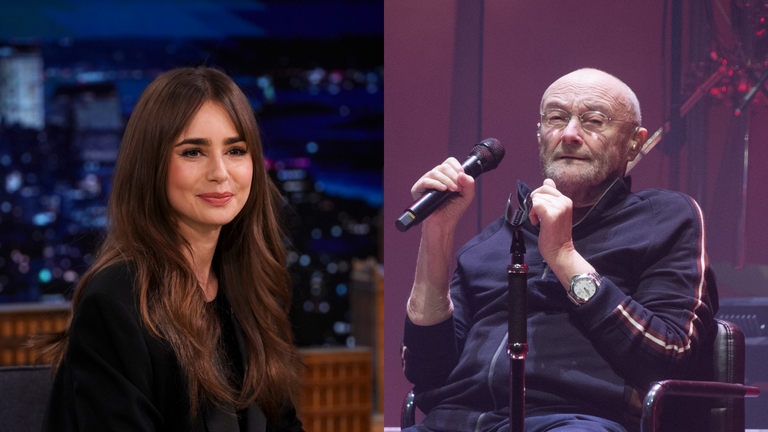 (Image credit: Getty)
Lily Collins has paid tribute to her father, Phil Collins, after the legendary rockstar announced that he was quitting live music for good.
The Genesis drummer shared the emotional news during his final show for The Last Domino? tour at the O2 arena in London on Saturday night, before joking that he and his bandmates would now have 'to get real jobs'.
Phil has suffered from poor health since 2007 when he dislocated the vertebra in his upper neck during a concert. The 71-year-old began using a cane to walk in 2017 and performed all of the tour's gigs seated in a chair.
The Last Domino? saw Phil reunite with Mike Rutherford and Tony Banks for 47 shows across North America and Europe, after a 13-year-long hiatus from the road.
"It's the last stop of our tour, and it's the last show for Genesis," he told the crowds at the weekend. "After tonight we all have to get real jobs."
Phil's daughter, Lily Collins, took to Instagram shortly after the final curtain dropped to share a special message in honor of Genesis' legacy.
"Tonite [sic] marks the end of an era," the Emily in Paris star wrote. "To have witnessed this last show was truly the memory of a lifetime and an event I shall hold in my heart forever. Endlessly grateful doesn't begin to do it justice. So much love was left on that O2 stage and an even bigger amount shared between an audience who didn't want it to end."
Lily, 33, wrapped up the sweet note by thanking Genesis for "the memories" and her father for "being such an inspiration." She also gave a shoutout to her 20-year-old brother, Nic Collins, who stepped in as the band's drummer during the tour while Phil provided vocals.
While it looks like the pair are on good terms these days, Lily's relationship with her father hasn't always been easy. The Hollywood actor shared a candid insight into her perspective on her famous dad in her 2017 memoir, Unfiltered: No Shame, No Regrets, Just Me, revealing he wasn't always around when she needed him as a child.
"I forgive you for not always being there when I needed and for not being the dad I expected," she said, according to the Daily Mail. "I forgive the mistakes you made. And although it may seem like it's too late, it's not. There's still so much time to move forward."
The To the Bone star also suggested that her father had contributed to the development of her eating disorder, admitting that she started "limiting my happiness by controlling my eating habits."
"I couldn't handle the pain and confusion surrounding my dad's divorce, and I was having a hard time balancing being a teenager with pursuing two different grown-up careers…Many of my deepest insecurities stem from these issues with my dad."
Emma is a news writer for woman&home and My Imperfect Life. She covers the Royal Family and the entertainment world, as well as the occasional health or lifestyle story. When she's not reporting on the British monarchy and A-list celebs, you can find her whipping up vegan treats and running the roads to cheesy '90s pop music...but not at the same time, obviously.