Jennifer Lopez engagement ring is 'no doubt the most expensive engagement ring we've seen in a long time,' says jewelry expert
A jewelry expert gives us the lowdown on the Jlo engagement ring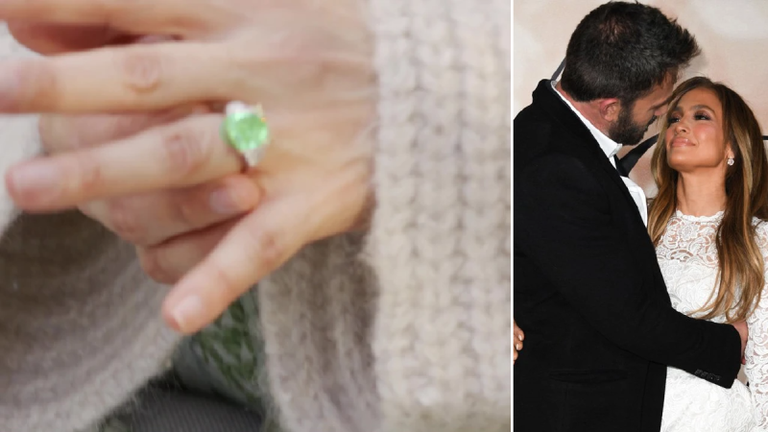 (Image credit: OntheJlo / Getty)
By now, you've all probably seen the news that Bennifer 2.0 has picked up right where they left off nearly two decades ago, with wedding bells soon to be ringing.
As news of Jennifer Lopez confirming her engagement to Ben Affleck broke, the hopeless romantics of the world rejoiced. However, what people have yet to see in its full glory is the ring itself – Jlo's engagement ring hasn't had its first full outing yet, seen only in flashes on Jennifer Lopez's fan newsletter (OntheJlo.com).
Luckily, we've had a diamond expert review the footage with a fine eye to pull out some insight into the ring.
The key details of the Jennifer Lopez engagement ring include—
It's a 9 to 10 carat natural green diamond that's been treated using colour enhanced technology
It has an elongated cushion cut
It has two tapered baguettes
It has a value in excess of $3M
Leading diamond expert, Zack Stone of Steven Stone, said, "Jennifer Lopez's engagement ring is sensational. With an incredibly vivid color, it looks like it could be a natural green diamond that's been enhanced using HPHT temperature treatment, which is a well-known method to change the color of a diamond."
"Just like the pink diamond engagement ring she received from Ben Affleck previously, this ring is worth millions. The center stone is an estimated 9 to 10 carats, with an elongated cushion cut. It also looks to feature two tapered baguettes, making this a three-stone ring."
"Taking all this into consideration, this is no doubt the most expensive engagement ring we've seen in a long time, with an estimated value of over $3,000,000."
The color of the ring is no coincidence, either.
Jlo has a thing for green, having opened up about the special meaning the color has had throughout her life and career. In a previous newsletter to fans, she said, "I always say the color green is my lucky color. Maybe you can remember a certain green dress."
She is, of course, referring to the jungle green Versace dress worn at the Grammys, a look so iconic it actually helped create Google Images.
"I've realized there are many moments in my life where amazing things happened when I was wearing green," Jlo continued.
"I don't buy a lot of art, but I bought this," she shared. "One because I love hummingbirds, and two because I love the color green."
As the couple reignites early 00s nostalgia, Jennifer has previously opened up about what's different this time between the pair.
Talking to PEOPLE, she said, "It's a beautiful outcome that this has happened in this way at this time in our lives where we can really appreciate and celebrate each other and respect each other. We always did, but we have even more of an appreciation because we know that life can take you in different directions."
Jack Slater is not the Last Action Hero, but that's what comes up first when you Google him. Preferring a much more sedentary life, Jack gets his thrills by covering news, entertainment, celebrity, film and culture for woman&home, and other digital publications.
Having written for various print and online publications—ranging from national syndicates to niche magazines—Jack has written about nearly everything there is to write about, covering LGBTQ+ news, celebrity features, TV and film scoops, reviewing the latest theatre shows lighting up London's West End and the most pressing of SEO based stories.