Hanson talk 25 years since MMMbop, the Queen's Jubilee and their bond as brothers
Hanson opens up about MMMbop, their special gift for the Queen, and fame, in an exclusive interview with woman&home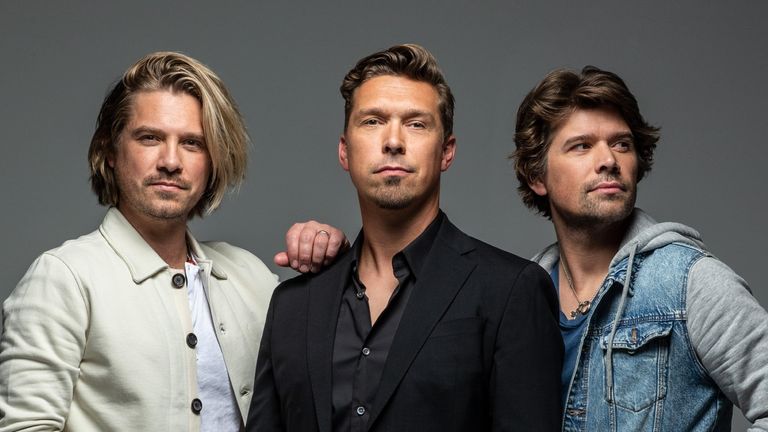 (Image credit: Hanson)
It's hard to believe it's been 25 years since MMMbop catapulted Hanson to global fame.
A quarter of a century on and the number one hit is still beloved, most recently appearing in an episode of Derry Girls (the brothers tell us they're big fans).
But what have Isaac, 41, Taylor, 39, and Zac, 36, been up to since they became pin-ups for millions of teenage girls, and boys, around the world? Well, they've become dads - to 15 kids between them, yes, really - sold 16 million albums, run a yearly 'musical escape' in Jamaica where fans take over a resort and rooms start at a cool $1799 (£1400) per person, they've even launched their own beer - MMMhops, naturally.
We caught up with the band who although heartbreakingly have ditched the long locks, still most certainly have the ability to make us swoon...
HANSON ON THEIR BIGGEST HIT
"We're very proud of MMMbop, but we would be tired of it if it was the only song we sang!" laughs Taylor. "I think the part that is less gratifying is feeling like you're not moving as far down the road as you'd like with people's perceptions, but a lot of that is what happens when a song makes an impression that is so big - MMMbop has become a part of pop culture."
"But one of the big saving graces of the way we started is that we were writing the songs. We definitely weren't as hands-on in producing everything when I was 14 and Zac was 11 but it was our thing, it was our message."
---
HANSON ON FAME
From Taylor Swift to Katy Perry, the brothers have a lot of famous fans and you don't spend 25 years in the music industry without a couple of wild stories.
"One of the things you learn is not to answer that!" says Taylor. "But everybody's had moments that are a little wilder than others."
"I'm just glad those parties back in the day where you threw up on your shoes weren't captured on film," says Isaac.
HANSON ON THE ROYALS
Her Majesty could be getting a present she didn't bargain on! To celebrate the Queen's Platinum Jubilee 2022 Hanson has offered to write a song for the monarch.
"The Jubilee is a huge deal. If we were British we'd probably be writing a song for the Queen," admits Isaac. "Maybe we should do it anyway, it might feel a little odd but we'll consider it!"
"I have a great deal of respect for the extended royal family and how they represent their nation," adds Taylor.
"As Americans, it's very foreign to think of a royal family but we definitely admire it and 70 years is unbelievable, we'll be taking in the celebrations while we're in the UK."
HANSON ON SOCIAL MEDIA AND THEIR KIDS
"I don't envy being a 15-year-old with every thought you've had and place you've been being documented," says Taylor.
Isaac agrees, "My kids do not have social media, and they won't be getting it!"
"I'm not sure it's healthy, this 15 minutes of fame for the whole population, it's certainly not healthy for celebrities - have you seen what happens?!"
WHAT ARE HANSON UP TO NOW?
The latest album Red Green Blue, which features the new single Child At Heart is a different style for the brothers, with each of them taking five songs.
"We say it's like three solo projects in one," explains Isaac. "When you've been doing music as long as we have you tend to have a certain process and you do the rinse and repeat, which is fine, and hopefully you're good at it but sometimes you need a fresh look at it. It's hard sometimes for people to get another first look at a band so we felt like this was a really good creative challenge."
So it's not just that they'd all had enough of each other?
"Sometimes it's a little bit of that!" laughs Isaac. "I jest a bit, but you do need to give each other room sometimes."
"We've definitely had our fair share of tensions and challenges," adds Taylor. "I think one of the things that's happening is that everyone is figuring out what's important to them, what they need to do, and what makes them inspired and excited."
"We'd be making these songs if it was for 10 people or a million people - you make it because it's something you need to do."
Hanson's new album Red Green Blue is out May 20 and they're on tour from June 8, tickets on sale now.
Kira has been the Editor of Woman's Own magazine since September 2020 and is a woman&home contributing writer. A two-time BSME Rising Star nominee, Kira began her career in local news before going freelance and has written for Grazia, Glamour, Essentials, The Sun, and The Daily Express.